pascom Webinar & Events Calendar
Never miss a pascom event again and stay up to date on all pascom events and webinars in which pascom will be represented. Should you have any questions regarding our events, please send us a message via the Contact Us tab below.
pascom Bootcamp
Every Thursday at 11:00
Thursday is pascom Bootcamp day. Gain a quick, effective introduction to pascom and our pascom phone systems including a tips and tricks demo on how to get from zero to a professional business communications platform inside 20 minutes followed by a Q&A session. Open to both customers and resellers, the pascom Bootcamp takes place every Thursday* at 11.00 CET / CEST.
*excluding German / Bavarian public holidays
Register Free
pascom Partner Briefing
T.B.A
At pascom, working together with our partners is central to our success and as a pascom partner keeping up to date with relevant pascom topics is just as invaluable. Which is why our regular Partner Briefing sessions and the Q & A section are so important. Dates for the next briefing will be announced soon.
peoplefone Strategie Tag 2022 [German]
Wednesday 02. February 2022
Join the virtual peoplefone Strategy Day 2022 on 02. February and check out our Workshop in order to discover live and first-hand what the latest developments within the DACH Business Communications sector look like. Register today here:
More Info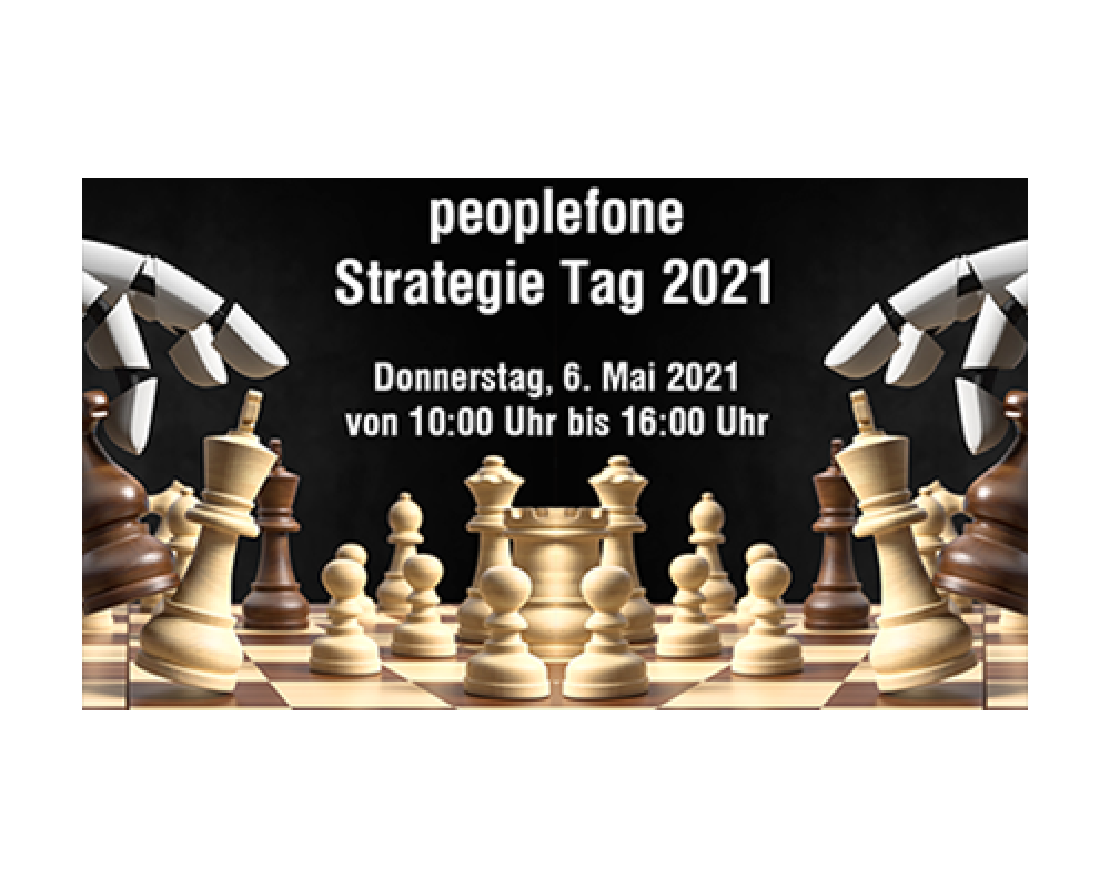 pascom Partner Summit 2022
Regensburg marinaforum 23.06.2022
Connectivity is the backbone to success in today's business world. Without it, effective communication and collaboration between customers and colleagues would not be possible. No matter how or where you communicate, on the phone, per video, via chat or face-to-face, it is both the personal and technological connections that determine how successful we are. So join us for the 8. pascom Partner Summit on June 23rd and Let's Connect!
Partner Summit 2022
pascom ONE Launch
24th November, Regensburg
Call, chat, share and meet all in one app: Discover the future of telephony with pascom ONE - the one place for all your business communicatons channels.
More Info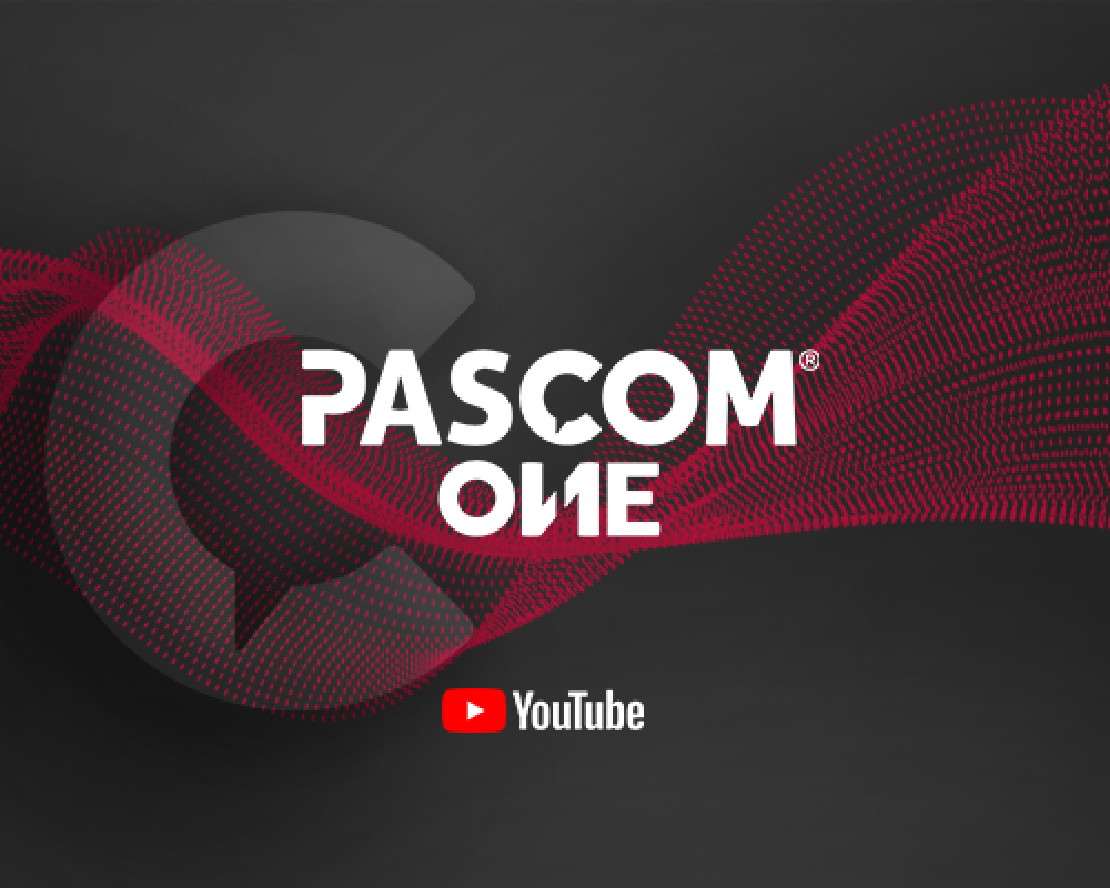 pascom @ ClueCon 2021
25th - 28th October, Chicago & Online
For developers by developers: ClueCon is an annual technology conference held every summer. The primary focus is to gather various open source projects to discuss Voice over IP, open source software and hardware, Telecommunications, WebRTC, and IoT and as an active community member, pascom will be talking "Innovating Infrastuctures with Nomad + podman".
More Info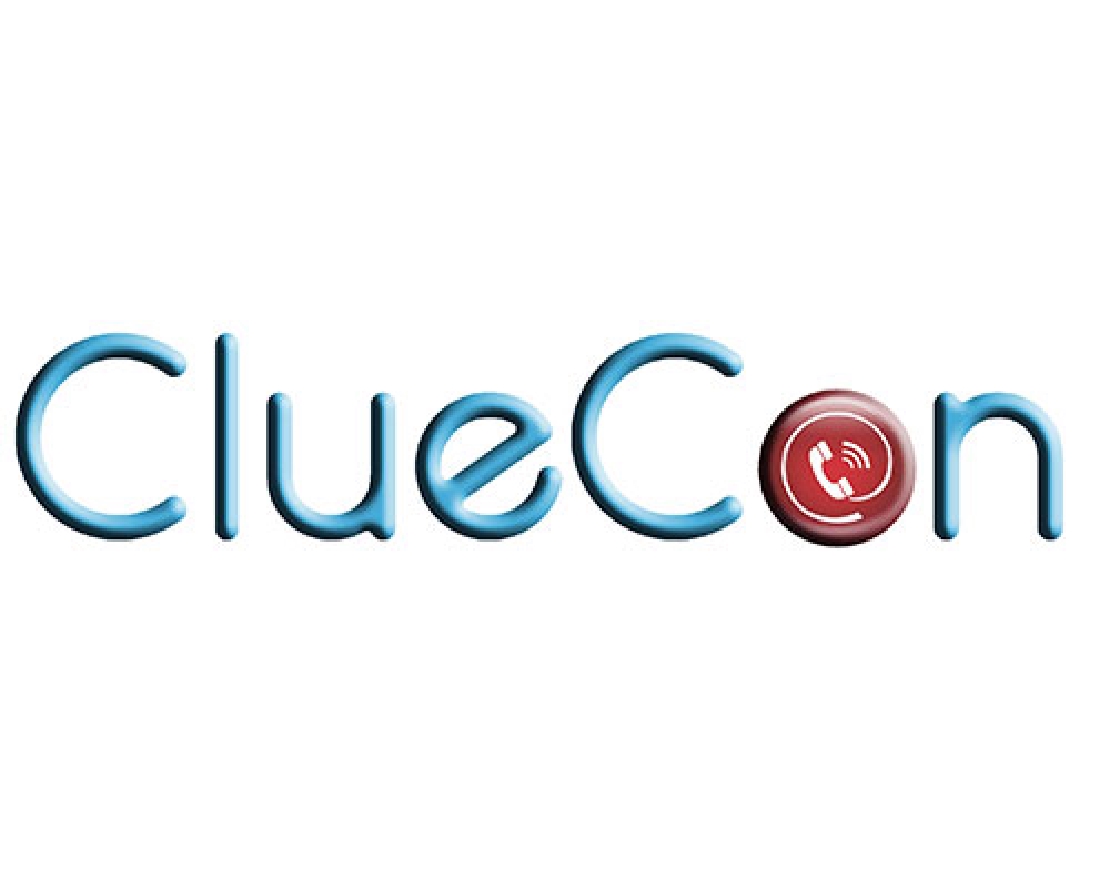 Steuerfachtagung Messe
8 - 9. September 2021, Hannover Convention Center
Tomorrow's Workplace Today – experience pascom for DATEV: Transform your DATEV Workplace into your client communications hub, that's with you regardless of where you are currently working - in chambers, in HomeOffice or on the go. Now at #SFT60!
Mehr Info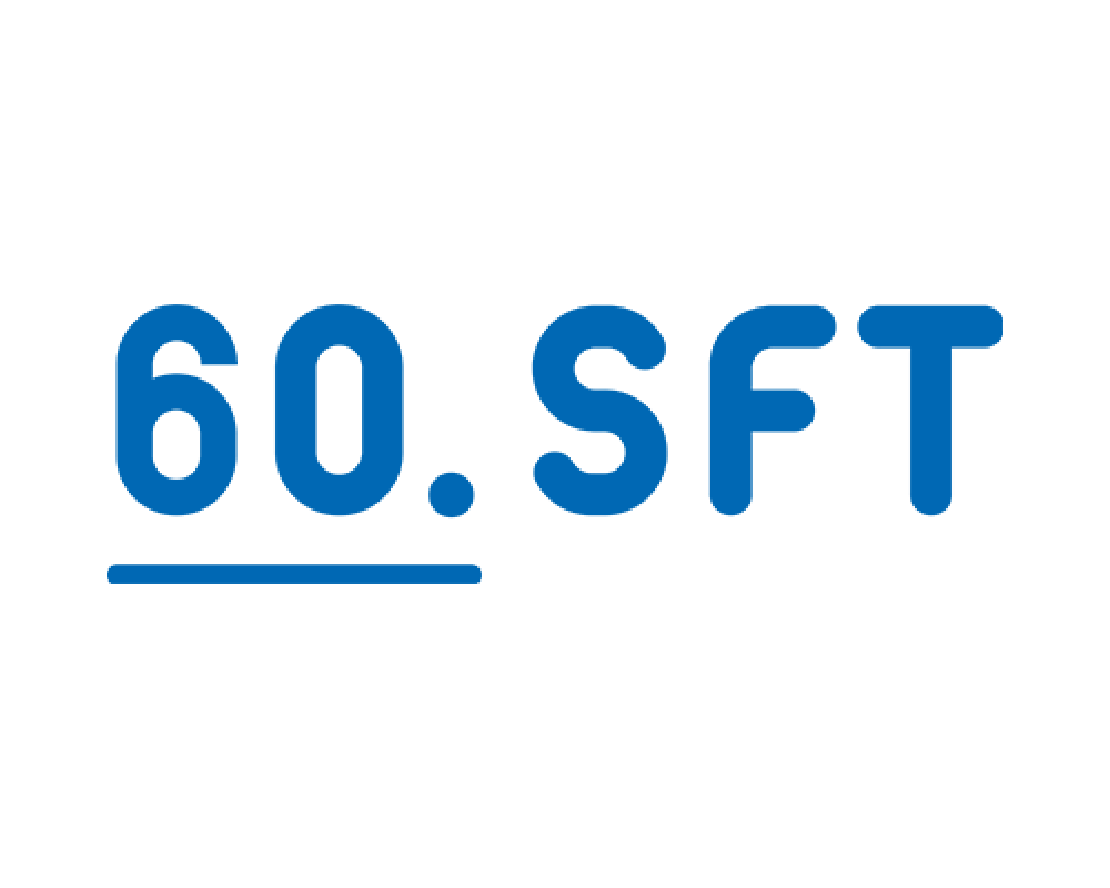 pascom Direct [German]
Wednesday 22. September
pascom Direct is the online home dedicated just for you, the pascom user. Communicate better, smarter and make an impact with useful, real-life tips and tricks on how to use the pascom apps plus of course staying up to date on all the latest news, feature releases and newest trends and what they mean for you and can make your workday simpler and more enjoyable.
More Info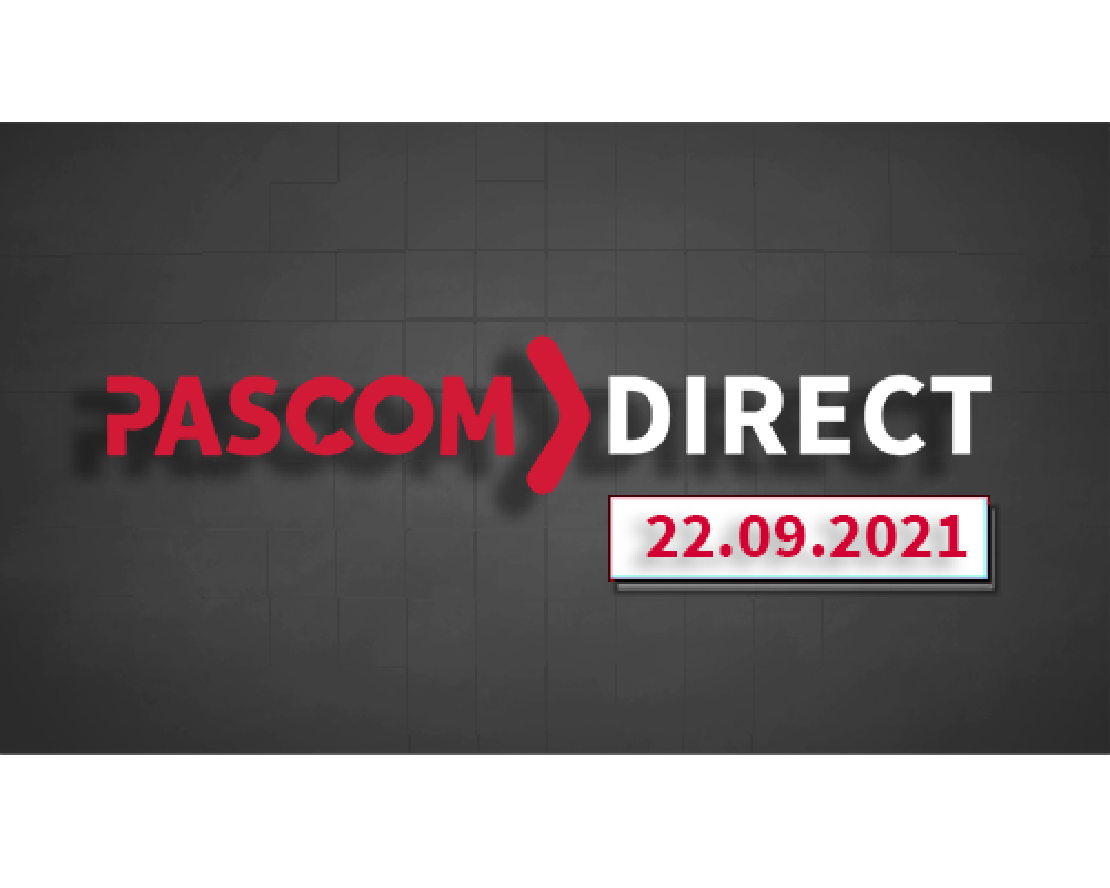 pascom Behnke Webinar [German]
Behnke Intercoms as a UCC Device, Wednesday 26. May 10.00 CEST
Learn how simple it is to seamlessly incorporate Behnke Intercom solutions into the pascom Unified Communications and Collaboration suite Webinar for Behnke partners and customers. IT admins can quickly onboard devices, assign permissions to allow end users to receive Intercom calls, monitor video feeds and remotely control building access direct from their pascom desktop and mobile UCC apps.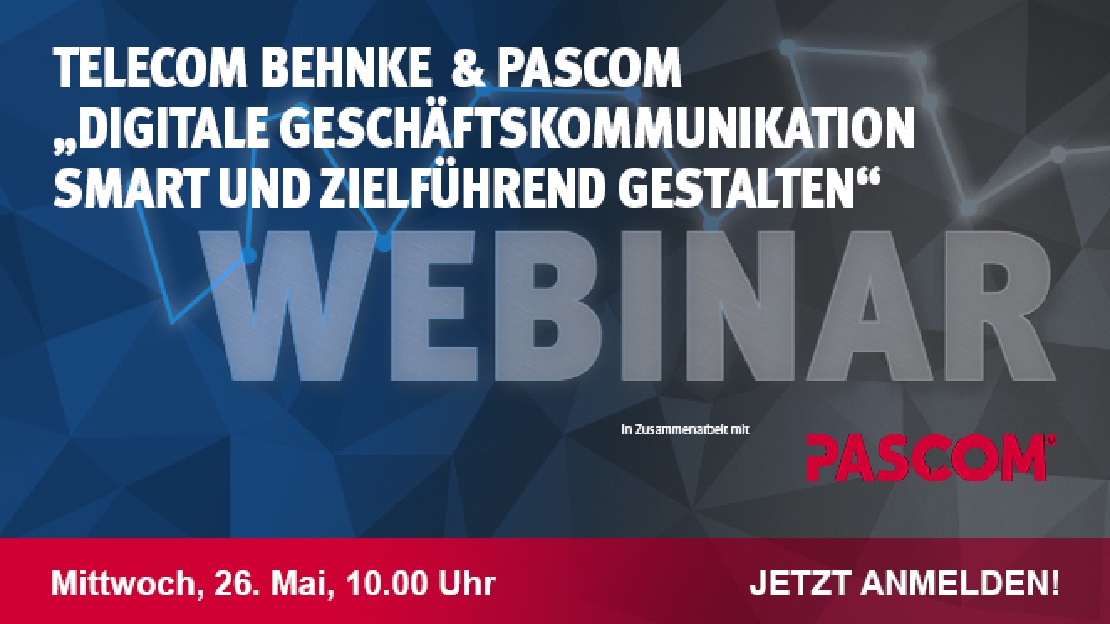 pascom & Snom [German]
The Complete UCC Solution, Friday, 21. May 2021, 10:00 - 11:00 CEST
LWSystem Online Days [German]
Tuesday, 18.05 at 10.30 & Thursday 20.05 at 15.00 CEST
Hosted by pascom CERTIFIED partner LWSystems, the twice weekly LWSystems Online Days virtual expo starts on April 13th covering a range of topics from Online Documentation in the era of IT security, GDPR and ISO 27001/TISAX all the way through to business communicaiton platforms when on the 18.05 and 20.05.2021, we look forward to welcoming you to our stage.
More Info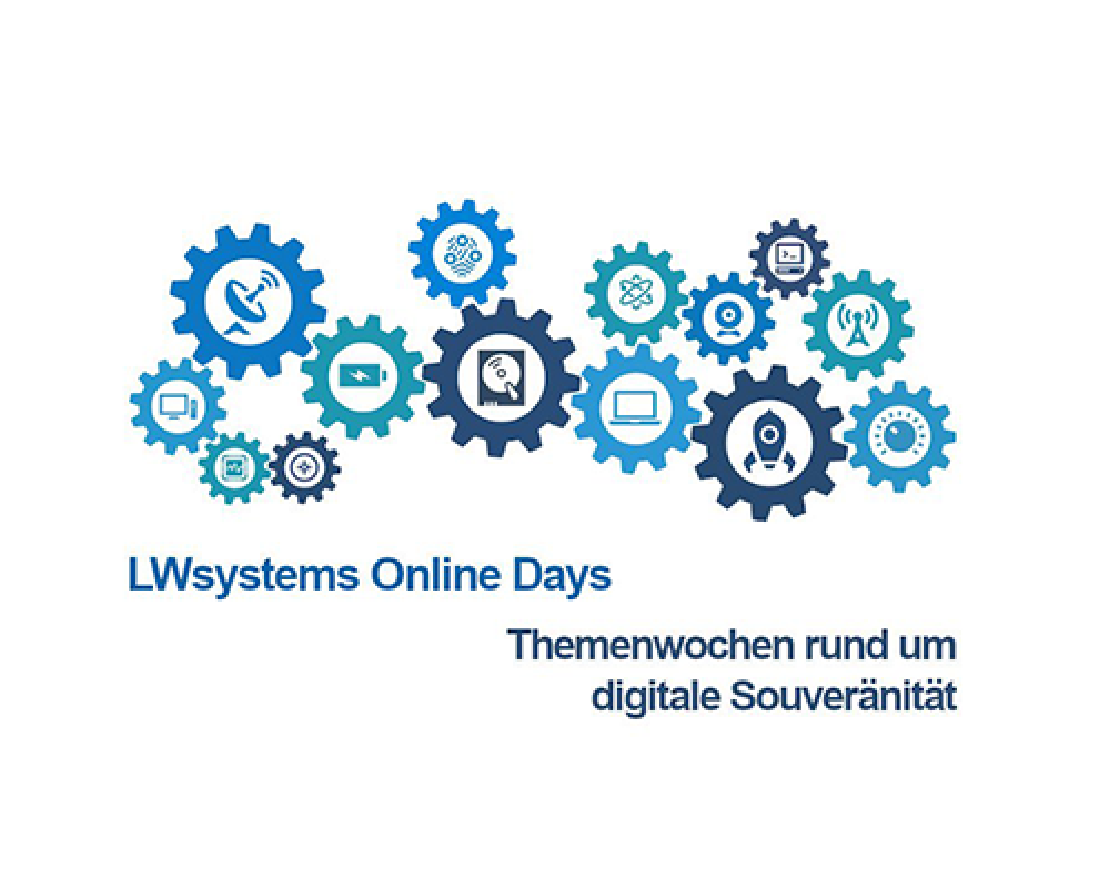 Modern Workplace Channel Day Virtual [German]
Tuesday, 18.05 at 10.30 & Thursday 20.05 at 15.00 CEST
Join us on Wednesday, 12th of May as we delve into the Modern Workplace and what this means for the telecoms and collaboration channel. For our part, we are show casing our newest mobile business communication feature set as demonstrated by pascom CEO Mathias Pasquay during his master class session: Tomorrow's Workplace Today which shows how IT System Integrators can support customers transform their mobile devices into a fully fledge business communication and collaboration asset.
More Info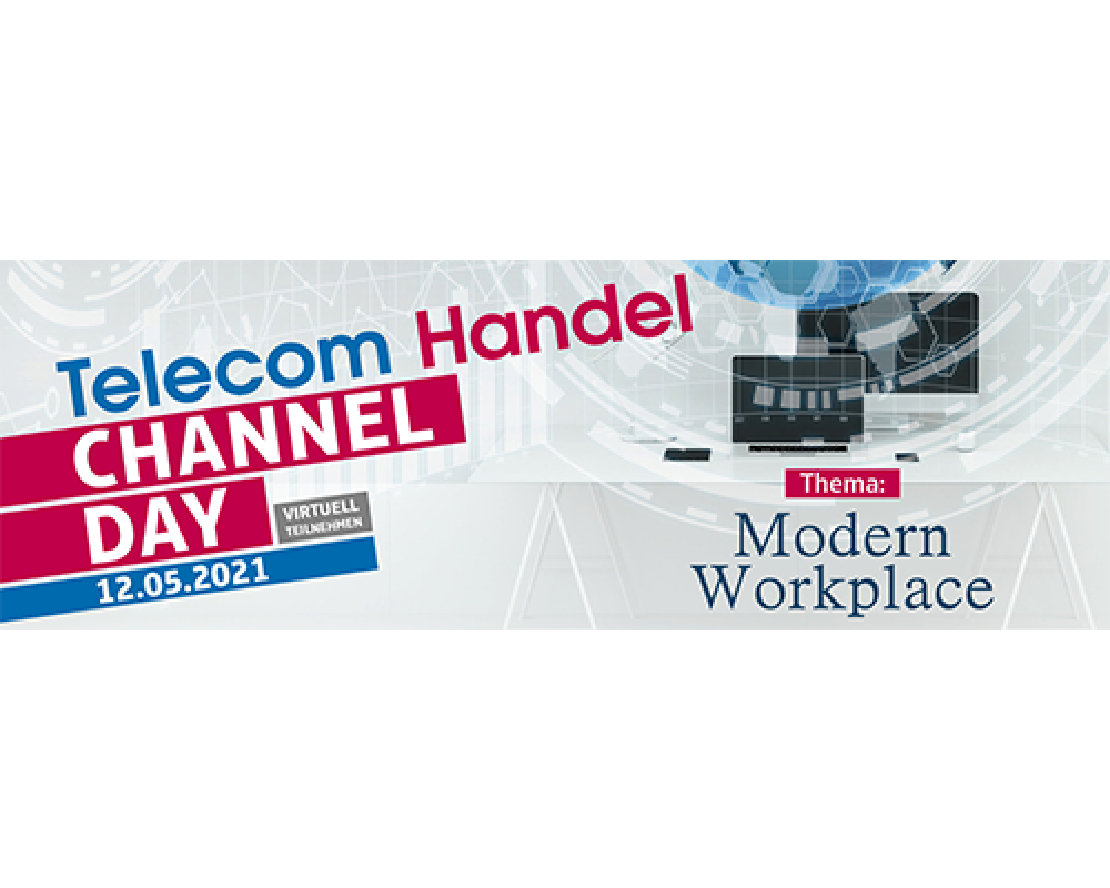 peoplefone Strategie Tag 2021 [German]
Thursday 06. May 2021
Join us on Thursday, 6th May at the peoplefone Strategy Day 2021 & gain first hand knowledge and insigth into the future of the modern workplace, the digital transformation and how being a pascom channel partner supports IT system integrators in growing their business and better support their customers with a business communications solution that delivers tomorrow's workplace today.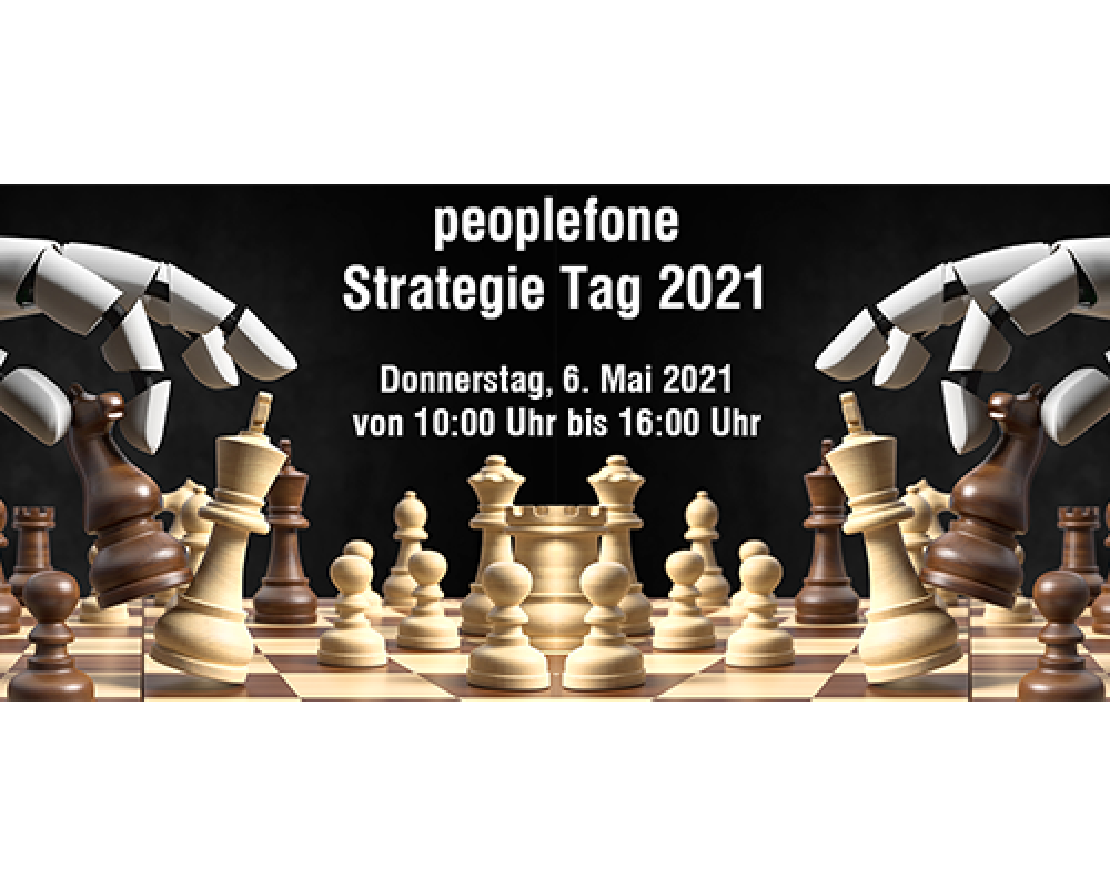 pascom virtual Partner Summit 2021
Thursday 06. May 2021
Join us on January 26th 2021 at the inaugural virtual pascom partner summit - THE pascom event for resellers, Cloud Service Partners, Interoperability partners and System Integrators - and discover live what the business communication tools of tomorrow will look like and how to position them to upgrade your customer business communication solutions in 2021.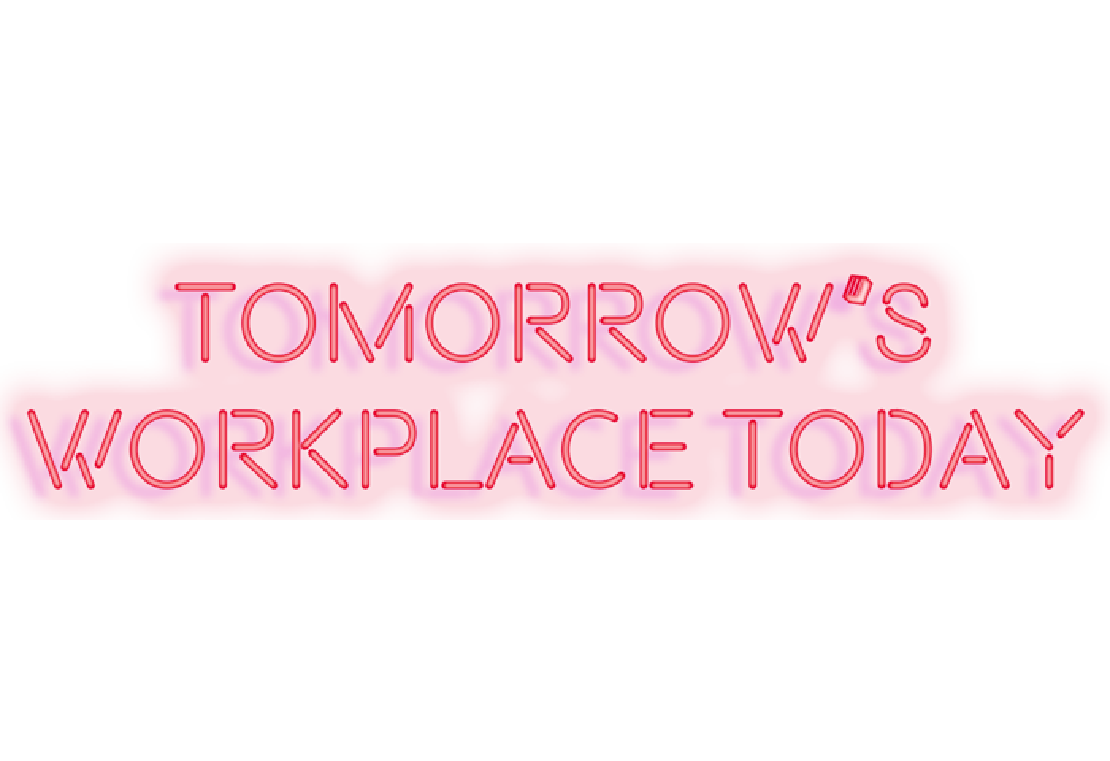 Why switch to the pascom Cloud phone system?
The pascom cloud phone system is a software-based virtual phone system solution that combines all the funtionality of a traditional PBX with modern team collaboration and remote working tools to keep your team and customers connected. No matter where your team work from, they will have instant access to a reliable, secure and high performing communications solution that is designed to deliver the extra flexibility and scalability that your business requires - from Team Collaboration to Home Office Working.
WORK FROM ANYWHERE

SIMPLE SETUP AND MANAGEMENT

CLOUD UNIFIED COMMUNICATIONS

ANDROID/IOS MOBILE VOIP APPS

NATIVE VIDEO & WEB CONFERENCING

ADVANCED CALL & CONTACT CENTRE
30 Day Free Trial
THOUSANDS OF COMPANIES TRUST PASCOM TO STAY CONNECTED
Memset
Gary Redmond, Corporate Infrastructure Manager
We opted for the pascom phone system as it delivered all the advanced functionality and ease of management we were looking for when replacing our old Asterisk system and further drive our excellent customer service standards, coupled with the ability to retain our Snom desk phones to ensure maximum R.O.I, ease of integration with our new pascom phone system and deliver maximum audio quality for our sales and customer service teams.

seitenwind
Philipp Meixner, CEO
As a communications agency with just under 20 employees, the pascom phone system is perfect for us. The technical concept simply functions, which is what you want. The service is exceptional and always accessible (even if it is rarely needed) and as one of the agency's business partners, we can only recommend pascom: open, straight forward, pleasant to work with - great. Thank you pascom!

AMPAREX
Stephan Förderung, CEO
We chose pascom because their phone systems offer a sleek, easy to use UC client and administration UI whilst providing us with all the PBX and UC features, control and visibility that we could possibly need from our business communications solution. As a result of our excellent experience, we are happy to recommend pascom phone systems to all our customers.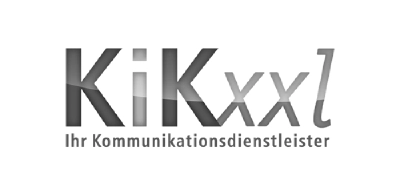 KiKxxl
Lars Hoeger, IT Director
When we make decisions regarding new systems, we want to make sure that we have both reins firmly in our hands. Therefore, it is essential to implement systems which adhere to OpenStandards, allowing us to seamlessly connect and integrate these to our existing systems. In addition, we require reliable suppliers, who are ready to customise their solutions to our requirements, which is why we chose pascom who offer exactly this service and more.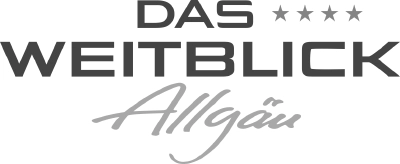 Weitblick
Kassandra Martin, Deputy Director & Reception Manager
We chose pascom as our telephony solution in part due to the scalability, flexibility and ease of deployment. In addition, the pascom platform functions perfectly with our digital guest directories in our rooms whilst offering the largest range of features at easily the most cost effective price compared to alternative solutions. A further deciding factor was the wide choice of compatible hardware that choosing pascom afforded us.
What is a Cloud Phone System?
A cloud telephone system is a software-based business telephony solution that is hosted in the provider's Data Centre. Sometimes referred to as a Hosted PBX (Private Branch Exchange), a cloud phone system combines all the telephony functions of a traditional PBX with modern team collaboration tools and makes them available via the internet using VoIP (Voice over IP) and SIP (Session Initiation Protocol) technologies. The pascom Cloud phone system provides you with a complete business communications solution that unifies all your communication tools in to one platform and makes all your essential communication tools available from anywhere and on your favourite devices to ensure that you, your team and your customers stay connected no matter where you work.
Cloud Phone System Benefits
Cloud telephony and communication solutions are easily scalable making them ideal for companies of all sizes, from small and medium-sized business to and large companies. As a hosted communications platform, a cloud PBX makes all your communications tools available from anywhere via the Internet, ensuring the maximum flexibility regardless of your location. Furthermore, the pascom cloud phone systems desktop and mobile apps give you the option of accessing all your telephony and collaboration tools of your preferred device, giving you the freedom to work from HomeOffice and keeping you connected while on the move.
Cloud phone systems vs virtual phone systems
Cloud phone systems are often referred to as virtual phone systems, so much so that the two terms are now almost synonmous of each other. From the customer's perspective, cloud and virtual phone systems are pretty much the same as a cloud phone system is not something physical and therefore must be virtual. However, in terms of the technology there is a difference which is how and where each type of PBX is deployed.
A cloud phone system is hosted within the phone system provider's cloud infrastructure. This infrastructure is usually multi-tenant and includes inbuilt redundancies, load balancing, and Session Border Controllers. A Cloud phone system is usually deployed and made available to the customer within a matter of minutes, saving time and hassle.
A virtual phone system is deployed within a virtualised environment, which can be either on-premise or in a data centre. Such a deployment takes longer to setup as the process will often not be fully automated and on-going maintenance will likely be more labour intensive as Managed Services are often not included for virtual phone systems.
Cloud Phone System Requirements
As all your communication and messaging tools are hosted in the Cloud and made available via the Internet, cloud phone sytems do not require any additional onsite hardware other than that required for your conventional DSL connection. As calls are routed via VoIP, no analogue phone lines are required. In fact, all you need to start calling, messaging and conferencing is an Internet connection and our apps installed on either your smartphone, tablet, laptop and / or desktop PC. We also recommend using an approved business headset.