Unified Communications
Simple and intuitive usability ensures that all your telephony tools can be accessed and used with the minimum of fuss and just a few mouse clicks. To promote effective and effizient Teamwork and Collaboration, we have made all the essential tools available in one user-friendly app that delivers a unified user experience across all devices.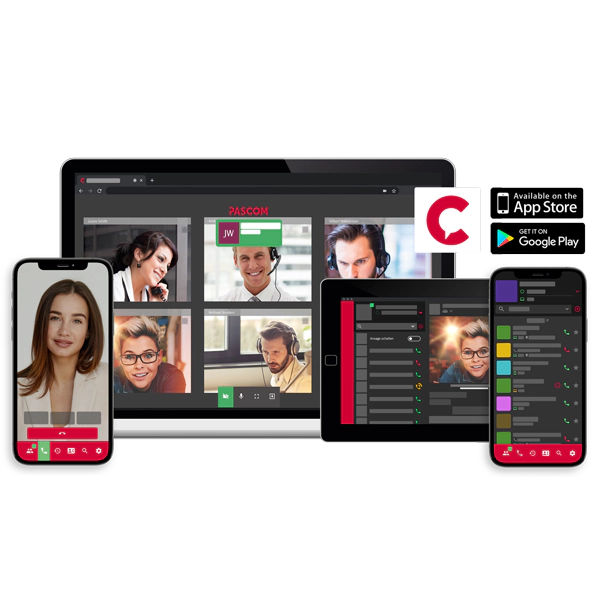 Desktop UCC Apps
The pascom desktop app is your personal business communications hub and delivers a huge range of functionality. Along with enabling team collaboration, the pascom desktop app is the ideal app for providing your callers with excellent customer service.
Inbuilt UCC Softphone.
Desktop App for Windows, Mac & Linux.
Every employee has instant access to UCC tools.
Unified user experience across all apps and devices.
Mobile Apps for iOS & Android
Combine the flexibility of your mobile with the functionality of your desktop with our mobile UCC apps for Android and iOS and let your team work from anywhere at anytime. With an inbuilt SIP softphone, messaging and meeting suite, our mobile apps keep your team connected from everywhere.
GSM Fallback, Fixed Mobile Convergence (FMC)
Make and receive calls on your office number via GSM. If your mobile device does not have an Internet connection, then the automatic (or manually set) GSM fallback can be used to keep you connected on your office number, ensuring you don't miss any important calls not be available.
Multi-Lingual
The pascom apps are available in a number of languages. Team members can simply select their preferred language without affecting their workflows and allowing them to collaborate with ease with international colleagues.
Presence Management
Let your colleagues know when you are available, where you're working from and when you're in a meeting and don't want to be disturbed. Through using presence, the efficiency of your teams and how they collaborate can be greatly improved.
Instant Messaging
These days Instant Messaging is the new e-mail. Why? Because it's quick and effective. All chats are automatically synchronised across all your apps allowing you to start chatting on your desktop and to continue on your tablet or smartphone.
Team Messaging
Share information quickly and efficiently with entire teams with team messaging and "always-on" team messaging channels. Break down information silos by grouping users into departments, teams or projects.
Video Conferencing
With pascom's inbuilt video conferencing tools, starting a face-to-face multi-user video call is as simple as clicking a button. Start and join meetings from your from your desktop or mobile app and visually bring your remote teams closer and more connected.
Improve online meeting effectiveness with video
Face to Face Video Calls
Instantly start video meetings with project teams and departments
Excellent HD quality on all platforms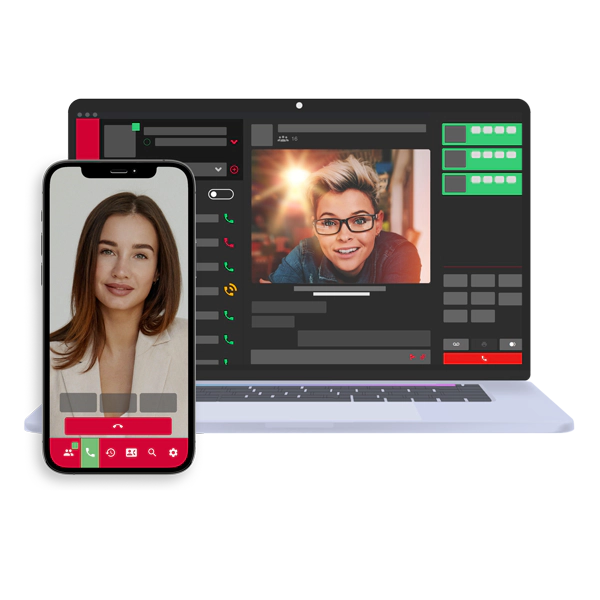 Audio Conferencing
pascom's "Always On" Team Messaging channels provide the ideal tool to dynamically start group conferences without requiring any additional conferencing hardware and avoiding any scheduling and dial in issues associated with more traditional audio conferencing solutions.
Online Web Meetings
Online meetings, remote presentations and online support. With pascom Web Meetings, pascom users can invite customers and business partners to join online meetings direct from their preferred browser.
Drive engagement with screen sharing
Take your team collaboration and customer presentations to another level with screen sharing. Promote meeting effectivenes with customers, teams and remote workers and keep everyone on the same page by sharing detailed and engaging presentations.
Quickly share information with File Sharing
Boost productivity and collaboration by instantly and securely sharing files with colleagues directly from the pascom UCC apps. Avoid delays and unnecessary follow-ups with inbuilt read receipts and in-chat previews. Just like with Instant Messaging, all file transfers are sent securely to protect the integrity of your company data.
Contact List
Central to effective employee communication is the contact list, in which all your colleagues, chats, teams, queues, and much more are found. The favourites function and extensive filter options make keeping everything organised simple.
Workspaces & Hot Desking
Hot Desking and workspace selection is ideal for hybrid working, Call and Contact Centres as well as open plan offices. Simply select the workspace where you are currently working and automatically take control of all the telephony devices assigned to the workspace and start making and receiving calls on your office number.
Voicemail-to-E-Mail
Never miss an important message again with pascom's Voicemail system. Every user and team can have their own voicemail and all messages are automatically converted and send directly to your or the assigned e-mail address.
Virtual Fax-to-E-Mail
These days the fax machine has gone virtual and every user can have one. Automate your fax sending with folder monitoring and automatic PDF conversion and fax-2-e-mail all of which make bulky old school fax machines a thing of the past.
Call Logs & Phone Book
As a well know saying goes, the written word remains. Call histories are essential to modern business in order to better analyse and understand customer contacts. The basis of which is the company phone book where your all important customer contact data is stored.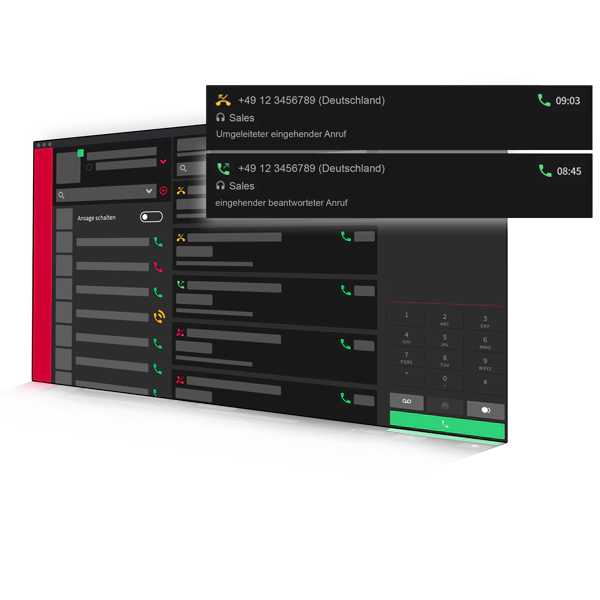 Call Histories
Never overlook an important call again. The pascom call journal provides every user with a complete call history to follow and manage customer contact events. Each call log includes a detailed overview of the entire call flow allowing you to see who contacted you and whether they called direct or via a team.
High performance search to find calls again.
Extensive filter options for a personalised overview of your all your calls.
Initiate callbacks direct via the call history.
Automatic, seamless data synchronisation across all apps.
Team Call History per Queue
Help call agents keep a cool head and offer excellent service even under the pressure of high call volumns. As a call queue agent, you have access to individual queue call histories which provide you with additional features. For example, filter calls for specific queues and see whether calls where answered by a colleague and much more.
End-to-end phone system call flow visualiser
Follow calls from start to finish by displaying the complete call flow through the phone system. The pascom queue call history function tracks the complete call flow in order to allow you to exactly follow a callers route from the moment the call enters the system.
Detailed
filter options
Gain the optimum overview of your calls using the call history filter options. Define call ditects, call results, and origin etc. in order to personalise your call journal to meet your requirements.
Follow customer
contact events
Confidently provide information about the last 3 calls from a customer, with whom they spoke and for how long to significantly improve how you and your team communicate with customers.
Detailed
historical call data
Instantly access historical call data. Time, date and duration, even how long the caller waited in the queue plus which employee spoke to the caller and much more is at your fingertips.
One place
for all your call data
Alongside call details, each call journal entry includes much more informatuon. Access voicemail messages, call recordings, call lables as well as information from the phone book.
Global and private user phone books
Benefit from fully integrated phone books including company and private phone book contacts, giving your entire team access to customer contact data from anywhere, on all platforms, apps and devices regardless of data source.
Fully synchronised contact data across all apps and devices.
Phone book menu available even on hardware VoIP phones.
Speed dials simplify every day workflows.
Detailed caller identification on all apps & devices.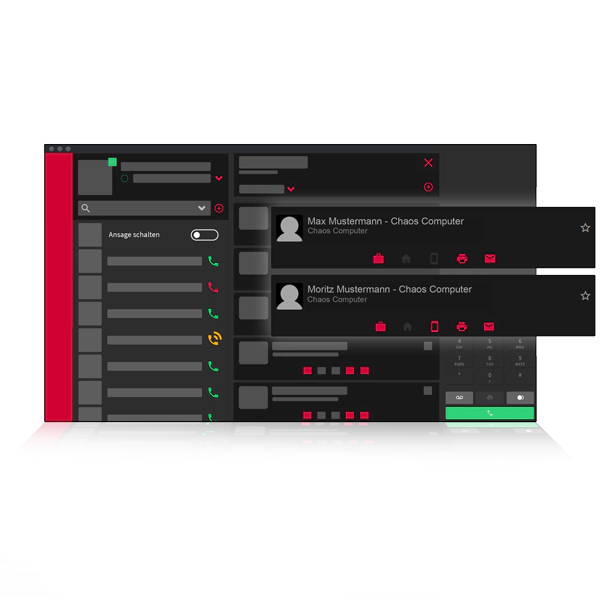 Harness the full potential of your corporate contacts
Use the full power of the pascom phone book and build data life cycles in which your data can be imported, processed and returned. And that with thousands of contacts from multiple data sources.
Add your own contacts in your private phone book
To protect global corporate phone book entries, every pascom user has their own private phonebook in which employees can import contacts from Outlook, Apple Contacts and even their smartphone.
pascom Call Queues (Teams)
Upgrade your business communications to the next level with professional call queuing. The pascom Teams intelligent call queueing funtions simultaneously boost employee productivity and enable you and your team to offer exceptional customer service. With a vast range of options available, pascom gives you all the tools to implement a professional contact centre to match your company needs.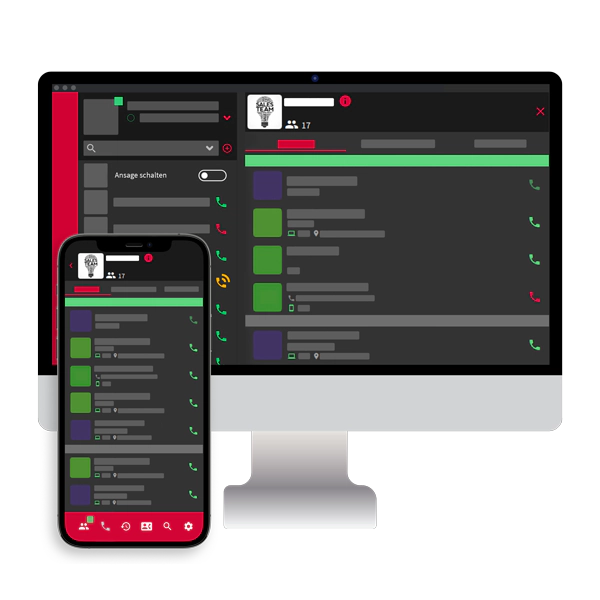 Professional Collaborative Contact Centres require call queues
The pascom Teams feature provides a high performance collaborative call queueing system to transform employees to professional customer call agents. Precisely configure your team queues to match your business' exacting requirements and expertly manage customer calls while giving your employees all the tools they need to work together effectively and deliver the very best in customer experience.
Whether sales or technical support, create caller focused experiences.
Detailed team overviews over calls and available agents.
Add value to your callers with appropriate music on hold, informative prompts and announcements.
Unified User Experience across all pascom Apps.
pascom Teams - flexibiltiy that meets your needs
Companies of all sizes, no matter whether a large call & contact centre or a small medium business, benefit from highly customisable call queues. Add prompts, create call routing to IVRs or your own bespoke call management actions. It has never been simpler to implement and fulfil your business' contact centre objectives.
Monitor waiting callers
Avaialble to all call agents, the pascom Teams tool provides you and your team with an instant overview of waiting callers including caller position and wait time, empowering you to make informed decisions such as whether to pick up and prioritise certain callers.
Dynamic
agent log in / out
Give your team members the freedom and flexibility to dynamically log out of teams when they should not be disturbed by queue calls and log back in once they are available again.
Define call
agent pause reasons
Setup pause reasons for users and agents, which can be used for short breaks such as post-processing, coffee breaks etc. Pausing queue membership stops all calls being routed to the user.
Flexible options
for every scenario
Timeouts, call strategies, call weighting are just a fraction of the options available. Check to see if the queue is full or whether any agents are logged in and use this information to trigger specific actions.
Turn users into
expert call agents
Add users as queue members and at the same time assign priorities which then influences the call strategy when routing calls to your call agents, determining which agents should receive calls first etc.
pascom User Management
Users are the heart of your business communications. The pascom phone system user management system enables you to quickly add and intelligently manage all your users exactly according to your needs whilst delivering a large number of benefits.
Adding users to pascom
Companies of all sizes can profit from the professional user management that a UCC telephony solution delivers. The pascom phone system includes a wide range of options to add users to your system.
Add an unlimited number of users.
Countless highly flexible & customisable user options.
Simple user onboarding and account setup.
Places users at the centre of your communications from phones to mobiles and much more.
Import users via 3rd integrations
The pascom phone system connector profiles provide an extensive set of 3rd party integration and automated import options. Simply add new employees to your user management solution and the pascom connector will automatically add the new users to the phone system, reducing repetitive data entry across multiple systems.
Invite users direct from the phone system
Want to expertly onboard and professionaly welcome new members of your growing team? Particularly useful for onboarding remote workers and freelancers who are perhaps not in your user management system, the e-mail invite function allows you to send a welcome e-mail to new users who can then set up their account and apps using the step-by-step assistant.
Extensions assigned
to users not devices
Traditional phone systems had extension numbers assigned to devices not the user. With pascom, each user has their own internal extension on which they are available across all their devices. This greatly simplifies mobile integration and workspace management for both the user and the phone system admin.
3rd party
user authentication
Authenticate users against 3rd party applications such as Microsoft Active Directory and LDAP. This ensures users only require a single password for all systems and allows you to add more security by implementing company wide password policies.
Extensive
Permissions System
Assign users with differing permissions in order to effectively control access, share tasks and ensure data security. From system administrator to phone book manager, a wide range of levels are at your disposal to cover any scenario.
Enhanced
User Settings
From device management and timeouts to performing actions according to variables and conditions and routing to calls to Voicemails (or queues, IVRs, etc) and so much more, pascom offers an almost countless number of ways to customise user settings to match every need.
Desktop Computer Integrated Telephony (CTI)
From desktop phones, softphones and even your mobile apps, just imagine having one platform with which you can control all theses devices and make calls directly from 3rd party applications such as your CRM or browser. pascom's Cloud phone system CTI controls do just that to make sure your daily work flows are as seamless and effortless as possible.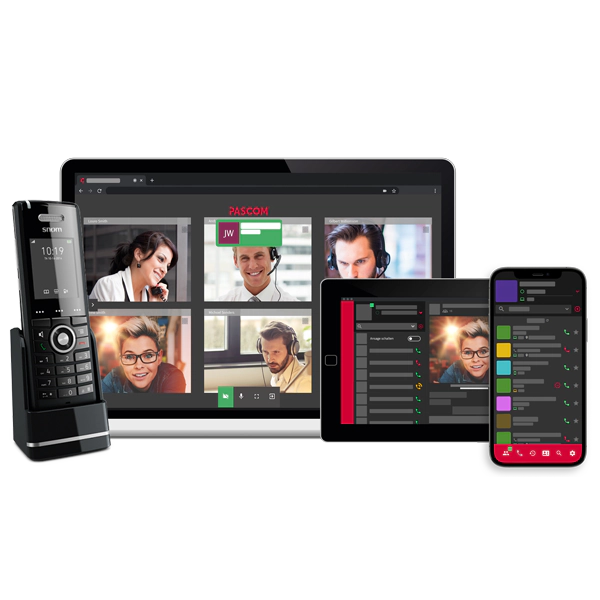 Flexibility built around you
The key all good business communications solutions is that you don't have to adapt the way you work to the solution, but rather the solution adapts to the way you work. With the pascom phone system CTI features, you have complete control over all your devices and can configure them according to your preferences.
Extensive range of device management controls for users and admins.
Work faster & more efficiently with user defined shortcut key.
Remote control hardware and mobile phones from the desktop app.
Stay in control of all devices, in the office, home office and on the go.
Find Me Follow Me Device Management
Control which devices should ring in which workspace and set time delays to define the order in which they ring. Ideal for Home Office, remote and field workers as well as any employee with more than one device, pascom's Find Me Follow Me tools allow users to precisely manage their devices according to their needs and workspace.
Click 2 Dial
Make calls quickly and efficiently with Click-2-Dial. Simply mark the number and press the Click-2-Dial keyboard combination to dial numbers direct from your everyday business applications such as your web browser and CRM / ERP systems.
Windows
TAPI
Make calls directly from your CRM, ERP and MS Outlook apps with the pascom TAPI driver. Our TAPI app enables the dialing function of your 3rd party applications and means you can make calls using whichever IP enabled phone you are currently using.
Remote control
your mobile
Use your smartphone as a replacement for your desk phone and conviently control your mobile devices directly from your desktop. This allows users to combine the comfort of the desktop app with the freedom of their mobile and provides users with considerably more flexibility when performing their everyday workflows.
Desktop VoIP
Phone CTI
Use the pascom desktop app to control your desktop phone. Simply start a call from the pascom app and your phone will automatically start the dial and call setup process, eliminating the need to dial manually or perform number look ups on the phone.
Softphone
Headset Controls
Replace your desktop phone and increase user comfort with pascom's inbuilt softphone and accept and end calls directly on headset. In addition, volume controls are also available and especially users who make many and/or longer phone calls will benefit from greater comfort compared to a desktop phone receiver.
Device Integrations
In terms of VoIP endpoints, the pascom cloud phone system supports a complete range of industry leading manufacturers, from VoIP phones, IP DECT systems, and video door intercoms and much more.
Effortlessly integrate your communications infrastructure
No matter where you and your team work, in the office or at home, VoIP endpoints are ever present. From headsets to VoIP phones, DECT solutions to analog phones and even fax machines, modern business communications require a complete fleet of endpoints. Integrating these devices into your pascom phone system is simple and is quickly done via pascom's pre-configured provisioning templates which is definite plus for phone system administrators.
Supported vendors such as Snom, Yealink, Mitel and Gigaset.
Connect DECT systems, desktop and mobile VoIP devices, fax machines and more.
Integrate analog faxes & phones etc via VoIP gateways and ATAs.
Centrally manage all devices in one place.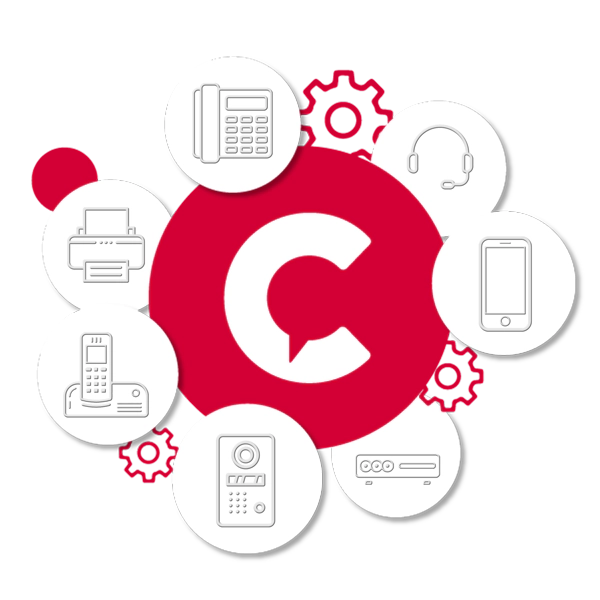 Zero Touch Provisioning
Effortlessy add and configure SIP desk phones thanks to zero touch provisioning. All that is required is the VoIP phone's MAC address and the phone system does the rest, ensuring that phone system managers can easily pre-configure presets before the phone is then connected to a workspace.
Customisable Default Configurations
The basic configuration templates for each endpoint allow plenty of scope to be customised to your requirements. As such you can modify basic configurations as you wish and then roll them out to all your devices in one go. As such, it is possible to deploy different setups for different teams / departments and fulfil the individual end user needs.
Endpoint
Firmware Management
Keeping endpoint firmware up to date is essential for performance and security, but the ongoing management can be especially frustrating for IT administrators. The pascom phone system allows you to centrally manage all your firmware files & roll them out to all compatible devices with a single click.
Personalise
your desktop phone
Incorporate your corporate image into your employee desk phones and personalise the look of your endpoints. Perhaps you've always wanted to incorporate and promote your brand on your phones or even roll out different designs for different company teams - the options are almost limitless.
IP Audio/Video
Door Intercom Integration
Boost building security with a SIP enabled door intercom which enables you significantly strengthen access control. When visitors ring the bell on the intercom, your team will then receive a call via the pascom apps, talk to the visitor via audio and monitor the office guest via video before permitting access.
Define BLF
Keys in the pascom app
Configuring BLF line keys used to be complicated and time consuming. With the pascom app, your employees can quickly and simply edit and manage their BLF keys to suit their needs and everday workflows.
Create amazing customer experiences
First impressions count. Get it wrong, then you've already lost the customer. This is a core aspect of professional business communications. Managing how your business is perceived by calls is therefore essential and your communications should be focused on in-call customer experiences, answer times and creating interaction and engagement points.
Greet, inform and guide callers
To make a lasting impression on your calls, it's important to keep a few basics in mind. Greet all your callers professionally and guide them effectively as they start their in-call journey. Provide callers with useful information about products, services, offers, and company events. Ask questions and add interaction points to help callers reach their goal quicker and provide agents with relevant information to boost customer service. With the pascom phone system, all the necessary tools are at your fingertips.
Integrated prompts system to manage all your prompts.
Add professionally recorded custom prompts or record your own on the fly.
Organise prompts for multiple languages.
Add caller focused playlists to suit each requirement.
Database of pre-recorded system prompts
The pascom phone system includes a database of multi-lingual pre-recorded system prompts. This ensures that national and international callers can comfortably use and find their way through your phone system.
Music on Hold (MoH) playlists
Playlists are an excellent way of creating individual, customer focused Music on Hold and can be added to your call queues. Create an enjoyable caller experience and ease waiting times with appropriate music, promotional and informational prompts.
Language packs
for international callers
Organise your prompts in language packets, which are then automatically activated when the corresponding channel language is set per call. This allows you to deliver the same customer experience to callers from every market where your business operates.
Recording system
for quality control
Continually review your customer service quality and training requirements with call recordings with pascom's inbuilt recording system. Either start call recordings manually or create automatic recording rules and define how you want recordings to be archived according to your requirements.
Record your
own promtps
Need a new prompt quickly or want to add a more personal note to your announcements? Simply create prompts on the fly using the inbuilt prompts system. What's more, the prompts can be re-recorded using the share code and the new recordings will be automatically available where they are needed.
Save and
import recordings
Simply upload your professionally recorded prompts to your pascom phone system. The export function allows you to easily create a backup of all your custom prompts which is especially useful should you need to re-import your prompts again or add them to other pascom phone systems.
Intelligent Call Routing
You probably already have an idea of the route your callers should take through your phone system. With intelligent call routing and automatic call distribuion, you can design fully automated and caller centric interactive call flows which can be built to precisely meet your and your caller requirements.
Expertly manage call flows with versatile call routers
The pascom phone system's call distribution system includes intelligent call routers which automatically route callers through the phone system. pascom's call routers can set and handle a wide range of actions, call routing options, elements and functions. At the same time, call routers can also perform condition checks and automatically make decisions.
Create call routing options and forwarding.
Add actions to trigger events.
Automatically check conditions to automate decision making.
Route callers using Call Labels, e.g. VIP Customer.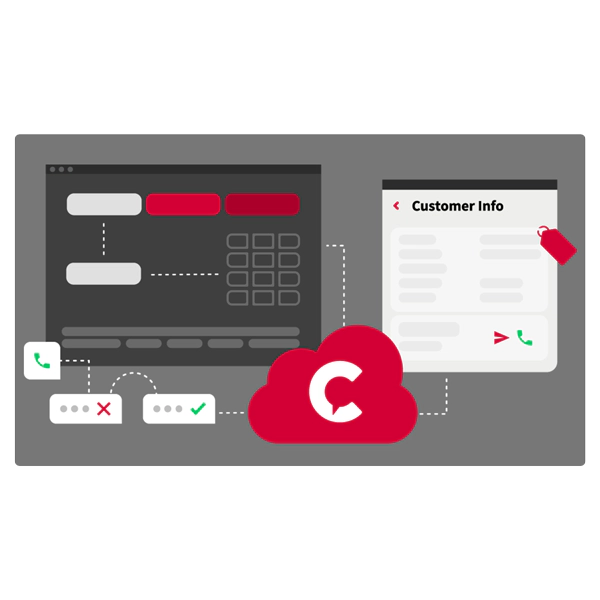 Opening hours, public and company holidays
Using pascom's action conditions, the phone system can automatically read and check your saved business hours and react according to inside and outside of your opening times. With pascom's calendar function, stored public and company can be read and again reacted to, allowing you to add completely different call flows and therefore better manage your caller expectations.
Manually intervene in call flows with extension switches
Certain situations require a quick, immediate intervention into your call flows. pascom's extension switch activates / deactivates actions that allow you to set certain prompts or call forwarding etc. This allows you to completely alter your call flow with just a single button click within the pascom app or BLF buttons.
Skills-Based Routing
Deliver the best in customer service and customer experience by leveraging the strengths of your employees and routing callers by matching caller needs with employee skills. This enables a targeted, customer focused approach to call flow management and allows you to connect callers with the most suited available employee based on their skills, e.g. product knowledge, technical ability and even language.
IVR menus
Interactive Voice Response (IVR) menues are an essential aspect of engaging and interacting with your callers. Learn where your callers want to be connected to. pascom's phone system IVR menu tools can be highly customized to meet your business need, allowing you to pre-qualify callers in advance through options menus and data entry options as well as provide self-service options.
Call Labels
Attach additional information to your business contacts in the form of call labels. Info such as customer number, SLA level, VIP customer and more can be used to route callers more effectively. For example, important VIP customers can bypass the IVR menu and be directly connected to a VIP customer care manager.
Action Templates
Setup action templates which can then be quickly applied to users, queues and even IVR menus. This eliminates repititive data entry tasks and significantly reduces the amount of administrative resources required when, for example, new routing actions have to be configured for tens or hundreds of users.
Trunks & Providers
The pascom cloud phone system affords you considerably more flexibility when it comes to VoIP providers. Benefit from all-in-one business communications and telephony with pascom ONE and the pascom VoIP trunk. Alternatively, bring your own provider (BYOP) or even run a combination of both options. Either way, your business will benefit from a VoIP phone system that delivers all the features, functions and tools for every eventuality.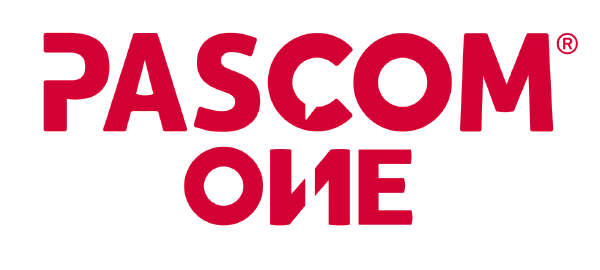 pascom SIP Trunk
Get started in minutes with the pascom ONE all-in-one business communications solution. Our integrated pascom SIP trunk is available for immediate use and can of course be upgraded to suit your business with additional numbers either booked directly from us or by porting your business' fixed-line phone numbers from current VoIP provider to pascom.
Setup single phone numbers or complete Direct Dial (DID) number blocks.
All essential features included e.g. Clip No Screening.
Simple, intuitive telephone number management.
Currently only available for customers in Germany.
SIP Provider Database
You want to remain with your current VoIP provider? Then check our database of supported VoIP providers from across the DACH region and beyond. The preconfigured provider templates help simplify the registration process and ensure that you can connect your pascom phone system and VoIP provider with the minimum of technical knowledge and hassle.
One Number Concept
Never give out your private mobile number again and keep your private and business numbers separate. With our One Number Concept, you will always be available on your business number, regardless of which device you use. Outbound calls use your office extension, even when making GSM calls via the pascom mobile app, meaning your customers will always see the right number.
Multiple trunks
for multiple locations
Operate a multi-location business that uses multiple SIP trunks / providers? With the pascom cloud phone system, adding more trunks from multiple providers is simple and easy to do. Simply add the trunks and providers you need and start benefit from a centralised business communication solution that's available globally via the cloud.
Inbound & outbound
call rules
Control how your callers contact your team and how your users contact customers. Call rules link your actual business phone number(s) with your internal extensions. Use variables to further define your call rules exactly according to your business model and customer expecations.
Call rule-based
blocking function
Block any source or destination number, e.g. 09 premium rate numbers (UK), international calls, specific extensions and more. Alternatively, instead of blocking certain outbound calls, simply PIN protect certain destination numbers and allow only specific user groups to dial these routes using the PIN.
Versatile
configuration options
Define extension ranges, setup of call forwarding rules or modify phone number signalling. Set channel languages to influence system prompts for international callers. With the pascom phone system, all these configuration options and many more are at your disposal.
Security & Date Protection
Protecting your data is especially important to us. That's why we have put the highest security protocols in place wherever you exchange company data. This means that when you go about your daily business and operational activities, you can do so confidently in the knowledge that your data security is in good hands.s
Encrypted Voice and Data connections
All your business communication data that you share with users via the pascom phone system is secured using the latest encryption technology. Constant internal system monitoring ensures eventual problems are identified and reacted to quickly. In addition, pascom's inbuilt Session Border Controller (SBC) secures data sharing via the Internet.
Secure telephony and data sharing encryption.
Integrated automatic system health checks.
Relevant system event reporting.
Multilple Data Protection certifications.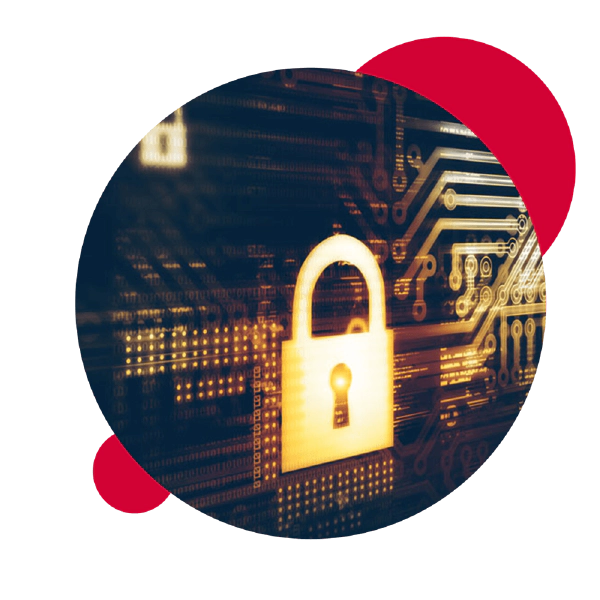 Flexible Roles and Permissions System
The pascom phone system permissions system allows you to assign specific roles. From administrative to operational job functions, you can apply certain rights to groups and individual employees. In doing so, you can define and manage which users are allowed to interact with which job areas, colleagues and objects.
Integrated Session Border Controller
The pascom Session Border Controller (SBC) offers further security, mobility and availability for our cloud phone systems. The pascom SBC keeps data sharing via the Internet secure and ensures that your business communications across all platforms is secure. Furthermore, being included as standard means no 3rd party SBC platforms are required, saving time, money and resources.
Secure VPN
Connector Interface
The pascom VPN connector provides you with access from the cloud to services in your local network. This allows you to, for example, authenticate users against a local Active Directory installation or import customer contact data from your onsite ERP / CRM systems.
Certified
Data Protection Standards
Everything regarding the topic of Data Protection and IT operational security in the pascom cloud is public for your viewing. Everything from our ToMs to our ISIS12 (CISIS12) and TüV certifications are available online. All documents and a number of FAQs can be found here.
Automatic
System Checks
Our integrated system integrity checks (system health checks) constantly monitor and check the status of your cloud phone system. Should any issues be identified, you will then be notified and informed.
Secure
User Authentication
Alongside username and password authentication, users can also be authenticated agains external 3rd party applications via LDAP. Furthermore, the pascom Mobile App onboarding process is secured thanks to QR code pairing.
Administration & Maintenance
The pascom cloud phone system is delivered as a Managed Services solution, which offers a number of advantages right from the phone system deployment stage, which is particular benefit to system administrators. A wide range of pascom phone system admin tools are also available to simplify ongoing management and maintenance.
Multi-session administration from anywhere
The pascom admin UI is accessible via the Internet from anywhere which is particularly beneficial when quick reaction times are needed to meet setup, implementation or resolution of requirements. The multi-session access capability permits multiple admins to access the web UI at the same time and coordinate their work when making system critical adjustments.
A central space for all pascom phone system settings.
Job collector for system critical modifications.
Intelligent search to quickly find settings and values.
Total control over every aspect from anywhere.
Stay informed with pascom cloud monitoring
As a system administrator, you should always know the status of your systems. To support you, pascom provides a web service that displays the current state of all pascom cloud services, from VoIP trunking services to client and web services. The platform also provides an overview of any planned maintenance windows and includes a subscribe function to automatically inform you of any updates. Visit
status.pascom.net
, subscribe and stay up-to-date.
Backup & Restore
Data backups are an essential to business continuity. pascom's full system backup feature allows you to create backups of all your important pascom phone system data. You can even further refine your backups with the option to include voicemails, call recordings and trunk settings. Should it be required, backups ensure that the restoration of your pascom phone system is quick and uncomplicated.
System critical
jobs collector
The pascom admin GUI job collector collects and writes all your system critical changes to a database. This ensures you can make system changes and then apply all the adjustments at once, when for example the business day has ended and no active calls will be disrupted.
Automated installion
guides & templates
The pascom phone system is designed to be admin and user-friendly meaning you and your team can profit from our step-by-step guides which help you get your phone system setup in just minutes. A range of pre-configured templates greatly simplifiy the setup process, so much so that even non-admins are able setup SIP trunks and VoIP desktop phones.
pascom
REST API
The pascom REST API delivers a completely new way of controlling and maintaining your pascom phone system and allows you to setup and manage the flow of business data from the pascom phone system to 3rd party applications where the information is made available for further processing.
pascom
e-mail server
The pascom phone system has an inbuilt e-mail server which can be used to take care of all notifications for, for example, voicemails, call recordings, status notifications and much more. Of course, it is also possible to connect your exisiting e-mail server to perform these tasks.
Analytics Wallboards
pascom's Analytics Wallboards provide you with an instant performance overview of your contact centre and telephony operations. Adaptable to any business size, the pascom Wallboards are incredibly flexibile and can be modified to meet your requirements, allowing you simply analyse, evaluate and report on all your business communication KPIs.
Expert Reporting with Analytics Dashboards
The pascom phone system Grafana integration enables you to filter and analyse all the data relating to your business communications. The analytics dashboards make interpretating your call data easy and ensure that you have quick to hand access to al the information required for reporting purposes.
Real-time dashboards for global performance monitoring.
Team dashboards for queue performance measurement.
Export reports directly from pascom Analytics.
Customisable charts, diagrams and many more objects.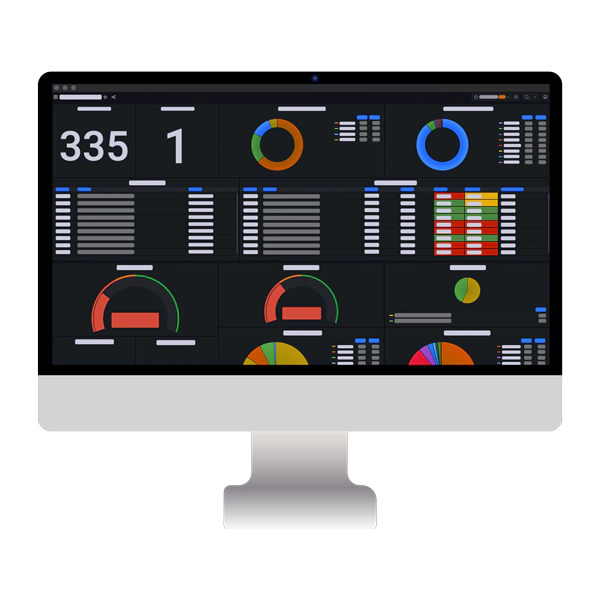 Real-time dashboards
Follow your communication performance in real-time and setup an analytic wallboard within your communal area or contact centre to provide your employees with a live, real-time overview of current call volumes and performance, helping your team reduce stress and workplaces by reactiing calmly and cooly to any spikes in call volumes.
Team dashboards for call queues
Measure the performance of your call queues thanks to access to a vast range of KPI parameters including agent reaction times, average waiting times, call duration, call flows, hold times and more. Access to such business intelligence enables you to continually monitor, manage and optimise the performance of your teams and call qeueus.
Filter
critical data
Searching, filtering and analysing critical data is essential to effective decision making. pascom's analytics filter tools enable you to break down all your data to specific time frames, calls to queues and even employees, ensuring you can create targeted reports that are important to your business.
Highlight
call flows
Call flows provide information regarding which user had contact with specific callers and allow you to better understand the flow of the call in terms of transfers and forwards in order to further fine tune your operations, identify potential call distribution issues.
User
evaluations
pascom's Analytics provides team leaders, line managers and supervisors with an overview of individual user performance. Evaluate, for example, performance in queues, their reaction times, how often they transfer calls and call resolution times in order better assess employee skills and any training requirements.
Create
custom dashboards
Use the pre-configured dashboards as the building blocks to create your own custom dashboards that are bespoke to your business requirements and goals. Once created, your new wallboards can be populated with performance data, charts and flow diagrams that can be used in your reporting.