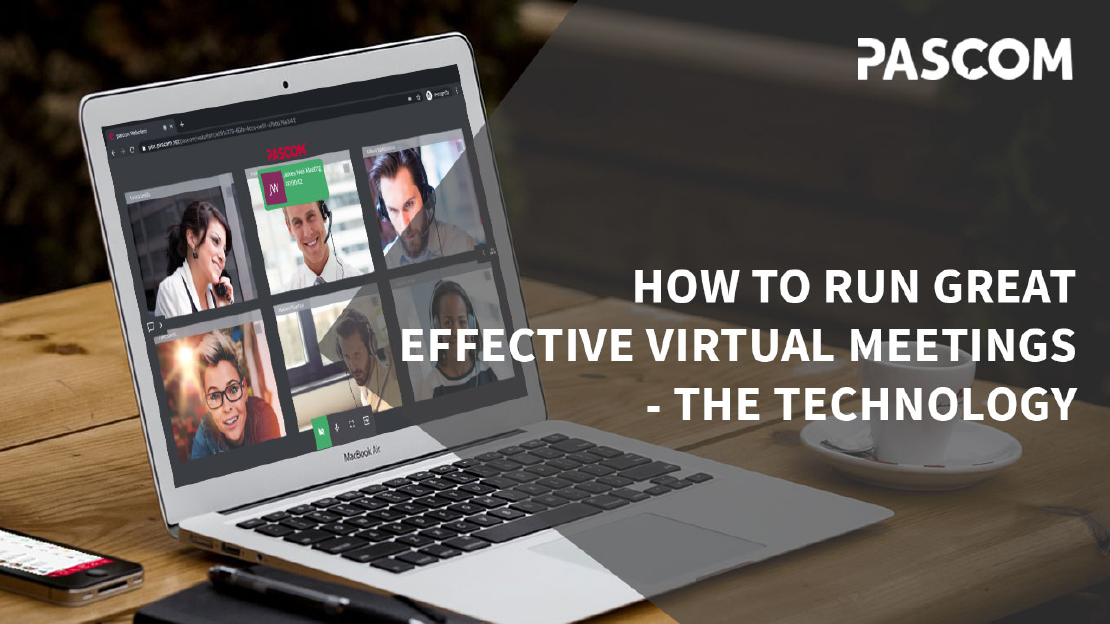 The Technology Needed To Run Great And Effective Virtual Meetings
19.05.2020
7 min read

pascom
What Does It Take To Run Productive Virtual Meetings
Over the past few months, companies across the world have been scrambling to digitally transform as a result of the current pandemic. Their goal has been to ensure not only the protection of their employees by enabling remote working where possible but also the continuity of their business through adopting tools such as cloud Unified Communications combined with Video and Web Conferencing. While the adoption of UCC platforms, Video Conferencing technologies and new work practices has enabled businesses to implement work from home strategies, it has also presented a number of issues that even a business experienced in remote working and virtual meetings have struggled to overcome - namely how to stay productive when working from home AND how to keep virtual video meetings effective and productive - which is the focus of this article.
What is a Virtual Meeting?
Before we go further, it is important to define exactly what a virtual meeting is. Is it an audio conference? Is it a video conference or an online business meeting using web conferencing? Well it is the term used to describe all of these, but for the purpose of this article we are going to focus on virtual business meetings using video and web conferencing, but be assured many of the tips below will also hold true for audio conferencing as well, although why anyone would want to hold an audio only conference these days is well and truly beyond us.
Now that begs the question: what's the difference between a video conference and a web conference? Simply put, a video conference is a virtual meeting taking place using dedicated video conferencing software, such as the pascom UC desktop and mobile apps, and/or hardware whereas a web conference is an online business meeting that takes place using the video and audio streaming capabilities of ones web browser - in other words using WebRTC (Web Real-Time Communication).
So What's The Problem?
Many of us have been on an audio conference where next to nothing has been achieved and we all know from experience that as soon as people have to "login" or "dial-in", meetings can be tedious and productivity will start to take a hit. The list of reasons for this is too long and varied to outline in detail here, but the main issue is engagement.
Virtual meetings are often dominanted by one or two people and the rest of the attendees tend to "zone out" as they don't feel involved or engaged. Other times, meeting attendees use the virtual gap to seize the opportunity to multi-task meaning their focus is not fully on the topic at hand. Then there's the case that organisers have a tendancy to put less preparation and focus on the design and structure of virtual meetings and therefore are unable to effectively manage the flow of conversation and attendee engagement will also start to suffer.
But it need not be so. By applying some simple meeting best practices and through utilising readily available, easy-to-use collaboration tools, holding great and highly effective virtual meetings can be quite simple, even for spur of the moment ad-hoc business meetings.
Key Technology Host Great Virtual Meetings
1. Use Video As Option 1
We really can't emphasise this enough, upgrade your audio conferences to video meetings and where possible make it clear that video is now the preferred option.
Being able to see each participant is a great way to focus everyone's attention on the meeting. Video meetings give everyone the feeling of being in the same "room" and ensures for more personal virtual meetings. Moreover, using video also allows participants to gauge one anothers body language and therefore helps reduce misunderstandings. Another great benefit of video meetings over audio conferences is that as everyone is visible, it is easy to see when someone is zoning out or focusing on other tasks.
2. Always Provide An Audio Option
This might sound a bit contradictory having just said "Use Video", but when holding virtual meetings it is important to consider all the possible attendee requirements. In order to ensure that your virtual meetings enjoy the maximum engagement and therefore effectiveness, you want to keep requirements to a minimum. For example, video conferencing requires more bandwidth, a headset or headphones, a web cam and a microphone. Most laptop and mobile attendees will automatically have a web cam, it is possible to use mobile headphones with inbuilt mircophones but not everyone has a reliable internet connection. Therefore, always provide a "dial-in" per phone option or at the bare minimum use a video conferencing platform that enables online audio streaming.
3. Use Desktop Sharing
Attendees being literally "on the same page" is a significant engagement enhancer. If you or another meeting participant needs to present, explain a complex topic or topics, provide remote technical assistance that requires attendee participation, then screen sharing (desktop sharing) offers the optimum tool to guide people through the session and manage the conversation.
For example, should you and your team work with any form of ticket system / project management platforms such as Altassian's Jira, then the meeting moderator (or the person presenting) should share their screen during the team meeting. Doing so ensures that all participants are viewing the right ticket or project and helps minimise delays or confusion as individual attendees search for the relevant information themselves.
4. Test & Practice Before Hand
If you have recently adopted the technology and even if you haven't, it is always a good idea to test and practice before going live with the virtual meeting. Familiarising yourself with the technology is really important as it means that you can respond to related questions or issues quickly and effectively during the meeting. This also applies to internal online meetings with colleagues, although it is not as important. The reason is simple, everybody's time is valuable and first impressions count. If, for whatever reason, you can't share your screen or the video doesn't transmit and you only discover this whilst in the meeting then as an organiser you will have wasted everyone's time and if you are presenting to a new customer they won't thank you for it.
5. Keep Your Apps Updated
As with all technology, it is important to keep your applications up to date. Not only is this good for security, but updates also often bring new features, easier workflows, improved video / audio stability and so on.
On the other hand, having followed steps 1 through 4 and upon opening your virtual meeting application, up pops a notification saying there's an update available. Sometimes, this can't be helped and is inevitable but resist the tempation for now and do the update afterwards - you never know what the update might bring; a new design you are not familiar with, incompatiblity issues with your video and / or audio devices or worse still and the update doesn't finish in time.
Now that we have the technology sorted, join us next week when we take a look at some best practices for both hosting and attending virtual meetings.
We're here to help
There are of course many more tips to remaining productive from home including which additional UC tools to use, how to work with and manage remote teams, the ergonomics of the ideal Home Office plus what you need for the perfect setup (check out this post from 2018).
If you would like to know more about how pascom can help your business throughout this difficult time and beyond, then give us a call (+49 991 291691 200) and get a head start with our free cloud phone system edition.