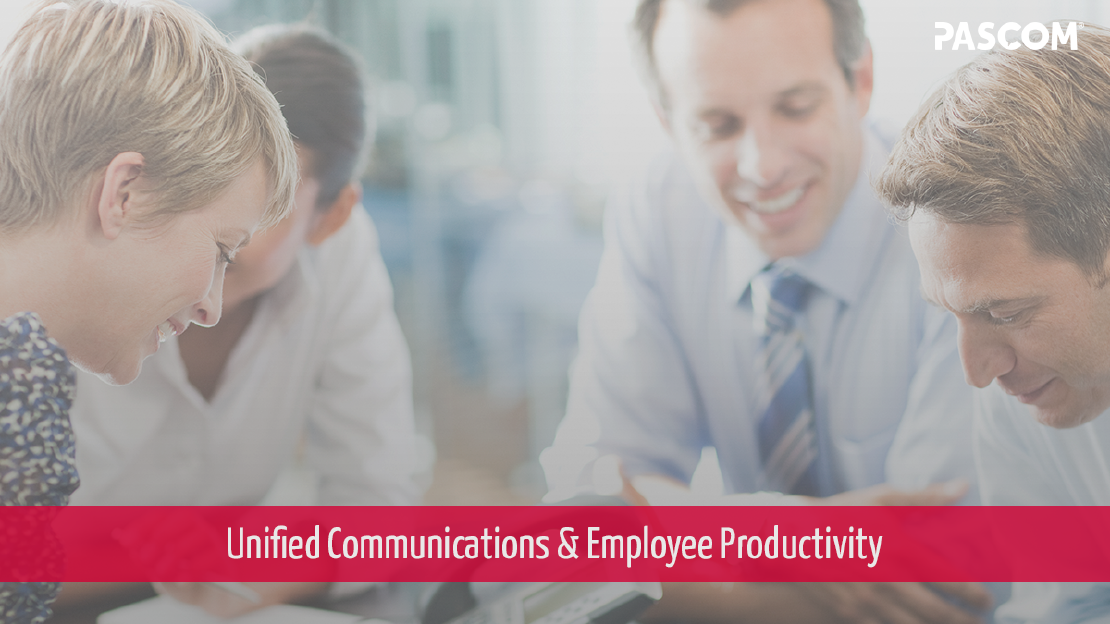 Unified Communications Boosts Workplace Productivity
How UC Boosts Workplace Productivity
Every business wants employees to become more productive. The reason is simple; because more productive employees generate more revenue and more revenue should translate into more profit. As a result, many companies and business people mess around with the newest and latest productivity app, gadget or gimmick all the while trying to find that spark that will ignite the productivity booster. The problem is that productivity gains are achieved by a collection of tools, apps and systems unified in one place to give your employees the right tools to do their job effectively and at the highest standards. And many businesses have discovered that the core to this transformation and actually boosting workplace productivity isn't some new wonder app, but rather a new Unified Communications (UC) phone system.
Why UC Is So Important
The concept of UC is simple: to transform how people work by enhancing the technology they use to communicate with customers and other colleagues. As mentioned, Unified Communications is not an app or single tool. UC merges all the every day tools and channels in use in the modern workplace and unifies them into a single platform. This means everything from voice calls to instant messaging and group chat right through to collaboration tools like presence, file transfers and conferencing are now accessible from one central platform.
Now all of the above sounds great, but also expensive and exclusive to larger enterprises with cash. In the past this was definitely the case, but advancements in PBX software technologies have made all these tools far more accessible at a cost that won't break the bank. As a result, companies can do away with the huge number of disparate apps that they use and that don't talk to one another and replace them all with one app for almost everything (ongoing innovation means more is still to come).
Speaking of innovation and everything being available, one of the most critical elements of successful business today is information. The old adage of Knowledge is Power is just a pertinent today as it ever has been. That means really good UC platforms and phone systems in particular offer clever integrations with things like your Interactive Voice Response menus (IVR), Customer Relationship Management (CRM) platform, Office365 / MS Exchange contacts and so on. In doing so, it is possible to provide employees with finger tip access to information and Business Intelligence (BI) from multiple sources with just a few clicks of the mouse. In days gone by, I would be searching my Rolodex (okay I've never used one, but my folks did), but now this information can be searched, filtered and displayed in seconds.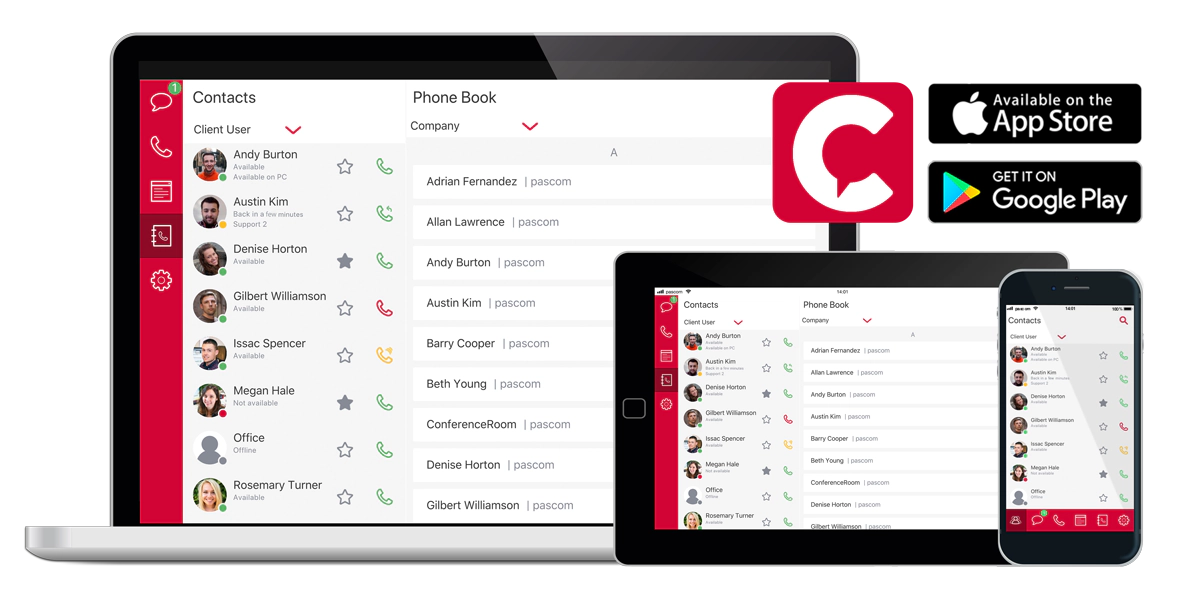 Furthermore, top of the range UC phone system solutions, such as pascom's, also ensure a consistent user experience to deliver the exact same look and feel across all major desktop or mobile operating systems. May not sound like much, but it's a big deal and can be a significant time saver. Just think about how annoying it is every time you switch from macOS to Windows and vice versa. Just finding the @ symbol can be a challenge and you need that for literally everything. I know this because a colleague who uses Windows once asked me for help to login into our film studio mac – okay it was slightly more confusing as this particular colleague is German, the mac has its default language set to English but has a German QWERTZ keyboard attached to it.
How Does UC Boost Workplace Productivity?
On the surface, it is pretty simple to picture how. One platform to unify business tools together helps reduce the amount of time to complete tasks and highlights routine tasks that can be automated. But in order to understand how UC solutions boost workplace and employee productivity, it is important to take a look at the individual features as well as first understanding the factors that affect productivity in the workplace.
In essence, factors influencing productivity in the workplace can be categorized as follows:
| | |
| --- | --- |
| Efficiency | In the business world, efficiency refers to the resource usage that is reduced (e.g. capital, time, personnel, etc.) while completing tasks. |
| Speed | How quickly tasks are completed and problems are resolved. |
| Multi-tasking | Empowering employees to perform multiple tasks simultaneously. |
| Team collaboration | The extent to which employee / teammate relationships are strengthened to promote greater collaboration and brainstorming. |
How UC Features Help Boost Productivity
Pretty much every feature of a modern UC phone system contributes to boosting employee productivity in some way or other, so let's take a look at how UC phone system tools boost productivity:
Business Telephony
If you thought business telephony has not changed much, think again. The advent of UC phone systems, VoIP and SIP trunking have combined to dramatically boost efficiency. From cost savings with SIP trunking and reduced administrative hassle (time, cost and personnel), UC phone systems have taken the role of a business phone system way beyond just simple calling. In fact, many IT managers report that switching to a UC phone system makes deployment, roll outs and on-going management much simpler, cheaper and less time consuming.
Telephony
SIP trunking is great and is the future of telephony. As everything is Internet based, VoIP and SIP trunking services can save businesses significant capital in terms of telephone bills and business growth. Thanks to SIP, relocating offices or opening new company locations can be achieved without needing new on-site hardware that requires miles of cabling and rocket scientist engineers to manage everything. Then there is the SIP softphone. This nifty communications tool has all the features of a business desktop phone and enables employees to work from anywhere as long as they have an Internet connection. As your employees remain reachable on their company number, they are always reachable by customers and colleagues can call them internally free of charge - no matter where they are and regardless of device they choose to use.
Conferencing
In the past, audio conferences used to involve expensive hardware and complex scheduling issues to ensure platform availability or alternatively simply waiting to all your team were in the office. These days, modern UC solutions include audio conferencing as standard and offer the ability to start virtual audio conferences on the fly. Combined with softphones and mobile VoIP, joining audio conferences can now be done from anywhere and therefore promotes team collaboration and ensures that tasks and projects can be completed more efficiently and saves on travel expenses.
Furthermore, as most modern UC phone systems include audio conferencing as standard, business are able to save on expensive 3rd party platforms. Moreover, all internal calls are generally free of charge and as the solution is available to all system users, companies can further reduce costs by avoiding telecoms charges and the need to pay additional user licences.
Unified Messaging
Unified Messaging is a UC feature that brings together all your messaging channels from voicemail, faxing, instant messaging and group chat. By combining all these tools into one platform, employees are able to multi task more effectively which will translate into faster task completion and greater team collaboration.
In addition to this, deploying a UC phone system automatically eliminates the need to deploy, license and maintain multiple platforms for the above named collaboration tools. As a result, businesses save not only on cost but can also reduce IT admin workloads.
Instant Messaging / Chat
These days, everybody uses some form of mobile messaging service whether it is SMS, MMS, Messenger, or WhatsApp etc. The reason is because they are quick, easy and above all else convenient.
In terms of driving faster communication between team members, Instant Messaging (IM) or Chat is the one UC feature that really stands out. This stems from the nature of IMs, they are designed to be quick, informal and most importantly responsive which makes UC chat delivers the perfect tool to promote anywhere, anytime collaboration amongst your employees and teams. As a result, businesses that correctly harness this potential will see teams becoming more collaborative, more creative and most importantly more often.
But why use a UC phone system for these messaging services? Well the answer is three fold. First, voicemail is inbuilt into the phone system and is therefore the perfect and logical place to start. Second, when it comes to productivity, having an integrated solution means employees do not need to switch between solutions, platforms and even devices just to send a chat. The second reason is that many stand alone on the top (OTT) apps are designed for consumers not businesses. That means they are installed and managed by the users themselves as opposed to IT managers. This leads to potential security risks as the information is leaving the controlled company network and entering the public domain, meaning businesses lose control over their data and data security.
Group Chat
Just as with instant messaging, group chat is an excellent tool for promoting team collaboration. Instant messaging is more one-to-one, whereas group chat includes impromptu team chats and permanent team chat rooms that are great for bouncing ideas around and brainstorming. In addition, group chats facilitate the dissemination of information to whole teams or even organizations all in one go.
Presence and Status Information
Not knowing if your colleague is contactable or how best to communicate with them has traditionally always been a major speed bump in boosting employee collaboration and productivity. This has led to numerous workarounds being conceived and put into action such regular team meetings and perhaps most famously, open plan offices. Both of these options have plenty of drawbacks. Open plan offices can be loud and distracting while team meetings cannot help you in the here and now.
If used correctly, UC presence and status information overcomes the issue of knowing who is online. In fact, rich presence goes way beyond that by delivering presence information for users, their phone, current desk / workspace (location) and even team membership. This information can then be used by teammates to decide how best to contact a colleague and by the phone system to build intelligent call queues and deliver incoming calls only to agents who are active and available and in the right department.
It's no wonder that when asked, UC presence is an often cited tool when it comes to improving workplace productivity.
Mobile UC
As the name suggests, mobile UC delivers UCC features to mobile platforms and is now a must have component of any modern UC phone system. Just a few years ago, mobile UC was a nice to have but times have changed. Millennials are making up more of the workforce and the Gen Z generation is starting to enter the fray. Both of these generations grew up in a mobile dominated world and have therefore dramatically shifted the demands on communications platforms.
As such mobility and mobile UC is one of the biggest trends affecting the global workforce and it's not only about including the younger generation. Mobile UC has many more significant benefits including making remote working much simpler through the use of feature rich mobile apps that incorporate all the functionality of desktop UC combined with a specialized mobile VoIP softphone app.
Further to this, mobile UC opens up employment opportunities geographically and helps businesses save literally thousands on mobile devices through implementing Bring Your Own Device (BYOD) strategies. For employees, BYOD strategies also have the benefit of increased employee satisfaction, as they are not required to carry a second, work dedicated mobile device. Moreover, such strategies are essential in supporting businesses adapting to trends such as flexi working and the Gig Economy.
Final Word
To sum up, Unified Communications boosts productivity by promoting better, easier and higher quality communication and collaboration within the workplace. Moreover, by choosing the right UC phone system vendor coupled with the right VoIP providers, businesses can slash their phone bills and communication costs and significantly reduce platform management, particularly if they opt for a cloud phone system that also supports a "Bring Your Own Carrier" option.
Give the pascom team a call on +49 991 29691 201 to discuss your requirements and get started within minutes using our free cloud business VoIP phone system edition.