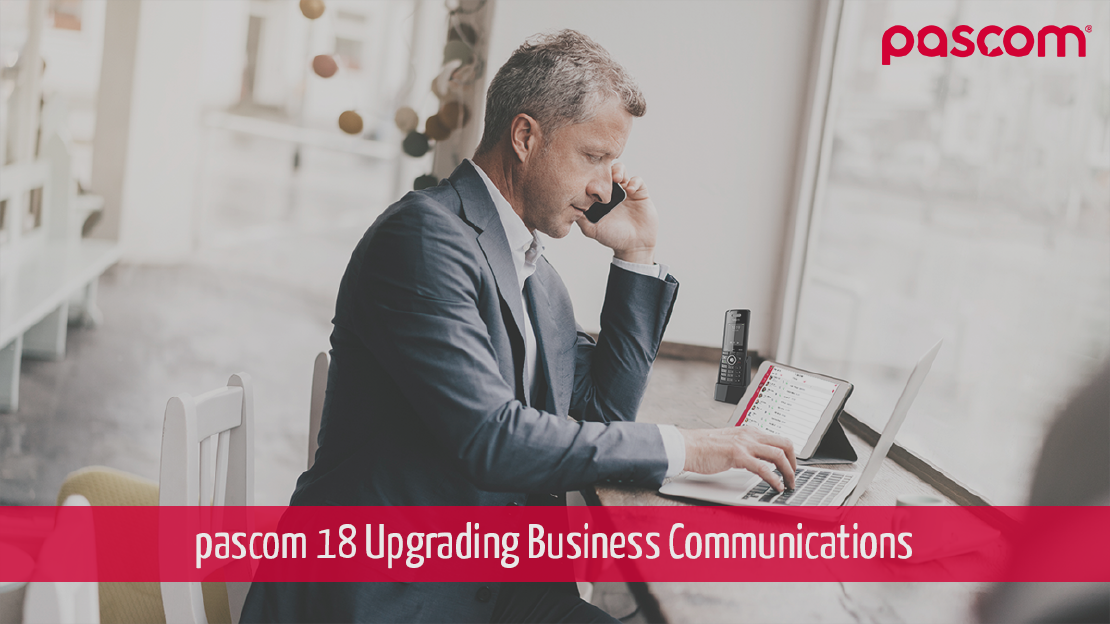 pascom 18 Upgrading Business Communications
Concurrent Users, Session Border Controller, Secure Mobility for All - pascom 18 is here!
The eagerly awaited pascom 18 is the most technologically advanced pascom business phone system and communications platform to date. With the pascom 18 release being one of the most significant pascom VoIP phone systems innovations leap in recent years, pascom 18 is 100 % cloud ready and is the building block for the future of pascom solutions. The improvements, however, are not purely technological. Coinciding with the release of pascom 18, pascom have also introduced a whole host of upgrades to the company's go to market strategy and commercial offering that rival their technological counterparts when it comes to innovation.
What's New with pascom 18
On the surface, pascom 18 looks and feels exactly the same as pascom 16 and 17 - which is what you want as an end-user. Scratch beneath the surface and it becomes evidently clear that pascom 18 offers a whole lot more than previous versions, particularly when it comes to three core aspects of a modern day business telecommunication solution: administration, security and end-user mobility.
Under the Hood - the SBC
Since the release of pascom 7.12 in 2016, pascom's VoIP telephony offering has included a cloud PBX solution. Such solutions are hosted within the pascom cloudstack, a specifically developed a multi-instance / tenant hosting platform. To ensure cloud phone system security as well as the correct handling of traffic to and from each instance, the pascom cloudstack included an again specifically developed Session Border Controller. It is this, the Session Border Controller that makes pascom 18 technologically significantly more innovative.
No More VPNs for VoIP and UC
Having packed the Session Border Controller (SBC) into each individual phone system, pascom 18 offers phone system administrators considerable resource and time saving advantages. Firstly, adding the SBC ensures that all phone system users are seamlessly networked without requiring any additional VPN infrastructures - for an admin this means no more complicated virtual private network configuration and 3rd party software application deployments on end-user workstations. Secondly, while end user will likely not see the technological implications of the SBC, but they will most definitely feel them. Having the ability to securely work from anywhere, at anytime and on any device, pascom users will benefit from an enhanced mobile communication and collaboration experience plus instant access to essential customer data.
More Secure Telecommunications, More Flexible Collaboration
Secondly, the SBC adds an additional security layer to the phone system. As a result, not only does communicating with a pascom phone system become yet more secure, but also pascom 18 solutions are much more flexible when it comes to hosting, meaning customers and partners will now have more choice. Previously, phone system self-hosting amounted to either deploying an on-site hardware or virtualised solution. With pascom 18, self-hosting now includes utilising providers such as Amazon Web Services enabling customer to host their own cloud solution. It goes without saying, that should a customer want to avoid the hassle and cost of hosting the solution, pascom's cloud solutions is the perfect platform.
Greater Mobility – On-premise or in the Cloud
Finally, the perhaps most visible impact of incorporating the SBC into each individual phone system, namely even greater mobility. In this day and age, the mobile is becoming king when it comes to communication tools. Everybody has one and the rise of flexi or remote working is ensuring that mobile VoIP and mobile UC is fast becoming an essential component to any business communications solution. With pascom 18, our customers everywhere can now enjoy the full functionality of our pascom mobile VoIP apps for Android and iOS no matter whether the solution is hosted in the cloud or on-premise.
Concurrent Users – the Best Licensing in the Industry
We believe that our new Concurrent User licence model is fairly unique in the telecoms market. Beyond that, the new licensing offers numerous advantages over "Named User" or "Channel" models, taking the best from both models and eliminating the negatives to add yet further value to our customer solutions.
Unlimited Users, Endpoints, Extensions and Channels
The new concurrent user model delivers the ability to add an unlimited number of users (employees) to the phone system who can then flexibly occupy and use the currently available licences as and when needed. Compared to our current "Named User" model, the extra flexibility afforded by the Concurrent User model means pascom customers no longer need to license the solution per user. As a result, our customers will be able to realise and benefit from even greater cost savings.
As a business VoIP phone system vendor, we believe in excellent customer service. An element of delivering excellent customer service is ensuring that your customers can contact you. Which is why our new Concurrent User licensing works to ensure just that. Compared to channel models which monitors and licences channel usage as simultaneous calls and can result in inbound calls being rejected, pascom's new licensing does not place any limitations on the number of channels, thus ensuring that all inbound calls are always accepted, regardless of and without affecting the current licence assignment.
A further benefit of Concurrent User licensing is that businesses will now the additional benefit of adding any number of endpoints and extensions, including analog fax devices and conference room phones at no extra cost. Licences will only be occupied as and when the endpoints are in use and as soon as they are no longer being used, they will be immediately be released and made available again. While other vendors charge extra for the simultaneous use of Desktop and Mobile applications, doing so with pascom will only require one licence per employee. Coupled with this additional flexibility, pascom 18 also sees the introduction of subscription based pricing, reducing expensive up-front costs and thus making pascom solutions even more cost-effective. Beyond this, moving to an OPEX model serves to deliver customers yet more scalability and combined with the Concurrent User licensing ensures that high up-front capital expenditure related to the software deployment can be avoided, therefore freeing capital for other business priorities.
The result is simple; pascom customers are now able to profit from a fair and transparent licensing model where the number of licences required is less than the total number of employees, ensuring our customers benefit from top of the range communications at a fraction of the cost.
Switch to pascom 18
Existing pascom customers need not worry - everything is staying the same! You will not be forced to switch to the new licensing model and of course you will also be able to enjoy all the benefits pascom 18 has to offer. However, should you see the clear cost saving benefits of our new Concurrent User licensing model or are thinking of switching to the cloud, then now is the time and our excellent upgrade offer is for you. Make the switch to pascom 18 and the new licensing and enjoy your first year in the new model for free and if you decide to migrate to the pascom.cloud option the same applies as with all pascom.cloud solutions, the hosting will be permanently free.
Even potential customers who are looking to switch to pascom 18 from certain vendors can also enjoy their first year with pascom Free of Charge and can immediately start enjoying the added value benefits of a professional, fully integrated UCC VoIP platform.
For further information about these limited time offers, please contact our sales team.
New & Improved Partner Program
With new licensing conditions comes the need to update how are channel partners are rewarded for their commitment to pascom and with pascom 18's Concurrent User model, the additional benefits are plentiful.
Our Concurrent User licensing ensures that selling pascom solutions is now even simpler than ever before. Partners are better positioned to grow their sales volumes and benefit from annually recurring revenues thanks to subscription licences. The addition of the Session Border Controller makes for simple solution implementation, even when deploying complex solutions incorporating employee mobility and spanning multiple locations.
Beyond this, the new pascom partner program sees the introduction of new, increasingly beneficial partner levels designed to reward pascom partner successes. Thanks to the removal of registration and online training fees, resellers can now join as a registered partner free of charge, thus making the new pascom partner program more accessible and encompassing than ever before. Benefit from our Free Online Training and certify yourself as a pascom reseller and offer your customers added value and additional support services whilst growing your business.
The benefits of being a pascom partner speak for themselves: high customer satisfaction, an unrivalled fair, transparent and adaptable licence model with no hidden costs, unparalleled technology for both on-premise and "as a Service" cloud solutions, compatible with all leading OS platforms and last but by no means least, the outstanding performance and functionality up to professional and including Call Centre standards. In essence: pascom ensures that you deliver first-class customer solutions that upgrade business communications and add further value, at a fair competitive price.