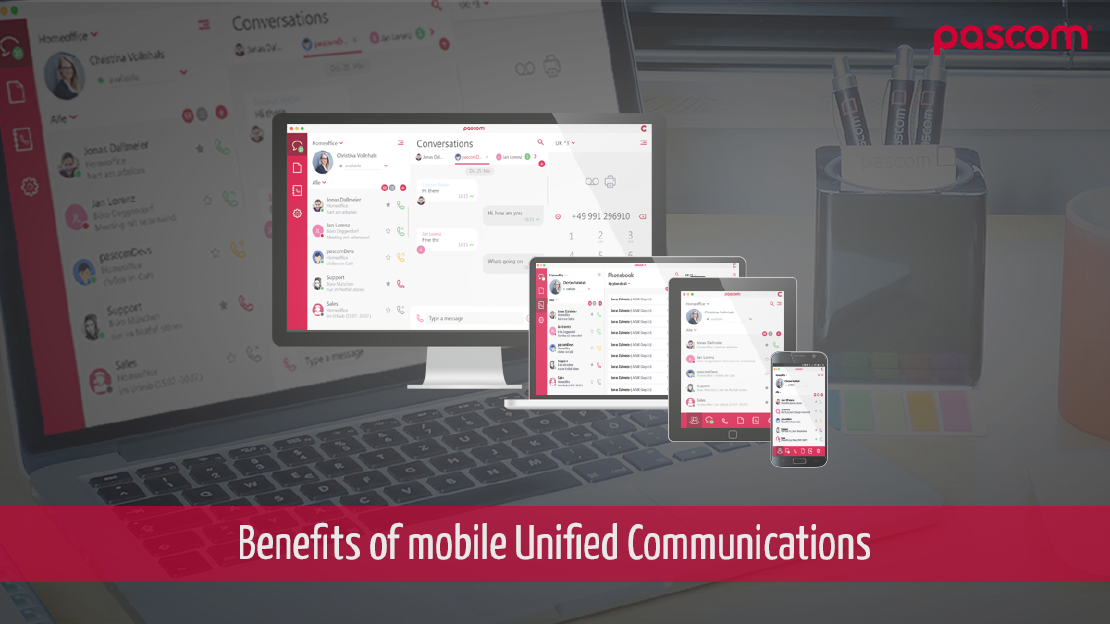 Enjoy Communications Without Borders with Mobile UC
18.12.2017
5 min read

pascom
The Importance of Mobile UC
Telecommuting, Flexi-working, HomeOffice working - whatever you want to call it, today's workforce is mobile. Demands have changed both in terms of what employees require from their employers (and vice versa) but also in terms of what customers demand of businesses. Unified Communications (UC) goes along way to addressing both the internal and external challenges businesses face, but if they really want to thrive and stay ahead of the competition, then keeping their workforce and customers connected anywhere, anytime, with a fully featured mobile UC solution is key to successful business communications.
What is Mobile UC?
Before answering what mobile UC actually is, it is first important to note that modern on-premise and cloud phone systems deliver a full range of UC & mobile UC tools at prices very attractive to the Small Office Home Office / Small Medium Business (SOHO / SMB) market segments. As such, Unified Communication and mobile UC solutions are no longer exclusive to the large enterprise marketplace.
Secondly, as the name suggests, mobile UC is exactly that: Unified Communications for mobile workers and their devices. Obviously, there is a bit more to it than that, particularly as mobile UC encompasses a range of technologies and features that are not necessarily used in office environments.
For starters mobile UC and mobile VoIP apps encompas both Fixed (-Line) Mobile Convergence (FMC) and Unified Communications. FMC incorporates and seamlessly integrates GSM technology into a company' phone system, enabling tools like the One Number Concept, which ensures employees are reachable on one number anywhere and at anytime. Mobile UC further builds on these foundations and greatly enhances the mobile communication experience by making the complete range of UC features available to mobile workers, on their preferred mobile device and at any given time.
Benefits of Mobile UC
As with Unified Communications, the purpose of mobile UC is further promote collaboration and enhance business communications. By extending a business' UC infrastructure (presence, chat, softphones, address book integration etc.) to incorporate mobile workers and endpoints, mobile UC solutions help create more efficient, responsive and productive business communication. As such, the core benefits of mobile UC include:
Greater Business Agility
One of the core benefits of mobile Unified Communications is the ability to provide mobile and remote workers with the all the collaboration tools to successfully communicate with their colleagues, team and customers at anytime and from anywhere. Incorporating FMC, mobile UC users are reachable on their office extension number and with top of the range solutions, such as pascom's, will benefit from SIP softphone cost savings and GSM fallback options to boost audio quality in areas with poor data connectivity.
Promotes Business Continuity
Adverse weather, connectivity issues, power cuts and so on can all have a negative impact on business communication and therefore revenues and image. Robust infrastructures are an essential component in ensuring Business Continuity and mobile Unified Communications offers an excellent resource on this front. In the face of bad weather, mobile UC ensures employees remain productive even if they can't get to the office. If the office is experiencing connectivity issues or power failures - once again mobile UC and mobile VoIP apps provide fallback options should HQ go dark.
More Productive Collaboration
As a result of adopting mobile UC, businesses have become more agile and robust which in turn ensures that these business enjoy greater productivity. Given the right mobile UC tools, users will be able to communicate more efficiently with one another and therefore benefit from enhanced collaboration. Share files instantly, access company address books from anywhere, use chat tools instead of the phone when you see that your desired contact is busy or on the phone. Even small details like instant messaging "read" reports support boosting productivity by providing users with more feedback and therefore enabling them to make smarter, better decisions more quickly.
Greater Security & Control
As a business owner, you might think you have all these tools and you might. But the beauty of Unified Communications and mobile UC is that all these tools are available in one application and provide a consistent look and feel across multiple platforms (Windows, Mac, Linux, Android, iOS).
So what you might say. But then here's the problem with multi-vendor solutions, they're disjointed and offer no centralised management or control. As such, they expose businesses to a larger range of security threats. An almost invisible benefit of UC phone systems is that they provide extra security and greater control over company data. It is possible to implement strong password policies, provide admins with greater control over device (BYOD vs CYOD and 3rd party application integration and in turn ensure that business assets are protected as much as possible.
How we can help
By choosing a combined Telecoms UC solutions such as a pascom phone system, businesses are able to enjoy all the benefits above plus more at a price that won't break the bank. Choosing a cloud solution will further support SOHO / SMB sized companies in spreading the cost with OpEX pricing as well as largely eliminating upfront hardware expenses.
For more information regarding pascom phone systems and how we upgrade business communications, please visit www.pascom.net.