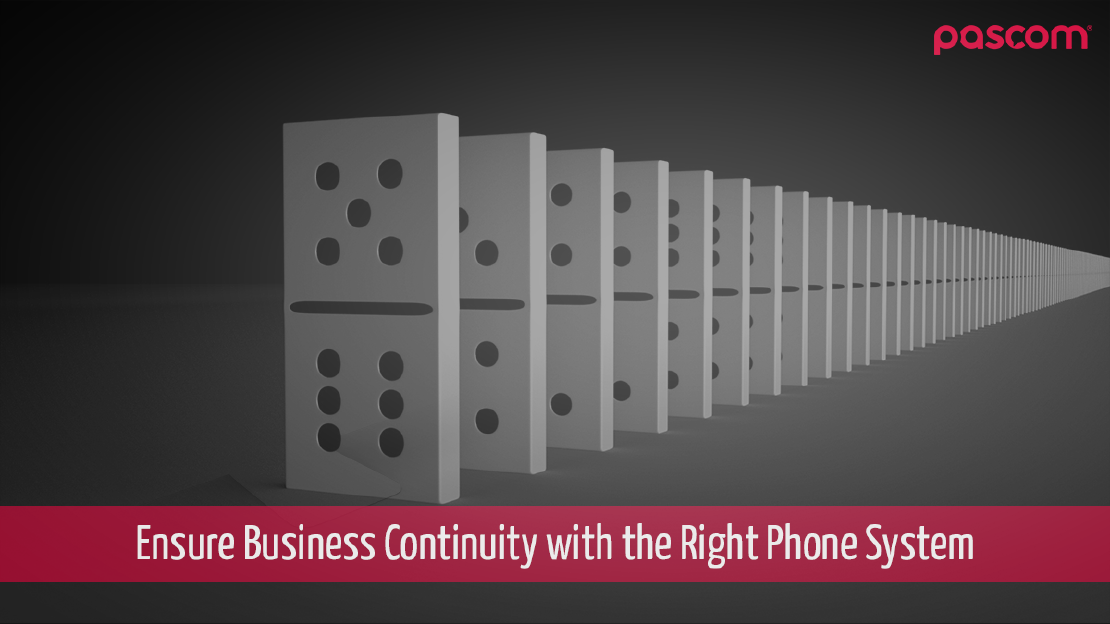 Ensure Business Continuity with the Right Phone System
Business Phone Systems Play Crucial Role in Ensuring Business Continuity
Business phone systems have evolved from the days of a hardware based telephony exchange (Private Branch Exchange or PBX) and now offer a plethora of tools that can support businesses not only grow in terms of becoming more productive, more mobile and therefore more competitive, but also ensure that they remain so even in the face of disaster - from provider downtime through to natural events.
Effective communication is the cornerstone of success for all businesses, which is why communication is an essential component of ensuring Business Continuity. Whether it be how the company presents itself in terms of branding right through its online presence and customer engagement points. and given that research shows that voice is still the number one choice when it comes to preferred customer contact channels, a top notch phone system is a must.
Moreover, when you consider the fact that customers expect anywhere anytime service, even a minimum of downtime can damage revenue and reputation, a robust business phone system and communications platform has become an essential tool in preserving business continuity.
Vital Voice
As mentioned above, voice is still the preferred customer contact channel and is also still preferred by the majority of employees for internal communications as well. This means that your business phone system is often the first point of contact with your customers. As such, your on-premise or hosted phone system not only provides an excellent platform from which to promote your professional brand image and thereby influence and protect how your callers see your company but is also a vital element in ensuring business continuity.
Choosing a phone system that allows you add multiple providers enables you to build in additional redundancy. One provider goes down, simply fail over to a back up provider and keep calling as normal often without your customers noticing any difference.
Hosted has a Key Role to Play
What happens if for example, the head office loses connectivity? Well, if your PBX is in the head office that's solved by asking your provider to divert all calls to mobile phones - a well constructed BYOD / CYOD strategy will also help at this point. It is worth noting here that in this scenario your business will temporarily lose all your telephony functions such as IVRs, queues and so on.
Another option to compensate for the loss of connectivity in the head office is to build in resiliency layers such as LTE and in the future 5G connectivity options. While not always geographically applicable, doing so delivers additional business continuity resiliency to both on-premise and cloud phone system solutions.
If your phone system is a hosted phone system, well you're in luck as most modern business phone systems, such as pascom's, deliver a complete range of Unified Communications (UC) tools including mobile apps and softphones. These tools are used daily any way, but in case of disaster are excellent at keeping your team communicating and as your phone system is hosted, you do not lose any of the functionality which is excellent for business continuity.
Integrated System Health Checks
Service state monitoring is an essential tool for business continuity as it provides IT admins with an instant overview of the phone system's status as well as sending out notifications upon detecting potential issues. This enables admins to proactively monitor system health, identify problems and get out ahead of them before they develop and start affecting mission critical activities.
Many 3rd party monitoring solutions are available on the market, but the top-notch phone systems will offer inbuilt phone system monitoring solutions. For example, all pascom phone systems have Nagios Icinga monitoring solutions integrated per default, lifting yet another weight of your IT admin's shoulders.
Automatic Backup & Restore
Sadly, these things happen and should the worse come to the worse and your phone system fails, it could come with significant costs. However, its not all doom and gloom as the automated backup function will be your saviour. Using the backup function, it is possible to automatically generate full system backups as well as database backups, which can then be used to restore telephony & PBX services within minutes.
If your phone system is a hosted solution such as pascom's, then your hosting provider will take of this for you so you don't have to, so should your hosted PBX run amok for whatever reason - simply give your provider a call and get them to restore a backup.
Of course, if your solution is on-premise it's a slight different story, as you will be responsible for the backup automation. Once configured, the full system backup can be used to reinstall and have your phone system fully operational within minutes. Even if your server hardware is defect, it is possible to install the solution using virtualisation software.
Redundancy & Resiliency
If your business falls into the category of business where even a few minutes of interrupted services can lead to thousands if not millions in losses, for example a call center or financial services, then your business will require a phone system that offers exceptional resiliency and redundancy.
One option is to go down the virtualisation route. Virtualisation software such as VMware now offer advanced redundancy, backup and restore tools inbuilt. Using virtualisation, once again the responsibility lies internally to ensure business continuity protocols are put in place. However, virtual environments offer a quick alternative to waiting for replacement hardware to arrive and can get you back up and running in minutes as opposed to days.
Alternatively, choosing hosted solutions is a great way of ensuring redundancy as your provider takes on the cost and will also offer a certain level of guarantee in terms of providing DataCenter / solution uptime statistics and so on. However, service restoration depends entirely on your provider response time and is entirely out of your hands.
Finally, when considering a phone system provider it is worth having a look at their ecosystem and examining the following
How long have they been operating
Do they have a complete documentation available
How well maintained is the solution, i.e. upgrades and updates
Certifications, i.e. TüV approved DataCenter etc
Customer references
For more information on pascom phone systems and how we upgrade business communications, please visit www.pascom.net