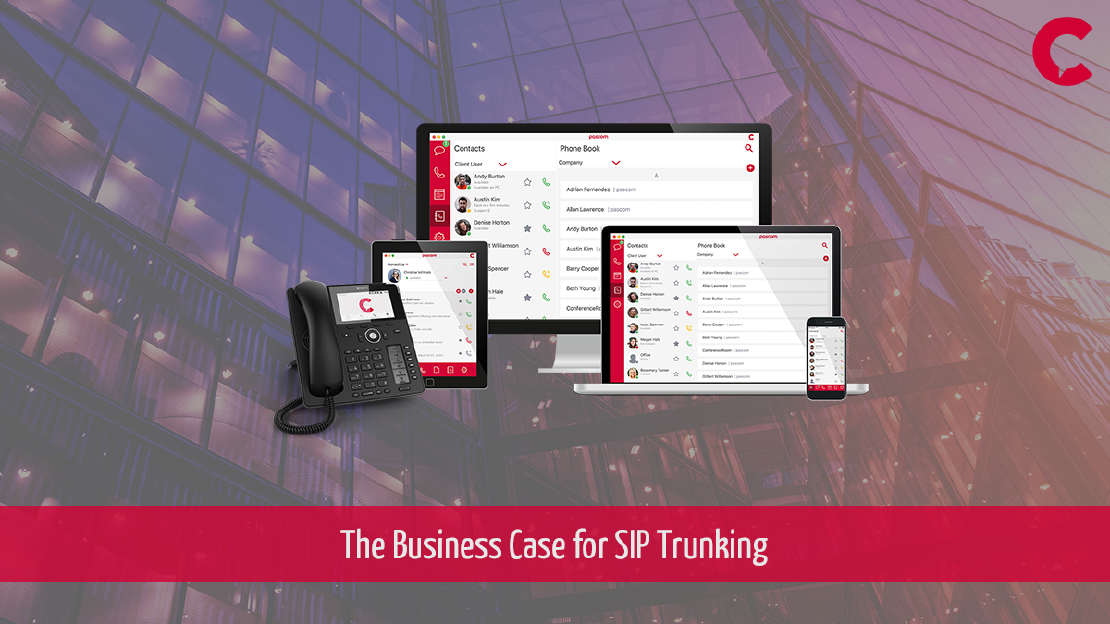 The Business Case for SIP Trunking
Increased Flexibility & Cost Effectiveness: Building the Business Case for SIP Trunking
If you are reading this article, it is more than likely that you have already made or will very soon be making the transition to voice over IP (VoIP) services, and it is quite likely that you have decided which phone system fulfils your needs as well as which IP phones to deploy whether they be desktop phones or softphones. But what's next? Well, next you have the choice of how you will actually connect your phone system to the outside world and that is where SIP Trunking will undoubtedly enter your thoughts which is why we have put together a Business Case for SIP Trunking.
The cost-saving benefits associated with ditching your legacy Time Division Multiplex (TDM) trunks in favour of Session Initiated Protocol (SIP) trunking are well documented. However, cost savings alone are not the be-all and end-all of why businesses should seriously evaluate whether to ditch their current telephony services in favour of SIP. The reality is that SIP trunking delivers significantly more than just VoIP services. One of the real benefits behind SIP is that the technology is one of the core processes behind the delivery of Unified Communications tools. Which means, that by combining all your corporate voice, video and data traffic, SIP trunking can deliver greater agility, significantly increase employee productivity and enhance user experience.
In this way, it is clear to see why so many businesses are already enjoying the benefits delivered by SIP trunking. Recent research conducted by Infonetics forecasts that the SIP trunking market is set to almost double from a meagre $4.4 billion in 2014 to $8 billion by 2018. In essence, this means that if your competitors are not already leveraging the benefits of SIP trunking, then chances are, they soon will be and here's why:
Increased Flexibility
SIP trunking eliminates the need for traditional on-site infrastructures, meaning it provides you with the ability to scale your services on demand and as and when required. Capacity planning will always be important, SIP trunking provides companies with the ability to adjust their capacity with just a few mouse clicks. This is because the connections are virtual and are not reliant on any on-site wiring installation. As a result, not only is the configuration quicker, but also SIP technology also delivers a significantly more scalable communications solution. For example, should your user based be rapidly expanding, you can simply, quickly and efficiently add new lines to your SIP trunk using your providers' online configuration tool and providing you have sufficient bandwidth, your new capacity will soon be available to you.
An additional SIP trunking benefit here relates to number porting as well as portability.
Increased Collaboration Options
SIP trunking can help organisations mobilise and invigorate communications company-wide. SIP trunking is core to a successful unified communications (UC) strategy as it unites voice, video, data and applications across company networks regardless of locations and devices. What's more is that the technology has the capacity to provide employees with real-time information through UC tools such as instant messaging, presence, video and softphone telephony where ever they are. Clearly, with such collaboration tools available at their fingertips, employee productivity will be boosted greatly thus delivering a significant business advantage.
Increased Cost Effectiveness
By a SIP trunk communications solution, most companies could realise cost savings in the region of 10-40% of your total voice spend, depending on your existing setup. These savings stem from eliminating the need for traditional onsite infrastructures which in turn reduces the total cost of ownership (TCO) of you UC solutions. Add the fact that SIP trunking significantly increases call cost savings, whilst providing a greater array of communication tools, companies will be able to enjoy a greater return on investment (ROI). Moreover, as most providers provide flat rate packages, SIP trunking also delivers great cost certainty allowing business to budget more effectively.
To wrap things up, remember that good communication is crucial to success, and this is ever more true in the business world. Secure your company's potential future successes by ensuring that you and your team have all the tools to stay ahead by adopting a phone solution that includes SIP trunking options.
If you are considering switching or upgrading your telephony services to an ALL IP SIP VoIP solution or would like more information regarding pascom, then give the pascom team a call on +49 991 29691 200 to discuss your requirements and get started within minutes using our free hosted business VoIP phone system edition.