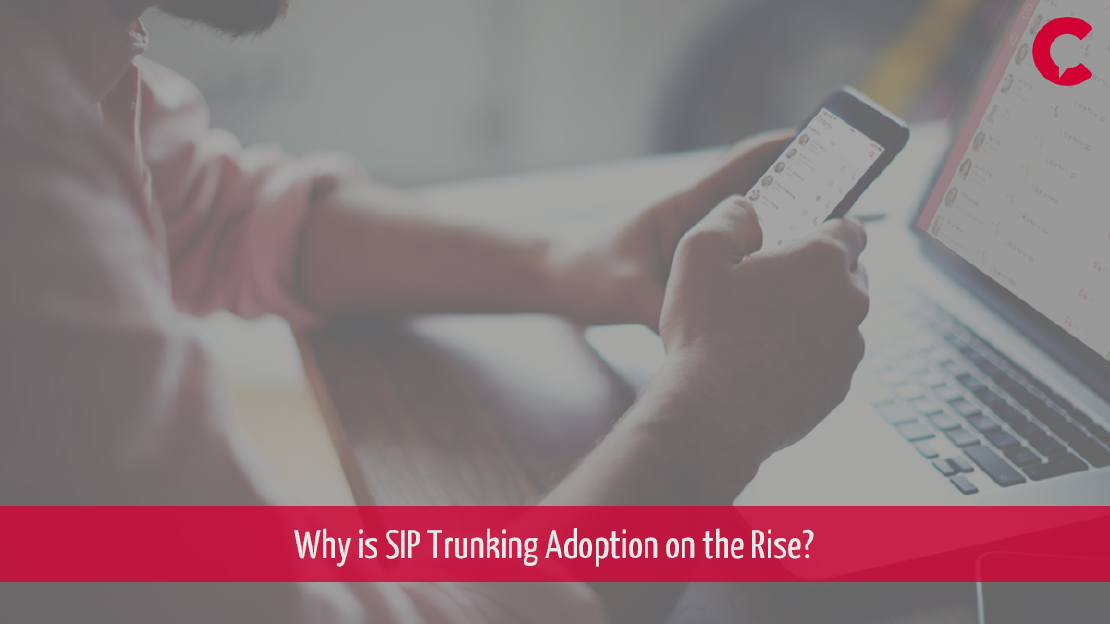 Why is SIP Trunking Adoption on the Rise?
What is SIP trunking and Why is it on the Rise?
In the first of a series of posts focusing on SIP (Session Initiation Protocol) trunking within the enterprise communications market, we take a look at what SIP Trunking actually is as well as what the primary considerations are when choosing a SIP provider. In a recent survey by VoIP and telecoms review website Software Advice, SIP trunking is defined as an "internet-based service that allows Voice over IP users to connect local and long-distance calls to and from endpoints in the traditional phone network". While SIP and VoIP have many similarities, they differ ever so slightly in that VoIP is a generic term describing the telecommunications technology group as a whole, while SIP is just one form of transmission technology within the group.
However, SIP has much more to offer than other IP based transmission technologies and that is why its popularity is on the rise. SIP trunking has the additional benefit that it is designed to carry not only voice but also data and video over the same internet connection making it much more flexible and cost-effective compared to legacy PBX trunks and is therefore often deployed in order to gain the maximum benefits that VoIP systems offer such as Fax over IP (FoIP), Instant Messaging, presence info and file transfers etc.
What to look out for when choosing a SIP provider
In short, the report breaks down the core considerations affecting the decision making process of a selection of IT decision makers when choosing SIP providers. Moreover, the report provides a good guideline regarding what to look for when selecting a provider other than the flexibility and financial benefits that SIP trunking delivers.
Quality of Security and Support
The findings threw up a few surprises, although, given all that happened in 2014, the fact that Quality of Security and Support was one of the primary reasons should not really be that much of a shock. So much so that we predicted in our 2015 Business Communications Trends that security (and SIP trunking) would be an ongoing hot topic into 2015.
What is surprising is that it with nearly a 25% of respondents stated that they choose their SIP provider on their security protocols and not for Quality of Service (QoS), which would have been one of our top recommendations, as regardless of whether your communications lines are secure or not, if voice traffic is not prioritised over other network traffic (downloads etc) then data packet losses can be extremely detrimental in terms of dropped calls and degraded call quality.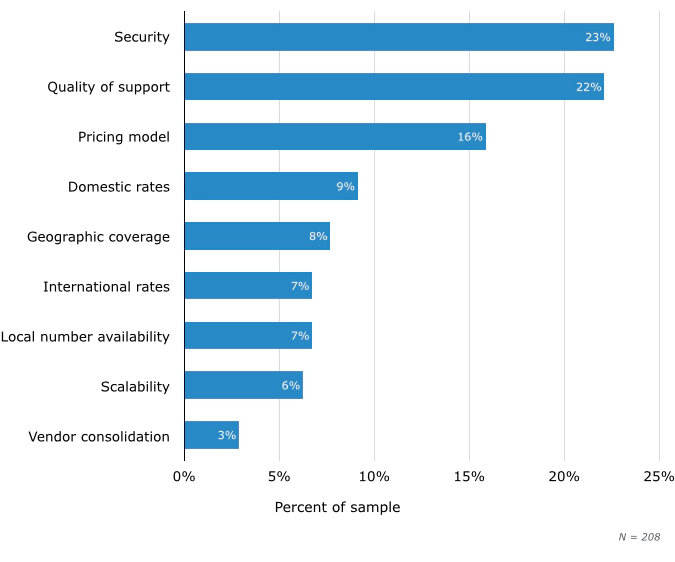 Pricing Models
The fact that pricing is a primary concern when selecting a provider is hardly surprising, as costs directly affect budgets and therefore the bottom line. What is interesting here though is the growth in user-based pricing models. Nearly 40% of the IT Admins surveyed, noted that they selected user-based models vs the more traditional port-based model. This highlights a growing trend towards increased flexibility as under the more traditional models, monthly fees are calculated based on the number of simultaneous calls normally required by an organisation vs having a dedicated line for each employee.
The fact that companies are moving towards user-based pricing where they pay a flat monthly fee per user for an unlimited number of calls (both outgoing and incoming) also serves to highlight that flexibility over the number of users and calls is becoming increasingly important, whilst offering the additional benefit of regaining elements of control over monthly budgets by knowing exactly what will be charged at the end of each month.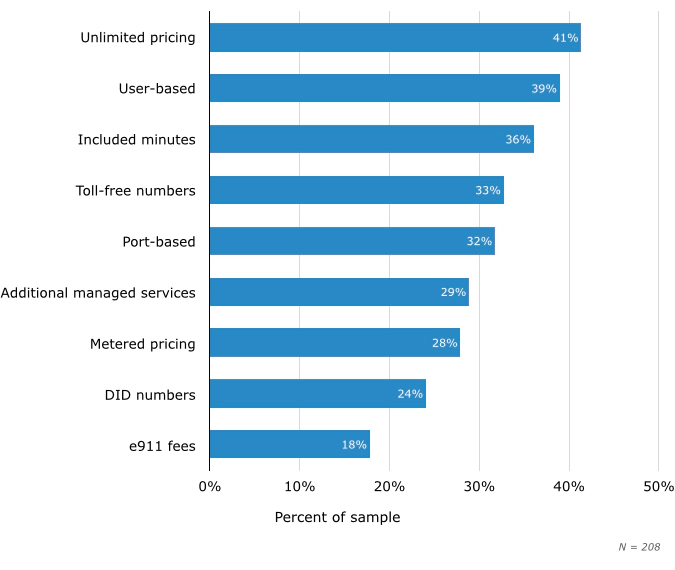 Audio Quality
Another interesting fact that the survey demonstrated is that, after implementing SIP trunking solutions, a significant majority of users were satisfied with call audio quality. This is obviously a massive improvement from the days when VoIP was first emerging and should go some way in allaying fears that by transitioning to SIP trunking will affect audio quality.
Moreover, of the survey sample, a large proportion of respondents reported that their SIP providers have implemented Quality of Service (QoS) which prioritises voice traffic over other network traffic such as downloads. This has, as previously mentioned, the benefit of reducing packet data loss, thus improving call quality and reducing the dropped call rates.
Vendor Consolidation
Another significant benefit that SIP trunking delivers is the ability to consolidate vendors. The report illustrates how vendor consolidation is becoming more popular, with only less than 10% of respondents not having either a fully or partially consolidated solution. Why is consolidation worth considering? Well its clear that SIP trunking will become the mainstream as ISDN is faded out, so why not source your SIP services and internet services from the same vendor, and should a problem occur, you only need to deal with one provider and not two who will invariably place blame and responsibility for the fault on each other.
Another aspect to consider here is that over the coming years the ISDN will fall by the wayside, in fact in Germany Deutsche Telekom plan to be "All IP" by 2018 and it other countries the switch has already been made. So when making your decision regarding SIP Providers, speak to both your planned SIP provider and IP PBX provider to ensure that the integration is a simple as possible.
Summary
I was talking to some of our sales partners from across the DACH region yesterday during our 2015 partner summit regarding the topic of SIP trunking and choosing SIP providers. They unanimously agreed that the topic of SIP trunking and providers will gain more traction throughout 2015 and beyond, especially as we near the previously mentioned 2018 Telekom deadline.
Therefore, should you be choosing a new telephone system, it is worthwhile considering future proofing your system by selecting a system that is SIP compatible. Moreover, while we must take the data provided by Software Advice's research with a pinch of salt, as we cannot directly apply it to the European marketplace, the findings do provide the basis for some pretty good guidelines of what to look out for when choosing your SIP provider.
If you are considering switching or upgrading your telephony services to an ALL IP SIP VoIP solution or would like more information regarding pascom, then give the pascom team a call on +49 991 29691 200 to discuss your requirements and get started within minutes using our free hosted business VoIP phone system edition.