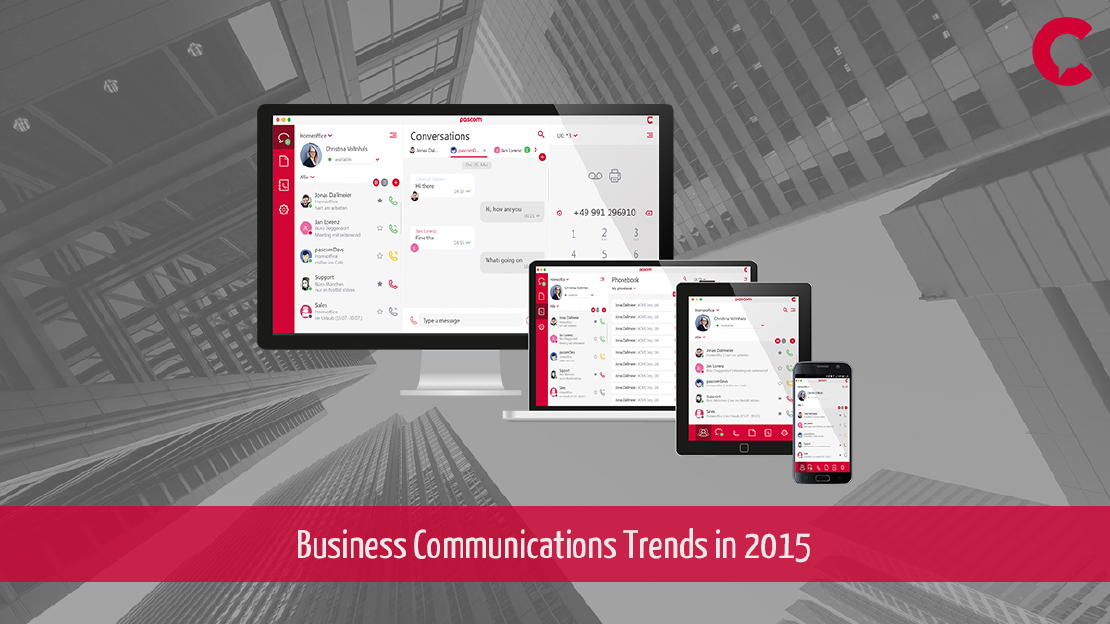 Business Communications Trends in 2015
12.01.2015
4 min read

pascom
Business Communications Trends to Watch in 2015
Trying to predict future trends is a difficult but necessary task for all aspects of a companies' operations no matter their industry sector. This is also true for business communications trends as they provide businesses with the ability to stay ahead of their less attentive competition by gaining technological and cost-saving advantages. Looking back over 2014 and the top trending topics across the VoIP industry media channels, it is clear to see that the hot topics affecting the VoIP industry look set to continue in 2015. Themes such as the continued rise of Telecommuting, increased adoption of Mobile VoIP and Bring Your Own Device (BYOD), as well as the continuing trend in increasing collaboration through Unified Communications (UC) which were prevalent throughout 2014, will continue to grow throughout 2015. So here are our Business Communication Trends to look out for in 2015.
Increased Adoption of SIP Trunking
SIP Trunking technology enables organisations to switch to IP-PBX Telephony without all the hassle of completely restructuring and replacing their current communications infrastructure. Implementing SIP trunk solutions to handle voice and data communication provides companies with the benefit of being able to simultaneously reduce telecommunication costs as well as facilitating multi-location office integration. Moreover, as awareness of SIP grows, the scope of use of SIP is increasing dramatically. No longer being viewed as a protocol for voice and voice related functions, SIP is now more often viewed as an element of both fully UC systems and overall organisational IT architectures. With so many benefits and the increased awareness of them, SIP adoption in 2015 looks set to continue.
Increased emphasis on Mobile Integration
As we discussed in our benefits of mobility clients post towards the end of 2014, today's workplace has become extremely mobile. With the work from anywhere philosophy becoming ever present, it is clear that the trend towards integrating mobile devices into a companies UC solution will continue to grow in 2015. More and more businesses are deploying solutions integrating mobility clients in an effort to enable their remote employees to communicate more effectively without requiring additional hardware whilst eliminating the need to give out personal numbers. In essence, promoting the use of mobile devices as remote extensions of office phones whilst simultaneously delivering UC functionality on the go. This 2015 Business Communications Trend is clearly illustrated by research from Software Advice which analyses trending VoIP terms from 2014.
Continued growth in Unified Communications adoption
Adoption of Unified Communications saw significant uptake by businesses across all sectors, from SMEs to Large Enterprise in 2014 which looks set to continue in 2015. In fact, 2015 promises to see increased adoption of UC solutions, as companies continue to strive to enhance collaborative communication through utilising UC features such as presence management, instant messaging and so on. In November 2014, research firm Infonetics reported that the PBX market year on year growth in 3Q14 dipped by 7% while UC adoption grew by 21% in Q3 2014 compared to Q3 2013. It is little wonder that UC adoption is likely to continue its current growth throughout 2015 as more and more companies recognise the significant cost saving and increased productivity benefits that UC delivers.
Businesses continue to look towards the cloud
While here in our core market of Germany Cloud / Hosted PBX adoption has been slow to take off, it is beginning to gain traction. Internationally, adoption of cloud telephony services has seen more positive growth, particularly in countries such as the U.K. and The Netherlands. In a recent Infonetics report, figures showed that the Hosted PBX and UC services market grew by 13% whilst stating that the cloud PBX and unified communications market will be worth an estimated >$12 billion by 2018.
Security will continue to be a Hot Topic
2014 was a year of communication scandals, and while we hope there will be fewer scandals in 2015, this does ensure that VoIP Security will remain a hot topic and a pressure point in 2015. Moreover, when looking at research from Software Advice concerning trending VoIP terminology in 2014, TLS (Transport Layer Security) came 3rd on the list behind BYOD and Mobility Clients, while SRTP (Secure Real-time Transport Protocol) also made an appearance. In the closing stages of 2014, we posed the question "Which VoIP Topic will be the most significant in 2015" to our customers, partners and pascom Community. The response was that a 59% majority felt that security was of the most concern, which indicates that security will be up there as a top issue in 2015.
So there you have it - our 2015 Business Communications Trends predictions.
If you are considering switching or upgrading your telephony services and would like more information regarding pascom, then give the pascom team a call on +49 991 29691 200 to discuss your requirements and get started within minutes using our free hosted business VoIP phone system edition.