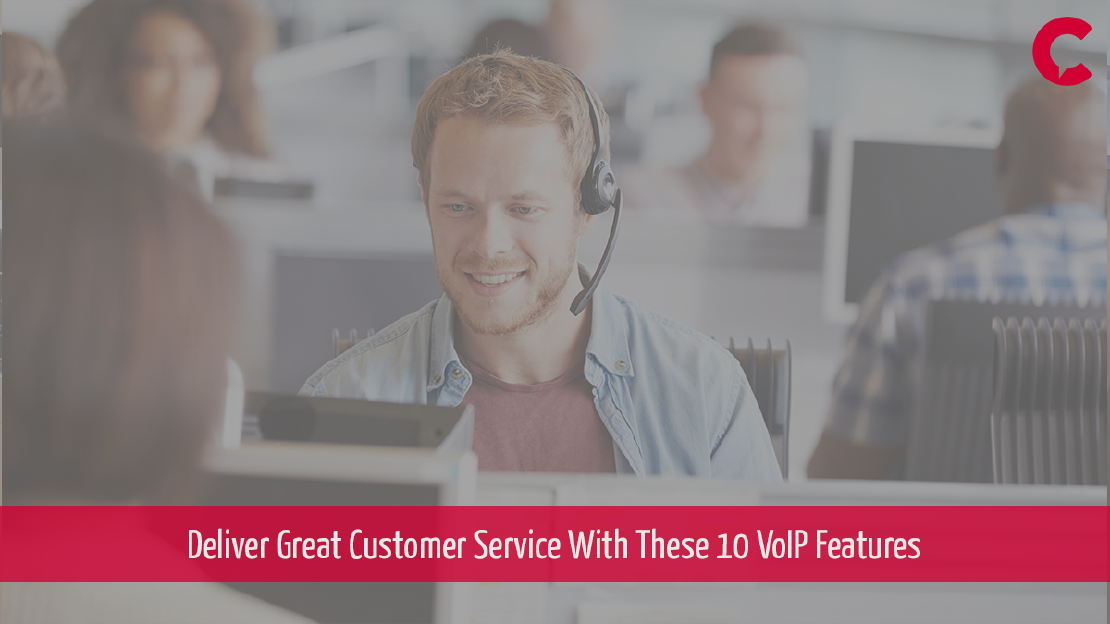 10 Customer Service VoIP Features
04.11.2014
6 min read

pascom
Deliver Great Customer Service With These 10 VoIP Features
With so much competition within the market and an ever increasing freedom of choice over products and services, how do people decide from which company to make their purchase? One of the most important aspects in the decision making process is Customer Service. The best form of marketing any company can benefit from is word of mouth marketing. Meaning customers are talking about their experiences with the company, whether they be good or bad.
Did you know that bad customer service will probably be heard by about twice as many people as good customer service, and on average it takes up to 12 positive experiences to make up for a bad experience? When one considers that the cost of winning new customers is 6 or 7 times higher than keeping you current customers, the implications of customer service are plain to see.
This is where voice over internet protocol (VoIP) or the more advanced Unified Communications as a Service (UCaaS) comes in to play and is why we decided to have a look at 10 great customer service VoIP features, which can greatly boost your customer service levels and help you and your business stand out from the crowd.
1. Qualify calls
Using tools such as Interactive Voice Response (IVR) menus, you can direct your callers to the right contacts even before the call is answered. Other qualification options include integrating your CRM, ERP or Ticket systems with your Open Standards VoIP system, ensuring that your employees have access to all the relevant customer data (if they are an existing customer), putting your agents in a position to better help and advise your customers.
2. Personable
Everyone in your customer service team (or company for that matter) can have their own personal telephone number, saving existing customers the time of having to go through all the switchboard or options repeatedly. A VoIP phone system can also automatically forward your calls onto a colleague who has knowledge of the customer's needs should one of your agents be away from their desk.
3. Never miss a call again
One of the biggest problems facing companies is the number of calls that go unanswered. Every call is an opportunity, and when they go answered it can be a nightmare - particularly if you operate a call centre. With tools like Call Hunting and FollowMe FindMe (in combination with Bring Your Own Device - BYOD) which enable call forwarding through predetermined device lists, teams or queues, the number of unanswered calls can be greatly reduced, ensuring that a caller doesn't get disgruntled because they cannot reach you.
4. Local presence
VoIP phone systems allow you to integrate local phone numbers for your customers wherever in the world they may be and the calls can all be forwarded to your contact centre. For example, you may be based in London but have customers in Munich. With VoIP, your customers in Munich can call a local German number and reach you without incurring international charges. A massive benefit of this is with new business generation - not many people are prepared to call a international number when they can get the same product/service more locally.
5. Enables Flexi & HomeOffice working
As workforce mobility and HomeOffice working increases, the question is how do I keep all my agents contactable. VoIP and Unified Communications enable exactly this functionality, ensuring your customer service or sales teams are always contactable, regardless of whether they are on the road, at home or on a business trip abroad. Also provides a great tool should you be rapidly expanding your team, but do not have the real estate to accomodate all your new staff in your offices.
6. Scalable & expandable
This is massive for customer service orientated companies. No matter how big you grow - your VoIP systems can be grown with you quickly and easily. Whether adding or removing users, locations, phone lines or extensions, VoIP is 100% Scalable and Expandable. So if tomorrow you win that contract that means you need 100 new employees, this can be done with the minumum of fuss and financial outlay.
7. 24/7 service
It's the modern culture, we are always on the go and expect service whenever wherever. The old saying the customer is always right, well it is true. If a customer cannot get what they need at 2am on a Saturday morning, then they will look elswhere. As already mentioned VoIP comes fully equipped with Call Forwarding functionality - so why not forward those calls to the night shift team or a team in an appropriate time zone, depending on the time of day.
8. Call reporting
Most UC platforms will provide a basic element of call reporting, allowing you to analyse when and where to deploy your resources. More advanced solutions can even offer live statistics, meaning you can react quickly and efficiently to spikes in demand, by easily moving agents from queue to queue where they are needed most ensuring a minimum of unanswered calls whilst reducing the workload of the overstretched team, reducing stress and increasing productivity.
9. In-call features
Many VoIP systems will allow you to utilise a range of in call features such as call recording/playback as well as in call whisper coaching and barge in. All meaning that you can listen to or in on calls for quality and training purposes. The call whisper coaching is great for helping agents deal with issues that they may be struggling with, as more experienced staff can listen in and offer coaching all without the customer hearing what is happening. Another great VoIP tool is that internal calls are often free, giving you the ability to run live training scenarios internally, record them, listen to them, analyse and learn from them, which will only help improve the service provided on the phone.
10. Voicemail to E-mail
So if even after implementing all the above, you still miss a call and it lands in your voicemail, then this message can be transcribed and sent to your e-mail, which most of us have access to on our mobiles these days. This gives your users not only a notification that they have a voicemail, but the contents of the message so they can react straight away. Also has the added advantage that you don't have to replay the message numerous times while trying to note down all the important information.
Summary
There you have it. Our take on how VoIP can improve customer service and satisfaction. What do you think? Let us know your thoughts by leaving a comment in the comments field below.
To find out more about pascom's VoIP Solution and how we upgrade business communications, please visit our website.