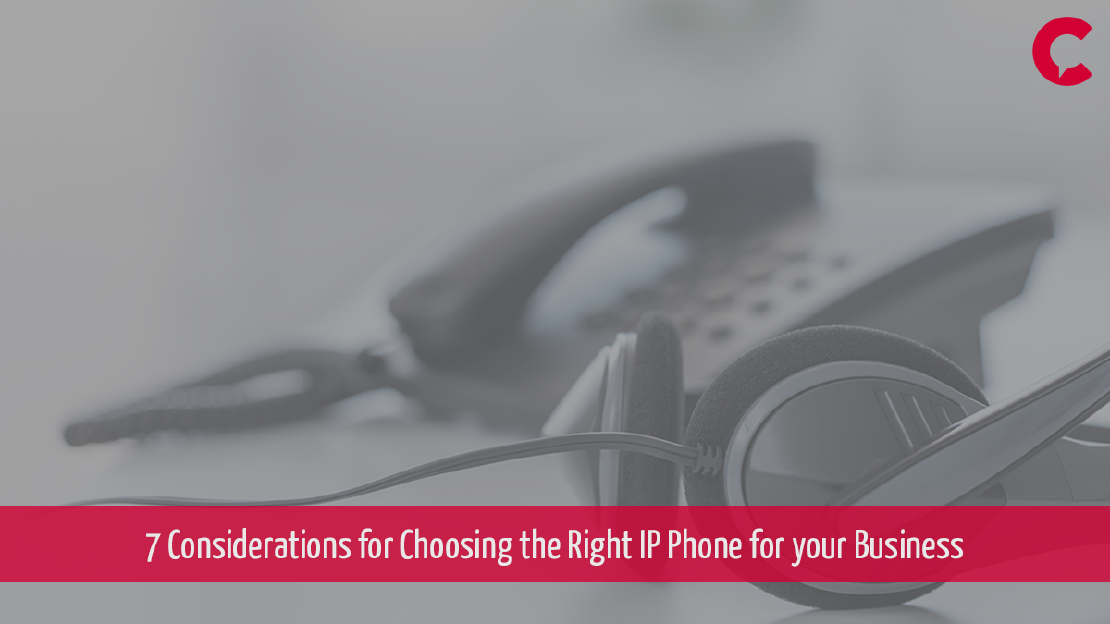 7 Considerations for Choosing an IP Phone
Choosing IP Phones - How to Choose the Right IP Phone for your Business?
It's just a phone, so the decision shouldn't be so difficult, should it? Think again. With over 200 IP phones available in today's marketplace, choosing the right one that matches all your business needs can be a difficult and exhaustive task. That said, choosing the perfect IP phone to fulfil your needs doesn't have to be a scary experience. In fact, you probably do not need to know as much about IP phone technology as you think - so if you are just starting out, don't panic as basic knowledge will do!
Choosing the right IP phone is actually more about knowing your business needs and matching the phone to those requirements. More to the point, the decision should be based on the needs of your users as it is your employees that fulfil business objectives. Therefore, we have put a little checklist together of questions you should ask yourself before making any decisions, which having been answered will go a long way to narrowing down the field and helping you make an informed decision.
1. Current Phone System / VoIP Service Suppliers
As with most technologies, there is always the question of compatibility. So having made the decision regarding your phone system and VoIP suppliers, choosing any old IP phone simply won't cut the mustard. Technologies like SIP, BYOD and Open Standards phone systems add to the confusion, as many people wrongly assume that any IP phone will work with any phone system or service provider.
Sadly, this is not the case by any stretch of the imagination. There are a whole host of factors to consider ranging from Auto Provisioning (configuration and deployment) and CTI functionality to supported Audio codecs. Have a conversation with your current suppliers and avoid getting lumbered within an unsupported incompatible IP phone. This discussion also has the added benefit of narrowing the field in terms of available choice quite dramatically.
2. Defining for Whom the IP Phones are Intended
Every user will have different needs which will vary according to job role or position, and you will need to take these into account. Executives, for example, may well desire more elegant design and newest tech on their desks, while employees in high call volume job roles may demand to have enhanced user-friendliness. Another factor to consider here is also whether your staff need Desktop IP phones at all.
Field sales agents or remote workers may prefer and find it more convenient to use Softphones on their laptops and mobile device as opposed to desktop phones and then there are those employees who are never in the same place around the office, what about kitting them with DECT IP Phones as a desktop phone simply won't do. As with choosing your phone system and service providers, checking your user requirements is an essential step.
3. What Functionality / Features Do You Need?
Having identified which users require IP phones, the next essential and logical step is to assess which tools will be essential for these users. Most businesses will look for the core standard VoIP phone features, such as Call Parking, Call Transfer and Waiting plus 3-Way Conferencing as a starting point. We would recommend going a few steps further and looking at devices that have large backlit displays for improved readability, expansion module compatibility, intuitive menus as well as speakerphone functionality. An example could be, if your team members often utilise the speakerphone functionality, purchasing an IP phone with renowned speakerphone audio quality or an audio conferencing system could well be the way to go.
4. What's your Current Daily Incoming Call Volume?
This is a vital question to ask yourself. Many businesses overlook Call Volumes when choosing phones, as they feel that the subject is more appropriate to their choice of phone system and service providers. They are right of course, but it is still an essential aspect of the decision-making process. This is due to the fact that IP phones can support multiple "line appearances", meaning that one phone can share a line with another phone. Thus providing users with the ability to pick up calls from intended for a colleague's extension, view phone line status information as well as making calls from their extension which appear to have originated from another extension.
For a normal office employee, having three to five line appearances may well be enough, but receptionists, support staff, team leaders and admins may well require more than 10 and so you will need to choose your phones accordingly if you want to gain the maximum benefit.
5. How Often Will the Phone Be Used?
The old saying of "you get what you paid for" really holds true when it comes to IP Phones. If your users are on the phone all day every day, make sure you supply them with a high-quality device as this will enhance both audio quality and user comfort as well as ensuring a longer life cycle. On that point, even if your users do not have a heavy phone usage requirement, spending a bit more upfront for the higher quality will pay dividends in the long run.
6. Does your IP Phone Need Routing Capabilities?
Somewhat astonishingly, there are still quite a few offices out there where you will find only one Ethernet connection per desk. If this is the case in your offices, you will need to ensure that your new IP phones come equipped with dual Ethernet ports as it will have to share the single Ethernet connection with the desktop computer on the workstation. If your office already has a separate Voice LAN in place, then selecting an IP Phone with only a single Ethernet port will suffice.
On this note, it is also worth considering whether you will be looking to utilise Power over Ethernet (PoE) when deploying (either now or in the future), your new IP phones. If so then choosing a device that supports PoE is essential. If not, a quick tip here is to ensure that the IP phone you select comes with an AC power cable included (or sold separately) and that there is a power source in the vicinity of where you plan to install your new IP phone.
7. What's Your Budget?
Price should never be numero uno when it comes to your decision making processes, but it of course definitely comes into play. In fact, setting a budget is a great idea, as it will force you to really analyse which features and functions are the most important to you. Moreover, having a budget will also help you reduce the risk of overspending. What is important to know here is that IP phone pricing varies greatly starting at anywhere around the €60 up to €400, so be warned that overspending can happen easily.
Summary
By answering the above 7 questions you will be well on your way to deciding upon the right IP phone or phones for your business. Of course, other questions and issues may well arise throughout your decision-making process which are not covered here, but by answering them you will further define what suits your needs which is obviously great news. Just remember that including the needs of your users will help you help them to achieve your business objectives more effectively and therefore their input is essential when making the right choice.
If you are considering switching or upgrading your telephony services to an ALL IP SIP VoIP solution or would like more information regarding pascom and supported IP phones, then give the pascom team a call on +49 991 29691 200 to discuss your requirements and get started within minutes using our free hosted business VoIP phone system edition.