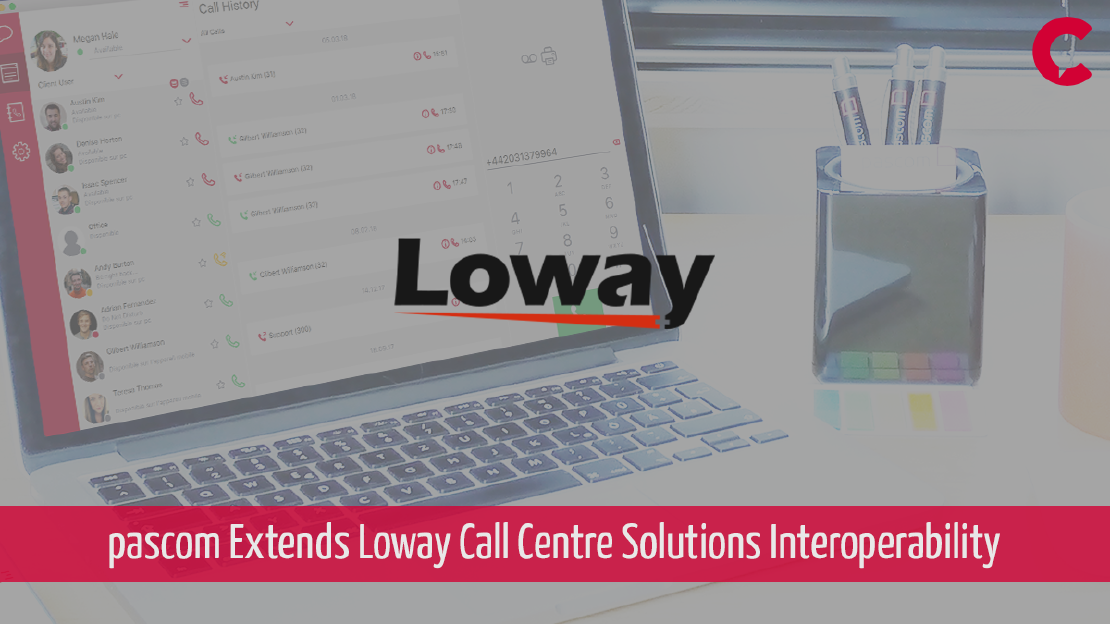 pascom Expands Call Centre Analytics Interoperability with Loway
Increased CallCenter Functionality with pascom Loway Interoperability
May 5th 2015, Deggendorf Germany & Stabio Switzerland - pascom GmbH, a leading developer of Unified Communication phone systems for business today announces the expansion of their Loway interoperability partnership. Building on the QueueMetrics partnership finalised in 2014, the new cooperation with the Advanced Asterisk Call Center Analysis provider includes integrating the WombatDialer, Loway's predictive dialling application.
Using the WombatDialer further enhances Contact Center productivity by increasing call penetration and agent talk time. As a result of the increased interoperability, pascom customers can access a range of new features such as intelligent rescheduling and multiple campaign management. Furthermore, the increased compatibility provides Call Center agents access to both real time and historical contact data thanks to pascom's CRM/ERP system integration options. This has the benefit of increasing agent productivity whilst simultaneously supporting them in delivering excellent and personalised customer service.
To further facilitate the increased interoperability, pascom have a add a detailed documentation to support IT administrators with a quick, efficient and hassle free integration process. All future pascom software releases will incorporate all the necessary integration scripts to further simplify the integration process.
Mathias Pasquay, pascom CEO, on announcing the developing Interoperability:
"Through strengthening our interop partnership with Loway, we are able to deliver enhanced call center functionality whilst supporting our customers in their ongoing mission to increase overall contact center productivity. Allowing them to increase campaign effectiveness in terms of coverage and performance. Additionally, combing pascom and the WombatDialer in a contact center environment provides our customers with a cost effective, yet feature rich call center solution to deliver both increased productivity and greater return on investment".
Lorenzo Emilitri, Loway Founder and CEO said:
"We are pleased and excited to work with one of the leading worldwide developers of Asterisk-based PBXs. We recognize that the high level of quality, precision and professionalism of pascom products, coupled with our powerful Call-Center solutions, will offer end-users a high-quality call-center system at a fraction of the cost of a traditional system."
About Loway
Since 2004, Loway has been leading the way in the development of specialised Asterisk PBX Advanced Call Center software solutions. With QueueMetrics, Loway have set the bench mark for modern standards regarding call center performance measurement. In addition to QueueMetrics, Loway's product portfolio also includes the WombatDialer, a flexible, easy to use outbound dialing platform. Their Mission is to put the Swiss passion for precision and reliability at your service.
At Loway: your way is their way. Measure. Improve.
For more information, please visit: www.loway.ch
About pascom
Founded in 1997, pascom are the developers of next-generation UC Telephony Solutions and we upgrade business communications.
With pascom's innovative on-premise and cloud UC phone systems at the heart of your Communications, you will have a centralised, intelligent hub with which you can gain total control over your organisation's communications – no matter how diverse and dynamic your business communication channels.
Our solutions offer excellent scalability and are highly customisable to exactly match even the most specific customer requirements. Which is why our IP PBX solutions the perfect choice to support Small Medium Enterprises communicate smarter, more efficiently and more cost-effectively.
For more information about pascom Business Communications solutions, visit www.pascom.net or get started for free now.