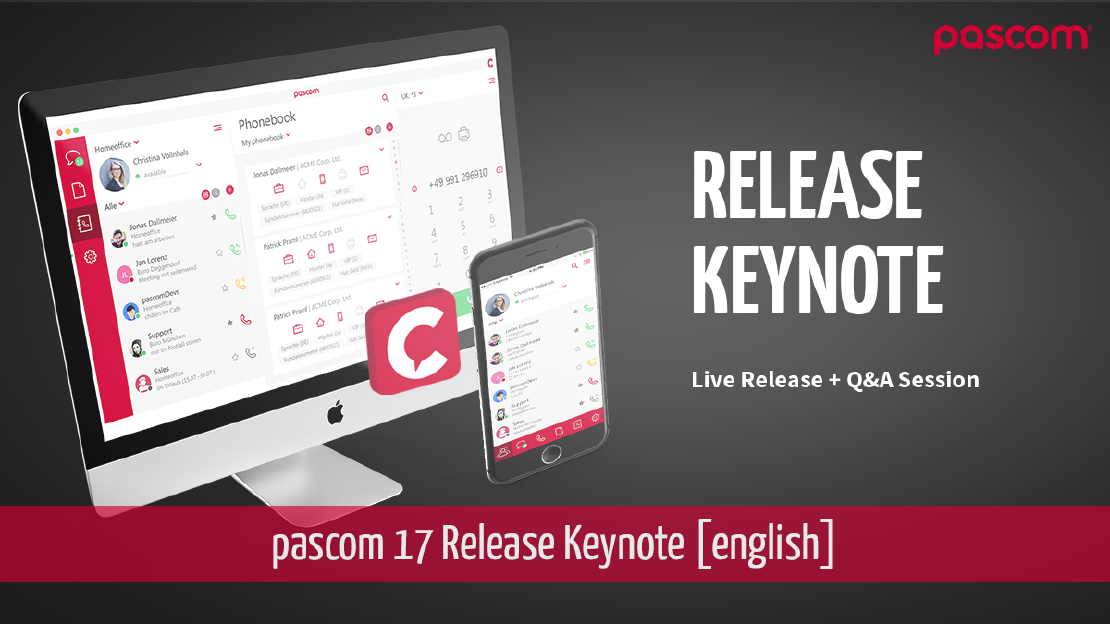 pascom 17 Enhancing Business Agility
15.12.2017
3 min read

pascom
Upgrade your business communications with pascom 17 & mobile UC
December 15th 2017 | Deggendorf - pascom GmbH, a leading business phone systems vendor, yesterday launched pascom VoIP phone system version 17, including their newest business communication and collaboration mobile UC apps for Android and Apple iOS. pascom 17 further enhances pascom's Unified Communications (UC) capabilities and enables Small Medium Businesses to further enhance business agility by leveraging greater mobility, collaboration and productivity benefits without incurring any additional overheads.
Available for both Android and iOS, pascom's new mobile UC apps utilise the same framework as the desktop UC applications released in pascom 16. As such, the new mobile VoIP apps offer not only the same modern, sleek user-friendly design but also the same Unified Communication feature set, ensuring that pascom customers can access all their essential business communication telephony and UC tools from anywhere, at anytime. Furthermore, the desktop and mobile UC applications are built on the same technology thus ensuring that pascom customers will enjoy faster and more frequent updates including new feature roll outs across all platforms (Windows, Mac OS, Linux, Android and iOS).
Mathias Pasquay, pascom CEO: Our new mobile UC apps are an important step in our product development. Unlike other vendors, our desktop and mobile UC applications offer the same functionality and ease of use no matter which platform our customers prefer. As we develop one framework, we are able to bring new seamlessly integrated features to market quicker and more often ensuring that our customers benefit from cutting edge telecom solutions that enable them to further enhance their business agility and add value to their overall business communications.
Thanks to pascom 17's mobile UC app's innovative QR code pairing process, incorporating mobile devices into a company's telecommunications and Unified Communication infrastructure could not be simpler. Either allow end-users to pair their devices themselves via the desktop application or alternatively system administrators can retain full control and only pair approved devices via the admin Web UI. The QR code pairing process has been designed to support admins deploy mobility solutions quickly, efficiently and securely.
The new mobile UC apps are available to download from the Android (PlayStore) and iOS (AppStore and are compatible with both pascom 17 cloud and on-premise solutions. However, in order to enjoy full functionality in terms of mobile VoIP & All-IP telephony, a pascom cloud solution is required. Existing on-premise customers will still be able to utilise the mobile VoIP app's in-built GSM fallback function and will not have to wait too long until they are also able to use the new mobile UC apps to their full potential as this will be realised with pascom 18, due to be released next year.
About pascom
Founded in 1997, pascom are the developers of next-generation UC Telephony Solutions and we upgrade business communications.
With pascom's innovative on-premise and cloud UC phone systems at the heart of your Communications, you will have a centralised, intelligent hub with which you can gain total control over your organisation's communications – no matter how diverse and dynamic your business communication channels.
Our solutions offer excellent scalability and are highly customisable to exactly match even the most specific customer requirements. Which is why our IP PBX solutions the perfect choice to support Small Medium Enterprises communicate smarter, more efficiently and more cost effectively.