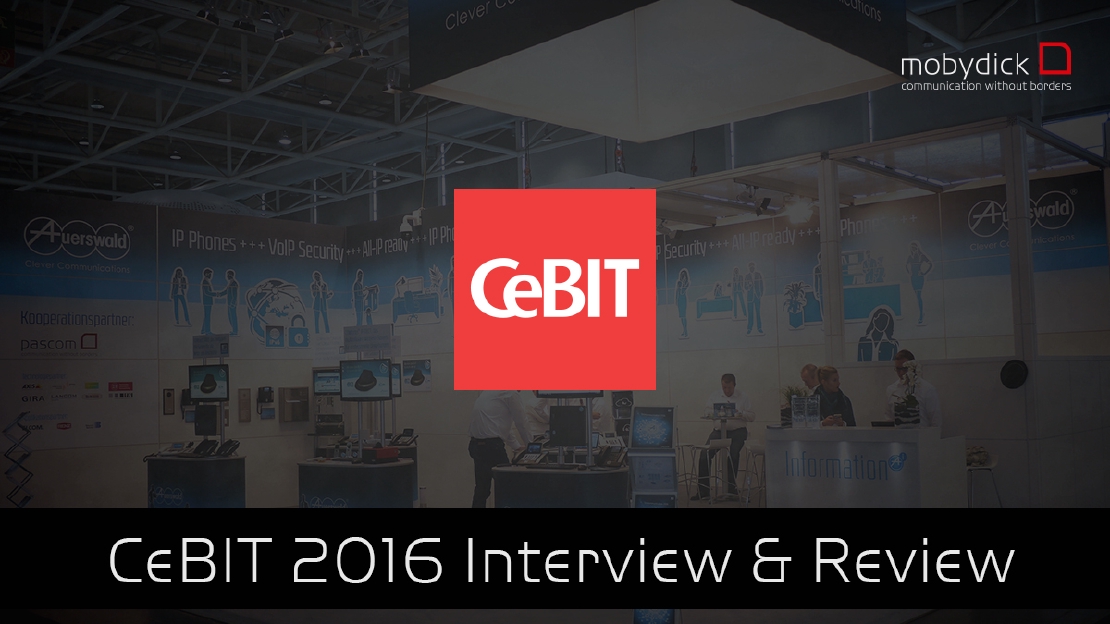 pascom CeBIT 2016 Review
18.04.2016
3 min read

pascom
CeBIT 2016 - Our Most Successful Yet
18.04.2016 | Deggendorf - CeBIT 2016 may be a few weeks behind us now but the interest generated and the success of our 2016 exhibition is very much ongoing. Figures released by Deutsche Messe AG indicate that attendees engaging in business talks is continuing to rise. Furthermore, international attendance remains on par with a quarter of visitors heralding from shores further afield, confirming CeBIT is still the premiere IT exhibition despite growing competition from other international shows.
Introducing the pascom Phone System
The 2016 show saw pascom exhibiting alongside IP phone developer Auerswald GmbH as their 2016 CeBIT Cooperations Partner. The change in stand location proved timely in opening new avenues for reaching a previously unexplored domestic market segment whilst maintaining our presence at the centre of the Unified Communications world that is Hall 13.
Previously reticent System Integrators who had been hesitant to consider software-based VoIP solutions are now reconsidering. The change in thinking has been brought about in part due to the upcoming 2018 ISDN cut off in Germany combined with experiencing increasing customer pressure stemming from businesses becoming more aware of the more advanced feature sets, increased flexibility and scalability benefits that software-based VoIP solutions, such as pascom's, are known to deliver.
pascom's Most Successful CeBIT To Date
Throughout the 2016 show, it was apparent that not only stand visitor numbers were up, so too was the quality and level of interest in pascom's phone system solutions.
Thomas Schmidt, pascom Director of Sales speaking on the final day; As a first impression, considering the volume and quality of visitors throughout the week being of such a high calibre, it is with an assured confidence that I predict CeBIT 2016 to quite possibly be our most successful CeBIT to date."
Once again, our participation at CeBIT 2016 provided the perfect platform from which to showcase our Unified Communications solution to a wide variety of domestic and international potential customers and channel partners.
Mathias Pasquay, pascom CEO & Co-Founder speaking during the event; "Over the previous four years, our presence at CeBIT has played a crucial role in expanding our geographical reach both nationally and internationally and this trend looks set to continue during this year's [2016] show."
About pascom
Founded in 1997, pascom are the developers of next-generation UC Telephony Solutions and we upgrade business communications.
With pascom's innovative on-premise and cloud UC phone systems at the heart of your Communications, you will have a centralised, intelligent hub with which you can gain total control over your organisation's communications – no matter how diverse and dynamic your business communication channels.
Our solutions offer excellent scalability and are highly customisable to exactly match even the most specific customer requirements. Which is why our IP PBX solutions the perfect choice to support Small Medium Enterprises communicate smarter, more efficiently and more cost-effectively.
Visit www.pascom.net to learn more about pascom.