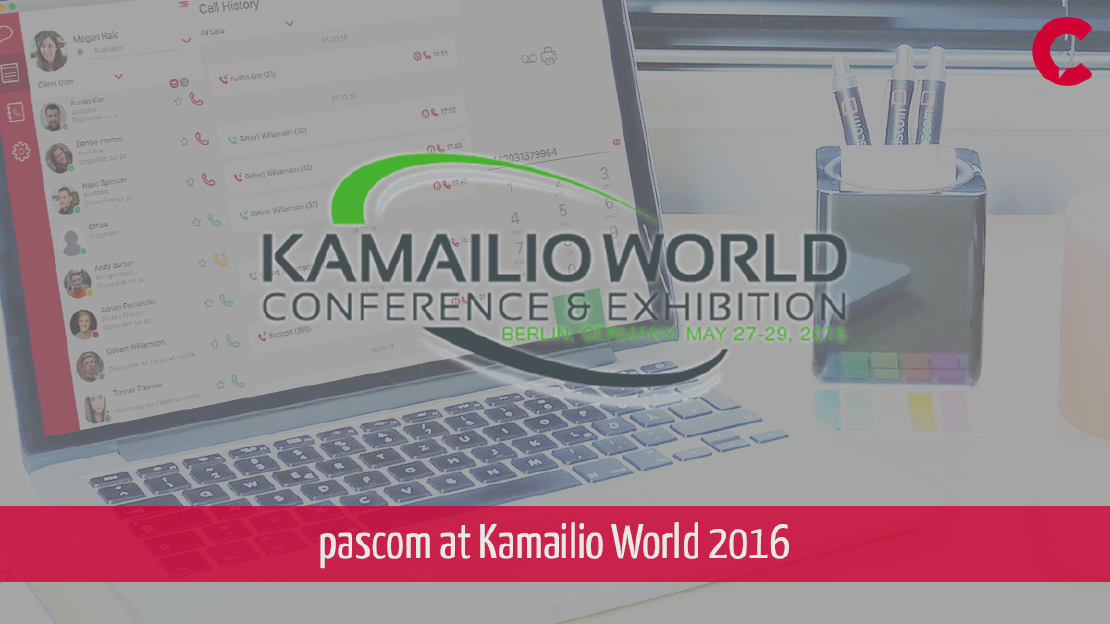 pascom at Kamailio World 2016
03.05.2016
3 min read

pascom
pascom Announce Kamailio World 2016 Sponsorship
03. May, 2016, Deggendorf, Germany - pascom GmbH & Co. KG, developer of the next-generation business phone systems, today announce their participation at Kamailio World 2016 (18-20th May) in Berlin as a Silver Sponsor.
pascom's involvement with Kamailio World stems from more than just being an event sponsor. During Kamailio World 2015, Mathias Pasquay, pascom CEO and Co-founder, spoke on the topic of deploying Kamailio when moving an Existing Asterisk based IP PBX to the Cloud without any functionality loss - which has been a core aspect of the company's product development over the past 12 months.
Fast forward to 2016 and Mr Pasquay will once again take to the stage to discuss another major product development focus - leveraging the power of Lua Scripting to not only enhance Asterisk phone system call queueing but also its practical applications across the Kamailio and Asterisk Open Source communities.
Mathias Pasquay, pascom CEO and co-founder, on Kamailio World: "As Kamailio World 2015 was such a success and as pascom integrates a whole manner of Open Source solutions in the development of mobydick, being at Kamailio World provides an opportunity to give back to the community as well as gaining an insight to the latest innovations stemming from the community. Moreover, as the 2016 event celebrates 15 years of innovation - I simply couldn't miss it."
The 2016 event focuses on realtime communication technologies and how their constant innovation not only challenges the imagination but also paves the way for the future of realtime communication.
For more information and ticket registration, please visit www.kamailioworld.com
About Kamailio
Kamailio (successor of former OpenSER and SER) is an Open Source SIP Server released under GPL, able to handle thousands of call setups per second. Kamailio can be used to build large platforms for VoIP and realtime communications – presence, WebRTC, Instant messaging and other applications. It can also easily be applied to scaling up SIP-to-PSTN gateways, PBX systems or media servers like Asterisk™, FreeSWITCH™ or SEMS.
Among the powerful features: asynchronous TCP, UDP and SCTP, secure communication via TLS for VoIP (voice, video, text); WebSocket support for WebRTC; IPv4 and IPv6; SIMPLE instant messaging and presence with embedded XCAP server and MSRP relay; asynchronous operations; IMS extensions; ENUM; DID and least cost routing; load balancing; routing fail-over; accounting, authentication and authorization; support for many backend systems such as MySQL, Postgres, Oracle, Radius, LDAP, Redis, Cassandra, MongoDB, Memcached; Json and XMLRPC control interface, SNMP monitoring.
About pascom
Founded in 1997, pascom are the developers of next-generation UC Telephony Solutions and we upgrade business communications.
With pascom's innovative on-premise and cloud UC phone systems at the heart of your Communications, you will have a centralised, intelligent hub with which you can gain total control over your organisation's communications – no matter how diverse and dynamic your business communication channels.
Our solutions offer excellent scalability and are highly customisable to exactly match even the most specific customer requirements. Which is why our IP PBX solutions the perfect choice to support Small Medium Enterprises communicate smarter, more efficiently and more cost effectively.
Visit www.pascom.net to learn more about pascom.