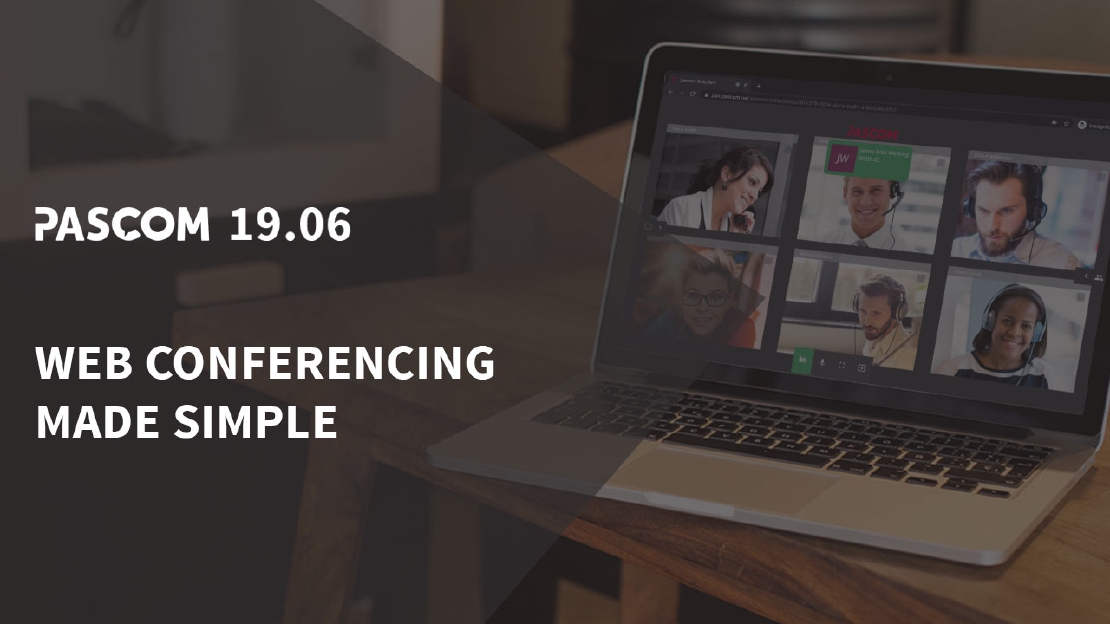 Web Conferencing Made Simple With pascom WebRTC
WebRTC Web Conferencing - pascom 19.06 Release
April 28th, 2020 | Deggendorf, Germany - pascom GmbH, a leading developer of business Unified Communication (UC) phone systems, today announced the release of the pascom VoIP phone system version 19.06. The pascom 19.06 release signifies the end of the pascom 19 BETA testing phase, ensuring that all pascom customers are now able to benefit from a tried and test feature-rich team collaboration and video conferencing business communications platform including the pascom WebClient, the company' latest Web Conferencing Collaboration tool.
The new pascom Web Client provides pascom customers with an intuitive, secure option for hosting online business meetings. Built of WebRTC (Web Real-Time Communication) technology, pascom's Web Conferencing feature empowers pascom UC desktop and mobile app users to invite customers, prospects and business partners to join online meetings using their web browser, eliminating the need for additional hardware or app downloads.
Incorporating all the functionality of pascom's existing Video Conferencing and Screen Sharing suite, the pascom Web Client is compatible with all leading web browsers. In addition, pascom 19.06 also includes the option of allowing participants to choose how to stream audio, either in browser or via a new dial-in function. The range of functionality included in the pascom 19.06 release combines to in deliver an excellent customer service and engagement tool which is ideal for productive online meetings and delivering indepth remote presentations and exceptional support.
Mathias Pasquay, pascom CEO:
In recent weeks, businesses globally have seen the importance of effective, easy-to-use yet secure video conferencing and business communications tools. The release of pascom 19.06 and our WebRTC pascom Web Client therefore delivers the perfect upgrade to compliment our existing collaboration and video tools and further enhance the communication experience independant of device and location, working from home or in the office.
About pascom
Founded in 1997, pascom are the developers of next-generation UCC Telephony Solutions and we upgrade business communications.
With pascom's innovative on-premise and cloud UC phone systems at the heart of their communications, businesses have a centralised, intelligent hub giving them total control over the organisation's communications – no matter how diverse and dynamic the business communication channels.
The pascom platform offers excellent scalability and are highly customisable to exactly match even the most specific customer requirements. This is why pascom phone systems are the perfect choice to support Small Medium Enterprises to communicate smarter, more efficiently and more cost-effectively.
For more information about the latest release, please refer to the pascom 19.06 release notes.