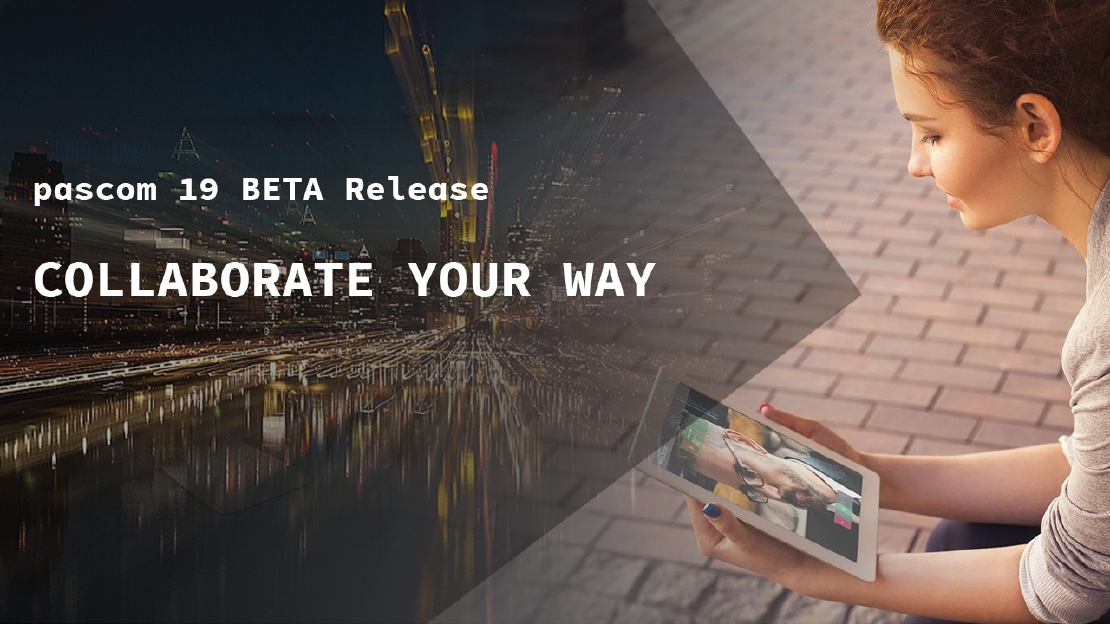 pascom 19 Collaborate Your Way
Collaborate Your Way with pascom 19
The eagerly awaited pascom phone system version 19 BETA is here and takes user/team collaboration to a whole new level thanks to the introduction of a host of video and team collaboration tools for desktop and mobile. Furthermore, the new pascom 19 desktop and mobile UCC clients have been designed with the overall User Experience in mind. As such, not only do the pascom 19 clients include new functionality, they also include numerous workflow enhancements - all packaged into the familiar pascom design and usability.
What's New
Once again, the design of pascom 19 has focussed not only on delivering new and more intuitive collaboration tools but also on the overall User Experience (UX). As such, the look and feel of the new pascom 19 BETA clients is exactly like that of pascom 16, 17 and 18 - which is what you want as an end-user. That said, the addition of new collaboration tools coupled with several usability enhancements has led to a few minor changes such as updating and improving the pascom Instant Messaging tools and adding a new, more intelligent fast search function.
For more detailed information regarding what's new with the pascom 19 UCC clients, please read our client release notes here.
Team Collaboration
As the modern office becomes more mobile and the workforce more diverse and widely spread, the need for effective, easy to use Team Collaboration tools has never been greater. With the release of the pascom 19 BETA version, many new Unified Communications and Team Collaboration tools have become available and more are currently in development and will be released in future pascom 19 versions.
Team Messaging / Group Chat
To date, one of the most common feature requests has been the inclusion of Team Messaging / Group Chat. This is a tool that has been available in pascom UC phone systems for a while now and with pascom 19, the Team Chat tool (pascom Groups) has been completely reworked. In previous pascom versions, it was possible to start "On-the-fly" single-use group chats. With the arrival of pascom 19, it is now possible to form "Always On" team messaging channels designed to break down information silos and keep your team members in the loop. As such, Team Messaging and chat tools are essential for promoting employee collaboration and are especially useful for including and facilitating remote employee collaboration and management.
Audio Conferencing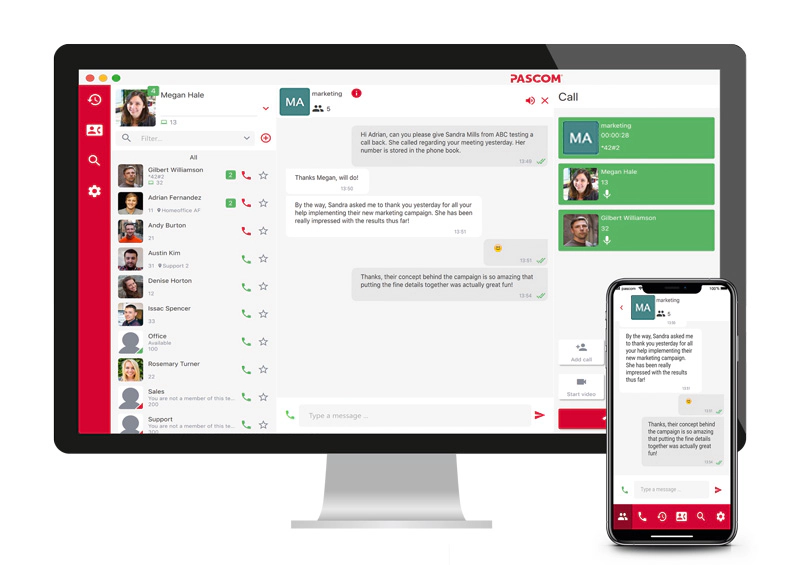 The new pascom Team Messaging tools form the foundation for further innovative Team Collaboration features starting with Team Audio Conference Rooms. By using the new audio conferencing tools, it is possible to turn the group chat into an audio conference as needed. Therefore, should a pressing issue come up that needs to be discussed, the group can be notified via team chat and the conference can be started immediately without any scheduling or virtual conference room sign in or setup issues. Furthermore, as soon as an audio conference has started, it will become visible to both desktop and mobile group members enabling them to simply join the conference from wherever they are on the device they happen to be using.
Video Conferencing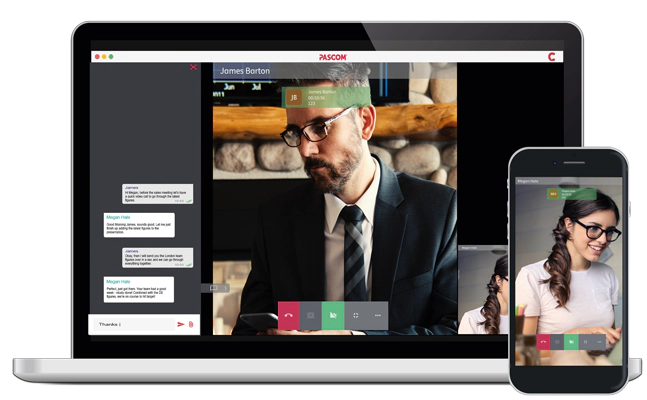 55% of communication is visual and that means sometimes audio conferencing is simply not enough to convey meaning effectively. In such a scenario, video conferencing is the ideal collaboration tool to improve meeting effectiveness and with pascom's native video conferencing tools, starting a video conference from your desktop, mobile device or conference / huddle room is as simple as clicking a button. There's no need for any additional software, browsers or plugins ensuring that pascom's video conferencing tools are available to all users and any compatibility issues are avoided - all you need is the pascom UC app and a webcam.
Screen Sharing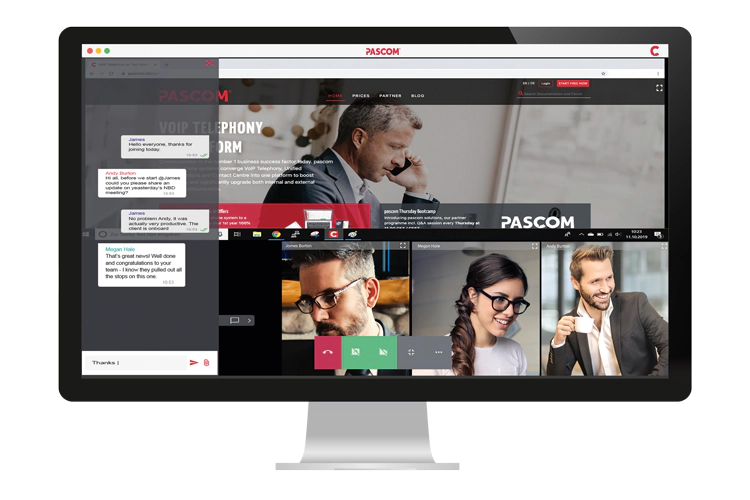 With pascom 19 adding yet more visual aids to your team conferences is just as simple as starting a video conference. During a call, audio or video conference, simply turn on the screen sharing tool in order to deliver amazing presentations, provide detailed demos, training or explanations. Regardless of whether your users are in the office, in HomeOffice or on the go, they will be able to view screen sharing presentations no matter which device they are using[*]. Screen sharing is such an effective collaboration tool that while there's no argument that video conferencing is an essential Team Collaboration tool, screen sharing is arguably just as important if not more so - I guess it depends on the use case of which there are many.
[*] The pascom 19 BETA does not currently support sharing mobile screens
Enhanced User Experience
Alongside the host of new collaboration tools, the pascom 19 BETA also includes a range of User Experience (UX) enhancements, particularly for mobile users. The Instant Messaging chat UI has been revamped to include a more user-friendly and more intuitive workflow.
The inclusion of a new lightweight client protocol ensures that client responsiveness is significantly faster across all platforms (notably on mobile) and that the search and filter tools are not only more intuitive to use, but also more mobile user-friendly. This is particularly notable with the mobile app's reworked in-call experience and options. A further enhancement with pascom 19 includes the integration of the Android Connection Service to ensure more reliable and consistent call management as well as enabling notifications on Smart Wearables plus improved connectivity with car handsfree systems.
Upgrading to pascom 19 BETA
The pascom 19 BETA is now available and all new pascom.cloud free instances are automatically deployed using the pascom 19 BETA phone system, making this the perfect option for testing the BETA before upgrading.
During the pascom 19 BETA phase, existing pascom.cloud pascom 18 customers will not be automatically updated to pascom 19. Once pascom 19 is no longer in BETA, it will be automatically deployed to all cloud customers. However, should a cloud customer wish to be upgraded to pascom 19, they should contact either the pascom sales team or their pascom reseller partner.
As is usual for on-premise customers, they have the option of choosing when to upgrade and can do so using the BETA ISO download file.