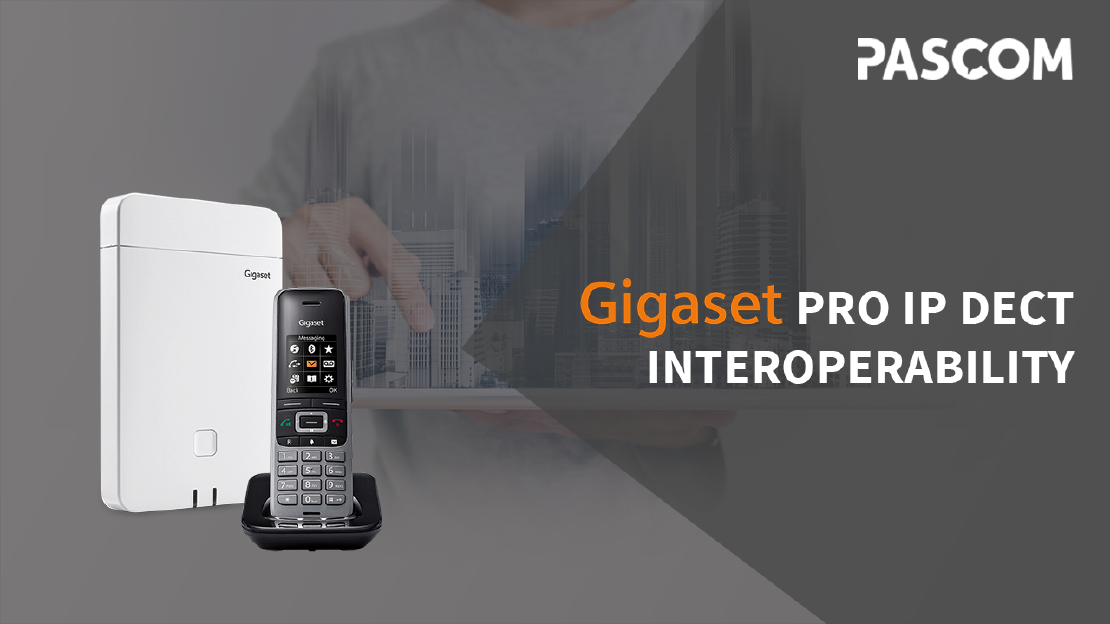 pascom Gigaset Pro IP DECT Interoperability
12.05.2020
2 min read

Gigaset

●

pascom
pascom Announce Gigaset Pro IP DECT Interoperability
May 12th, 2020 | Deggendorf, Germany - pascom GmbH, a leading developer of business Unified Communication (UC) phone systems, announced the successful completion of compatability and interoperability testing between the company' latest 19.06 VoIP phone system release and the Gigaset PRO IP DECT N870 workplace mobility solution.
The addition of Interoperability between pascom and the Gigaset Pro IP DECT N870 offers pascom business phone system customers further choice when deploying workplace mobility solutions and ensures that IT managers and system administrators can now benefit from a more efficient, simpler integration thanks to the new pascom Gigaset provisioning template that enables the automatic onboarding of basis stations and handsets with the minimum of input.
Furthermore, the new interoperability between pascom and Gigaset guarentees the full range of functionality and compatability between the both pascom cloud and on-premise IP PBX solutions and the Gigaset N870 IP Pro DECT solution, therefore ensuring that mutual customers are able to benefit from a crystal clear business communications experience.
Thomas Schmidt, pascom Sales Director:
Gigaset are renowned for their highly professional, cost effective range of DECT solutions and interoperability between pascom and Gigaset has been an increasingly demanded feature of the pascom phone system which is why we are delighted to announce that testing and development of our Interoperability template for the Gigaset Pro IP DECT N870 has been completed and is now available and we look forward to furthering our technicial partnership with Gigaset in upcoming pascom phone system editions as we add further Gigaset DECT devices to our range of supported endpoints.
About pascom
Founded in 1997, pascom are the developers of next-generation UCC Telephony Solutions and we upgrade business communications.
With pascom's innovative on-premise and cloud UC phone systems at the heart of their communications, businesses have a centralised, intelligent hub giving them total control over the organisation's communications – no matter how diverse and dynamic the business communication channels.
The pascom platform offers excellent scalability and are highly customisable to exactly match even the most specific customer requirements. This is why pascom phone systems are the perfect choice to support Small Medium Enterprises to communicate smarter, more efficiently and more cost-effectively.
For more information about the pascom and Gigaset, please refer to the pascom phone system endpoint documentation.