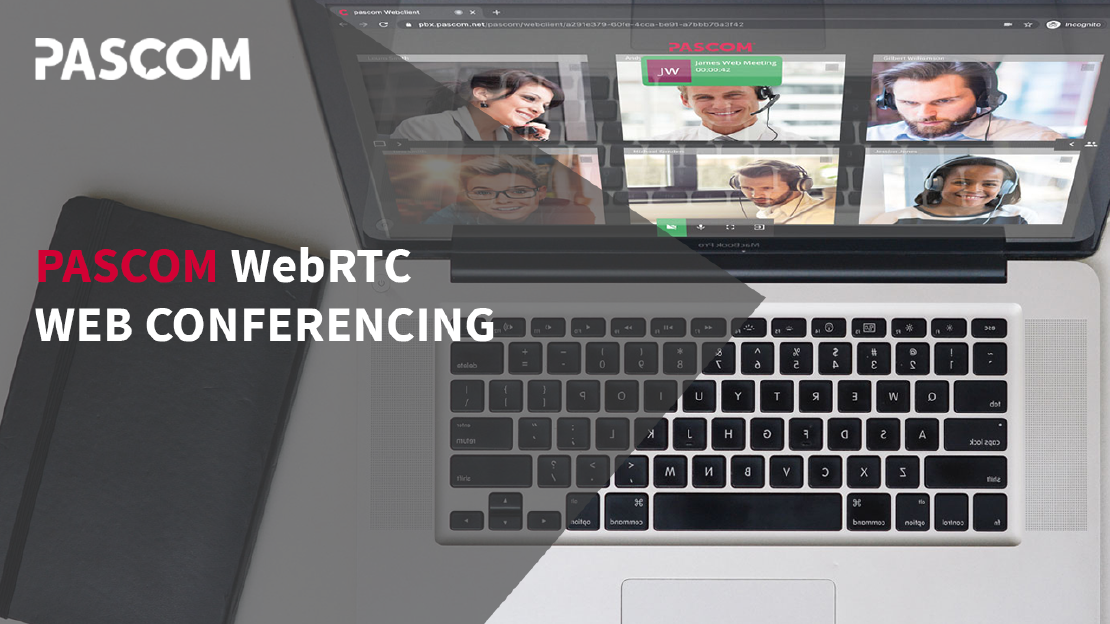 pascom WebRTC Web Conferencing
Making Web Conferencing Simple with WebRTC and pascom
Over the recent months, we have seen just how critical modern business communications and the need to digitally transform is to business continuity. With the need to switch from the normal day-to-day to 100% HomeOffice working overnight, it's not a surprise that demand for cloud business communications, VoIP phone systems, Unified Communications, Mobile VoIP/UC apps and Video and Web Conferencing platforms has surged to never before seen levels. With the recent release of the pascom 19.06 phone system, it is now possible to access all these tools in one easy-to-use and manage platform on both desktop and mobile devices, in HomeOffice and yes in the future in the office as well.
The release of our WebRTC Webconferencing tools is not something that has been forced by current circumstances. In fact, the journey towards pascom 19.06 started back in 2015 when we released our very first pascom Video Telephony solution. Since then, the pascom UCC solution has seen a steady progression of upgrades all geared towards ensuring that we remain leaders within the business telecommunications industry in terms of innovation, user experience and competion. As part of the process, the pascom phone system solution has constantly evolved from a predominantly onsite IP PBX solution into a scalable, full Unified Communications Cloud Communications platform.
Throughout this process, we have worked tirelessly to continously improve our clients, mobile apps and platform infrastructure and now that pascom 19.06 has arrived, we have developed the pascom phone system from simple peer to peer video calling to an all-encompassing complete video conferencing, desktop sharing and WebRTC web conferencing suite.
The Benefits of WebRTC and pascom Web Conferencing
The pascom Web Conferencing tools offer pascom phone system customers an additional customer service tool to further enhance customer engagement. Through enabling external stakeholder participation in online meetings and web conferences, pascom phone system users now have the ideal platfrom from which to invite prospects, customers and business partners to join online meetings, web conferences, online presentations and remote support sessions.
The beauty of pascom's WebRTC Web Conferencing solution lies in its consistent ease of use. Neither the pascom user nor the participant require any additional software or hardware. pascom users can simply and efficiently start web conferences using either the pascom Desktop or Mobile Unified Communications app while the intended participant is able to join the meeting using their desktop or mobile web browser - all they need is the link to the WebRTC meeting session.
Add Another Dimension to Customer Service
As in days gone by, the customer is king, but never before has this been so important. We are now so connected and our digital presence can be seen by anyone, managing a company' digital reputation is now arguably more important than managing it's offline reputation. In order to do this, companies need to adapt and become savvy about focusing on customer engagement and experiences across the board. The problem is that even before the current situation, customer expectations had been increasingly shifting towards not only 24/7/365 but also spread over multiple touchpoints, meaning the days of the 9 to 5 have well and truly disappeared.
Thankfully, WebRTC technologies and web conferencing tools offer a superb real-time method to instantly start engaging with customers. Whether we are talking about online business meetings, delivering remote presentations or even providing technical support, having the ability to invite the customer into a video conference, share screens and exchange instant messaging chats within just a matter of seconds will not only improve resolution times but also provide that essential personal and visual element to your customer interactions.
Work From Anywhere & Reduce Business Travel
How times have changed. This time last year, the work from anywhere argument also included staying in contact with customers and business partners whilst on the go on business trips and so on. Moving forward, yes business trips will return but the way we work has changed forever. Therefore, the need to seamlessly integrate Work From Home employees and provide them with instant access to all the collaboration and communication tools they require will be paramount.
Businesses and customers have now seen that online meetings can work, employees can remain productive and given the right tools extremely effective. What's more, while a semblance of "normality" will return, it is fairly safe to say that the way we work has changed. In the future, it was already the case that more people will work from home more often. Now there are calls from some to change the law to make HomeOffice working a legal right not a priviledge. If this becomes the case, the onus will be on business to adapt and provide their employees with the tools they require to stay in the loop and remain productive no matter where they work.
It goes without saying that face-to-face in person is always best, but with the aid of video and web conferencing tools, companies worldwide have become accustomed to hosting business meetings online. While this is a must at the moment, there will be no rush to suddenly all jump back in our cars or on a plane for a customer meeting unless it is an absolute necessity. Further to this, not everyone has a particularly enjoyable commute and for most the commute is an expense they can do without. There are environmental reasons to reduce business travel which have been highlighted by the current lockdown. Add all these factors together and it is clear to see that the amount we travel for work will de
Single Platform For Voice, Video, Chat and More
With the addition of web conferencing in pascom 19.06, the pascom Unified Communications and Video Conferencing suite is effectively "feature complete". Now that's not to say that new features are not in the pipeline (there are a few on the way), but it does ensure that pascom customers are excellently equipped with one central platform for Voice, Video, Chat, Mobile and Contact Centre tools.
In effect, with the release of pascom 19.06. pascom has now been completely transformed into a full stack business communications solution. Moreover, by opting for the pascom.cloud option, businessess will be able to eliminate all the hosting and multi-site networking headaches that are often associated with on-premise solutions.
Final Word
The current situation has shown us that the digital transformation is not just a buzz word and that the move to the cloud actually makes sense on a number of levels. With pascom, companies have all the tools they need to digitally transform and bolster business continuity as we move forward in the new way of working.