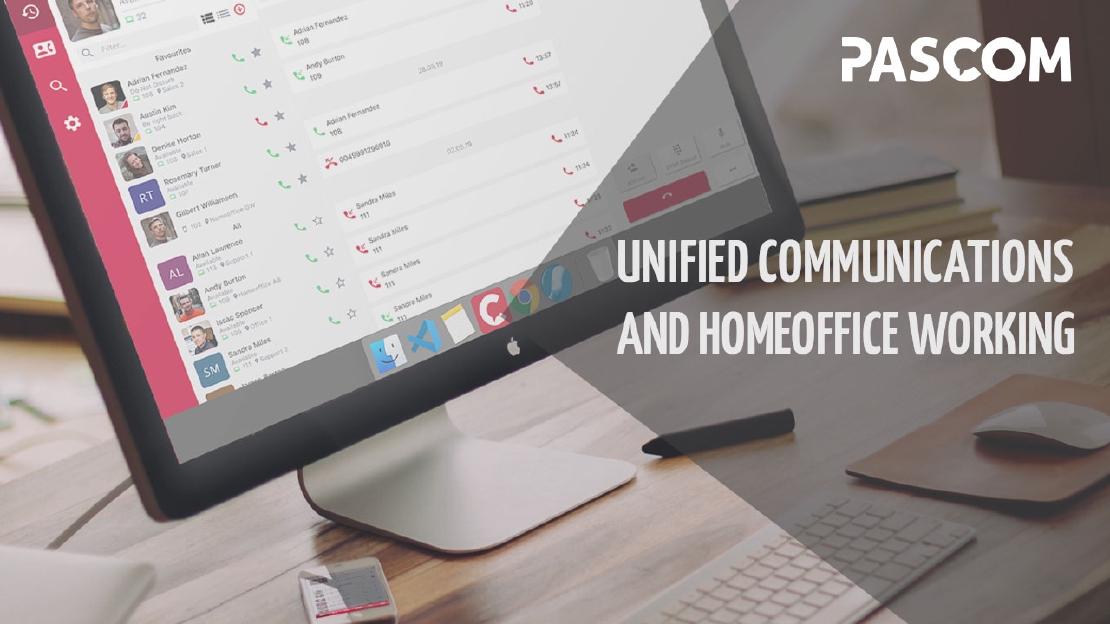 HomeOffice and the Future of Work
14.03.2020
3 min read

pascom
HomeOffice Working and the Role of Unified Communications
The topic of HomeOffice working is everywhere these days and given the circumstances, it is entirely understandable. It is important to note that the idea is nothing "new". Even before the current COVID-19 outbreak, there was already considerable hype surrounding working from home and the future of work - just look back to our 2015 post on HomeOffice working best practices - and the reason is simple; times have changed and now we have the technology to easily work from home or anywhere for that matter.
UCC and HomeOffice Working
Every communication app we use in our private lives is geared around convenience, speed, and efficiency, so why should the world of business communications be any different? The problem is, the business world is different and therefore requires a different set of tools that deliver the same ease of use but within a controlled, productive environment - and this is where Unified Communications and Collaboration (UCC) fits in.
First and foremost, central to any successful UCC strategy is that it works for everyone with a minimum of fuss. That means catering for each user preference and as the name suggests unifying all the required channels into a single, intuitive application. Taking a selection of apps for each collaboration channel won't cut it. Such a UCC adoption is costly, time-consuming and can damage productivity as users toggle through multiple platforms for voice, video, chat and team collaboration.
Secondly, as opposed to on-premise solutions that often require VPN infrastructures (or at least an element of port forwarding and network modifications), cloud-based unified communications make connecting remote workers extremely simple. The advent of the softphone integrated into desktop and mobile VoIP apps has enabled users to be reachable on their office phone number from anywhere - all they need is a good Internet connection and a headset.
Finally, additional UCC tools such as presence information, chat, video conferencing and screen sharing all serve to ensure that employees have all the tools required at their fingertips no matter where they are or which device they are using. The result is that teams can continue to collaborate and remain accessible to their customers. Aside from the Business Continuity benefits, such platforms deliver, there a multitude of reasons to switch to a cloud-based Unified Communications phone system solution. Examples range from improving employee engagement and boosting productivity through to increasing your organisation's reach when it comes to attracting new business and retaining the most talented employees.
We're here to help
As mentioned, the HomeOffice working trend is nothing new. Neither are the numerous benefits of adopting a well developed and managed Unified Communications strategy. That said, with the current Coronavirus pandemic is forcing businesses to react and rightly so. Protecting the health of employees is paramount and helps protect the wider community. Another aspect that businesses must consider is that by protecting their business, they are also protecting employee incomes which is essential for minimising the potential future economic impact.
If you would like to know more about how pascom can help your business throughout this difficult time and beyond, then give us a call (+49 991 291691 200) and get started with our free cloud phone system edition.