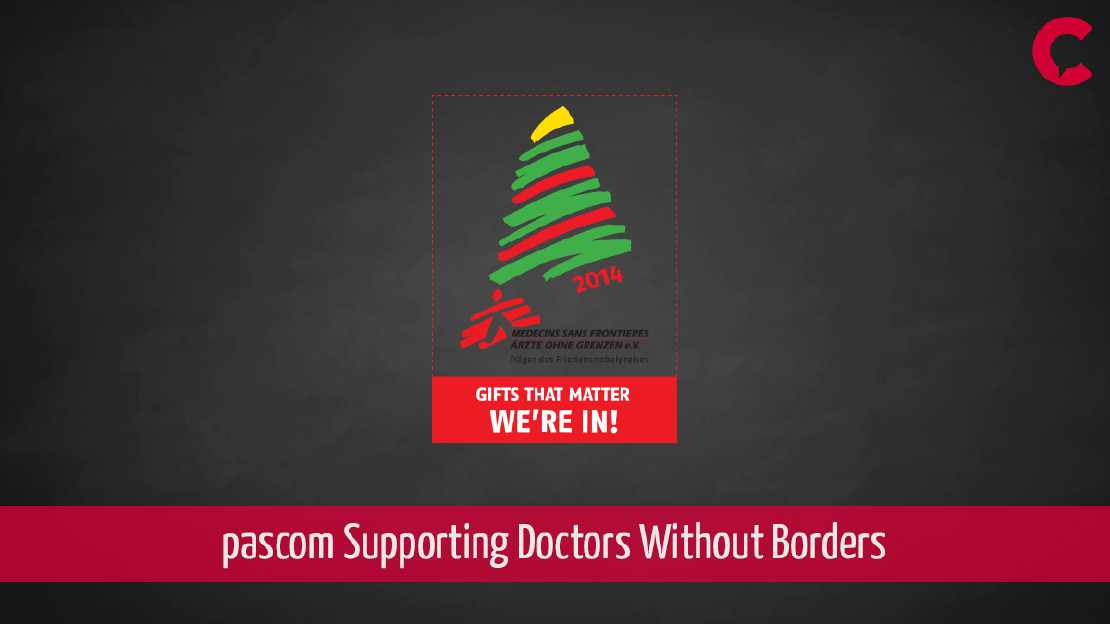 pascom Makes Annual Donation to Doctors without Borders
18.12.2014
4 min read

pascom
pascom Supporting Doctors Without Borders in the Fight Against Ebola
18. December 2014, Deggendorf, Germany - Every year, we at pascom take the time to reflect on the year just past with the objective of choosing a charitable organisation to which we can provide much needed and valuable support.
Throughout 2014, the Ebola Crisis in West Africa has sadly never been far from the news since the outbreak began in March. News coverage has shown us harrowing scenes of just how catastrophic the Ebola outbreak has been to the region. However, one aspect of the crisis that has occasionally been overlooked is the medical personnel who have selflessly volunteered to travel to crisis hit areas in order to deliver invaluable medical aid and care. The Ebola outbreak in West Africa, is just one of many medical and humanitarian crisis areas where the medical professionals from around the world selflessly and without question volunteer and dedicate their time to uphold the historic virtues of the Hippocratic oath which even to this day many medical professionals across the world swear to upon joining the profession.
With this in mind, it is a great privilege and honour to be able to announce that this year, pascom Netzwerktechnik employees have chosen to support the incredible and indispensable work of "Doctors Without Borders". At pascom, we greatly admire the courage, passion, dedication and commitment with which the organisation and its volunteers provide urgently required medical aid to those in need no matter where it is required whilst consciously knowing that delivering such assistance may well be done so at great personal risk and sacrifice and under enormous pressure.
Speaking about making the donation to "Ärtze ohne Grenzen e.V", the German division of Médecins Sans Frontières (MSF – Doctors Without Borders), Mathias Pasquay, pascom CEO, stated that "due to the ongoing medical crisis in West Africa resulting from the Ebola outbreak and its rapid spread across the region, we at pascom have decided to make our annual donation to "Doctors Without Borders" to help this amazing organisation in their fight against the outbreak of this deadly disease as well as to provide support to their efforts to provide not only medical care but also hope to the victims and their families."
About "Doctors Without Borders"
Doctors Without Borders/Médecins Sans Frontières (MSF) is a private, international association. The association is made up mainly of doctors and health sector workers and is also open to all other professions, which might help in achieving its aims. All of its members agree to honour the following principles:
MSF provides assistance to populations in distress, to victims of natural or man-made disasters, and to victims of armed conflict. They do so irrespective of race, religion, creed, or political convictions.
MSF began its Ebola intervention in West Africa in March 2014 and is now operating in Guinea, Liberia, Sierra Leone, and Mali. The organisation runs six Ebola case management centres with a total capacity of more than 600 beds. Since March, MSF has admitted more than 6,000 people, of whom approximately 3,800 tested positive for Ebola and 1,600 have recovered. MSF has 270 international staff in the region and employs 3,100 nationally hired personnel, who not only provide medical care to Ebola sufferers, but are also heavily involved in providing care to the families affected as well as monitoring the course and spread of the disease across the region in order to be better placed to both react where required but also to take preventative steps in slowing and ultimately halting the spread of Ebola across the region.
For more about MSF / Doctors Without Borders, please visit their website or to make a donation please visit www.msf.org/donate
About pascom
Founded in 1997, pascom are the developers of next-generation UC Telephony Solutions and we upgrade business communications.
With pascom's innovative on-premise and cloud UC phone systems at the heart of your Communications, you will have a centralised, intelligent hub with which you can gain total control over your organisation's communications – no matter how diverse and dynamic your business communication channels.
Our solutions offer excellent scalability and are highly customisable to exactly match even the most specific customer requirements. Which is why our IP PBX solutions the perfect choice to support Small Medium Enterprises communicate smarter, more efficiently and more cost-effectively.
For more information about pascom Business Communications solutions, visit www.pascom.net or get started for free now.