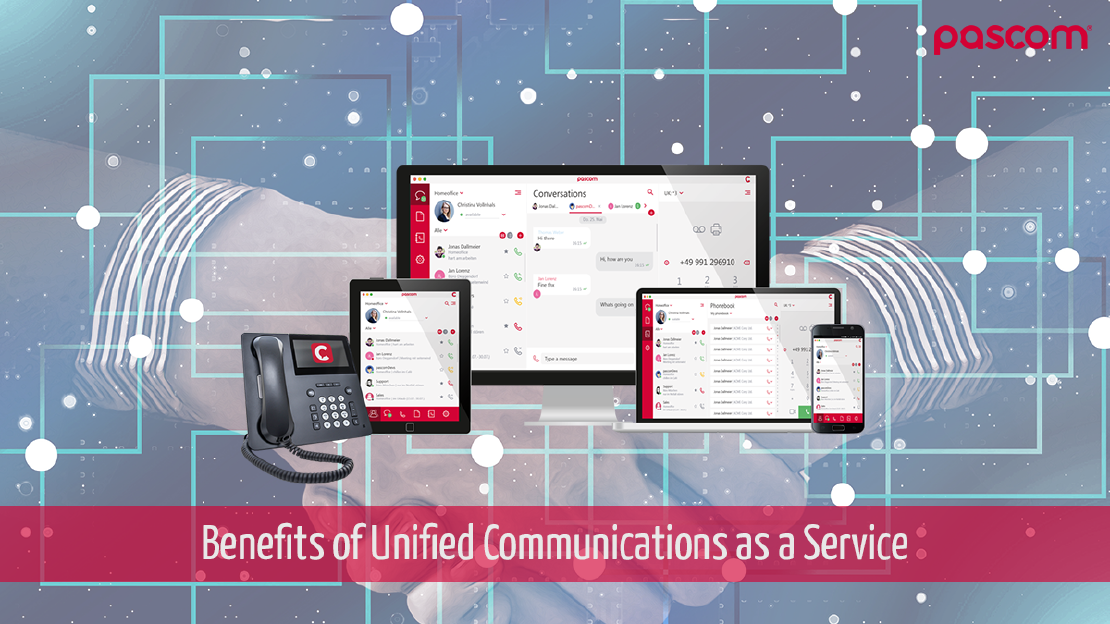 Benefits of Unified Communications as a Service
What is Unified Communications as a Service (UCaaS)
A few weeks ago, we took a look at What is Unified Communications and explored the various business features that when combined together in a unified, centralised communications hub can perform an essential role in driving business productivity and promote employee collaboration. As briefly touched upon, Unified Communications (UC) solutions come in many different guises, one of which incorporates the increasingly popular "as a Service" model, hence UCaaS.
Unified Communications as a Service (UCaaS) Benefits
On the surface, it is believed that the primary benefit of UCaaS (and as a Service models in general) is they support businesses in lowering capital expenditure by spreading costs over a period of time (monthly, quarterly or annually) usually by subscribing to a cloud UC solution. While this is definitely a valid argument, UCaaS solutions provide businesses with considerably more noteworthy benefits beyond spreading costs.
Cloud Collaboration
Unified Communications are great for promoting employee collaboration whether in the form of instant messaging, file transfers or video and audio conferencing. Cloud based UC solutions provide anywhere anytime access and therefore greatly simplify remote and HomeOffice employee access. In turn, UCaaS and UC phone systems provide finger tip desktop access to essential company data such as phone books and call histories thus ensuring that your team is kept up to date at all times.
The advent of the smartphone has contributed massively to the modern workplace transformation. As such, any UC phone system vendor worth their salt will also provide mobile UC apps. Mobile VoIP and UC apps deliver the same UC functionality as their desktop counterparts and therefore further promote collaboration, boost employee productivity and as an added benefit are a great business continuity resource.
Cloud Connectivity
Of course, such tools are all available as an on-premise solution and it is also true that anywhere anytime access to on-premise solutions can be delivered via the company's Virtual Private Network (VPN) for example. Whereas with top notch UCaaS solutions, anywhere anytime connectivity is accomplished with ease as long as an internet connection.
A case in point could be that the head office ISP is experiencing service disruptions, remote worker phone system access is unlikely to be affected (unless they have the same provider) and even if they are, all the tools needed to connect and continue working can be found on employee smartphones or tablets.
In addition, moving a company's infrastructure to the cloud with solutions such as hosted UC phone system on site or internal connectivity issues can be eliminated as an obstacle in that as long as phone system users have an internet connection they will be able to connect from anywhere.
In addition to this, not only will business no longer need to manage and maintain the VPN infrastructure, they can also greatly minimise on-site hardware requirements as well as significantly reducing admin workloads and ongoing hardware maintenance costs.
Cloud Redundancy
One of the major concerns that businesses have surrounding cloud solutions is that of Redundancy and Resiliency. Definitely a legitimate concern, particularly when it comes to voice and UC. Therefore, making enquiries to provider redundancy / resiliency safeguards as well as uptime statistics is highly recommended when choosing your solutions vendor.
On the other hand, let's consider for a moment which scenario has the greater risk of downtime; a business office building or a DataCenter? An office building built where it is practical and cost effective to do so or a DataCenter that is strategically located away from high risk areas, built to withstand extreme weather conditions and that employs the most stringent of "clean room" and security standards? It is far more likely that a business' internal infrastructure will experience downtime compared to a DataCenters infrastructure.
Even if the head office goes down, your team will be able to remain productive, your customers will still be able to contact you and most importantly they will likely not even notice that your business is experiencing any form of downtime. As we all know there is nothing worse for business than when a customer cannot reach you.
Sadly, hosted telephony and UCaaS solutions are not applicable in every scenario. Take a production facility relying on the man down feature of a DECT handset - with all the production machinery and the risks involved when working in such an environment, a certain level of on-premise redundancy infrastructure must exist in order to ensure that the internal systems can communicate with one another.
Cloud Profitability
As alluded to, UCaaS solutions are a great resource for reducing operating costs such as minimising administrative and infrastructure maintenance costs to elminating upfront capital expenditure in many cases. Then there is the fact that UCaaS and cloud solutions are inherently easier and more cost effective to scale compared to on-premise solutions, i.e. no additional server resources or hardware are required, the ongoing cost savings can be considerable.
Combined with the productivity and business continuity gains that hosted telephony and Cloud Unified Communications have to offer, making the switch to a UCaaS solution can also be a driver for spurring both bottom line and top line growth and increasing a company's profitability.
Summary
There are many upshots to cloud and cloud Unified Communications which do not stem from cost. Looking at UCaaS solutions as a tool to streamline organisational processes to increase revenue from increased productivity and improved performance as well as reducing CapEx is the way forward. As always there is a but and in the case of Cloud Telephony and UC, it's a big one - due care and attention needs to be paid to whether or not UCaaS and hosted phone systems are suitable for your business.
If you are unsure or have any questions, please contact one our consultants who will be more than happy to talk through your project with you and advise you on how our cloud or on-premise telephony solutions can support you in upgrading your business communications.