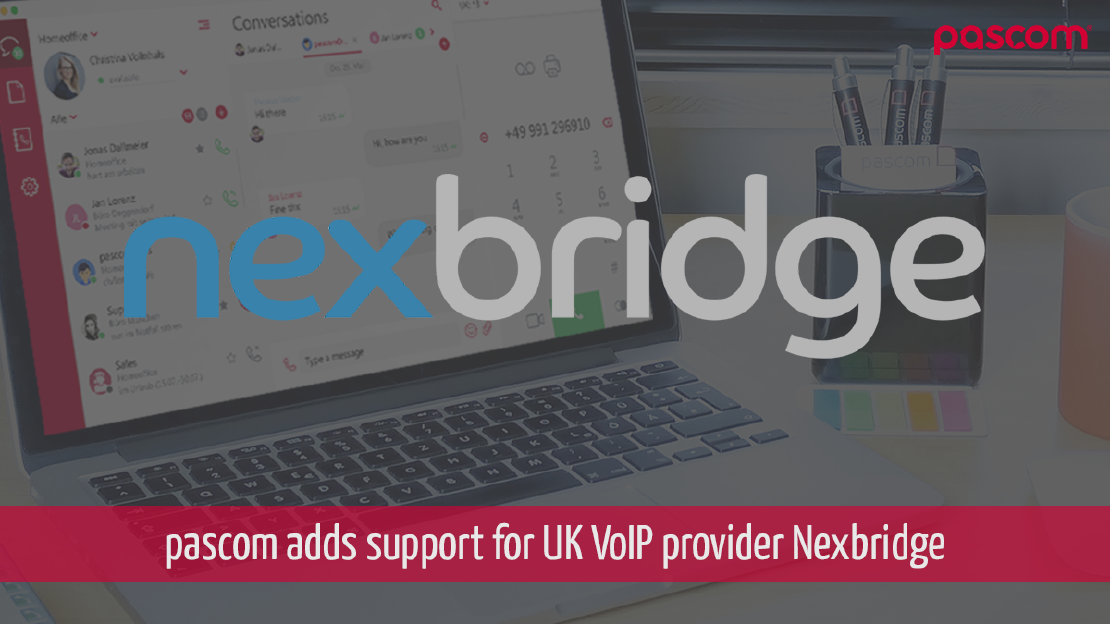 Nexbridge UK SIP Provider pascom Interoperability
Deggendorf | London | Manchester, October 17. 2017 - pascom GmbH, a leading European business UC phone systems vendor, today announce the successful completion of interoperability and compatibility testing with Nexbridge Communications ltd, a carrier grade UK Telecoms Provider.
As one of the UK's foremost voice providers, Nexbridge Communications has an established network of partners and business customers across the United Kingdom who will now be in a position to access pascom's innovative on-premise and cloud based telephony and enterprise collaboration solutions.
In addition, Nexbridge's focus on call termination and customer service quality which is delivered via Nexbridge's network of geographically diverse UK data centres ensures that resellers are able to provide their customers with an unparalleled level of in-built resiliency and redundancy at cost effective rates and even in the highest call volume environments.
In combination with Nexbridge's SIP trunking solutions, pascom's IP telephony and enterprise Unified Communications & Collaboration solution ensures pascom resellers can quickly and effortlessly deliver on-premise and cloud telephony solutions that add even more value to their customer offerings while their customers will benefit from a high calibre UCC communications platform which is easily scalable, affordable and provides all the functionality required to upgrade business communications.
Mathias Pasquay, pascom CEO: The successful interoperability testing between pascom and Nexbridge will ensure that our partners and customers are now able to benefit from Nexbridge's robust, yet cost effective voice services and our feature rich UCC solutions. Moreover, resellers and customers alike will benefit from a quicker, simpler and approved setup ensuring that our customer solutions offer even greater value in terms of boosting productivity and collaboration as well as driving business continuity.
Chris Walker, Nexbridge Business Development Management: Nexbridge is delighted to have successfully completed integration with pascom and looks forward to cementing a mutually beneficial relationship for clients who wish to enhance their hosted telephony solutions with quality voice termination, high network availability and resilience.
About pascom
Founded in 1997, pascom are the developers of next-generation Telephony Solutions and we have been upgrading business communications for 20 years.
With pascom's innovative on-premise and cloud based UC phone systems at the heart of your Communications, you will have a centralised, intelligent hub with which you can gain total control over your organisation's communications – no matter how diverse and dynamic your business communication channels.
Our solutions offer excellent scalability and are highly customisable to exactly match even the most specific customer requirements making our IP PBX solutions the perfect choice to support Small Medium Enterprises communicate smarter, more cost effectively.
About Nexbridge
Nexbridge's Board of Directors has amassed more than 60 years of experience in the ICT industry. Having successfully established, grown and sold Zimo Communications to j2 Global, Inc. (NASDAQGS:JCOM) in February 2012, the Nexbridge team is focused upon providing the highest quality outbound calling solutions to contact centres and enterprise businesses.
In addition to our detailed technical knowledge of the telecommunications industry and in particular call termination, Nexbridge can also offer to assist you in, or indeed fully support, applications to Ofcom for number ranges; provide guidance on regulatory obligations of becoming a CP; arrange interconnects on your behalf; offer network planning and dimensioning services; provide bespoke development and support your telecommunications requirements utilising our high capacity and fully resilient core architecture and interconnects.