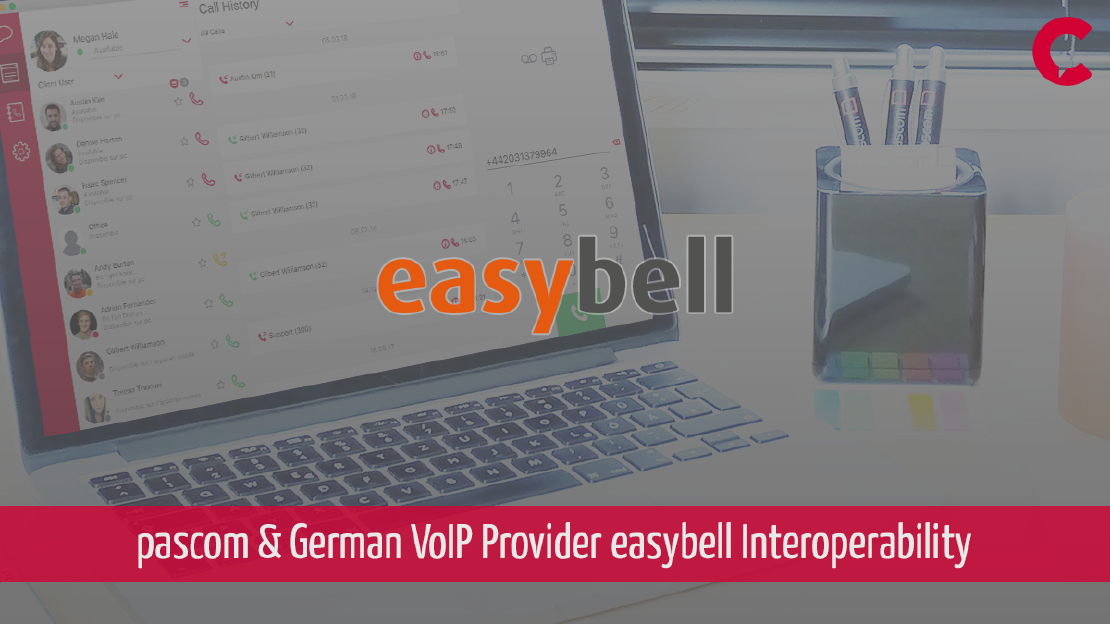 pascom Announces Interoperability with German VoIP Provider easybell
01.06.2015
3 min read

pascom
pascom Welcomes easybell as an Approved VoIP Provider
June 1. 2015 | Deggendorf & Berlin Germany - pascom GmbH, a leading developer of Unified Communication phone systems for business is proud to announce the successful completion of interoperability testing with the German VoIP provider, easybell. The Berlin based easybell GmbH, are one of Germany's fastest growing telecommunications companies. Renowned for their high levels of customer service and satisfaction the partnership with easybell will provide pascom customers with a high quality, cost effective and reliable business VoIP communications platform.
The successful interoperability testing ensures that pascom phone system IT administrators will be able to integrate easybell's cost effective SIP trunking solutions within a matter of minutes. Thanks to easybell's cooperation, pascom customers will benefit from a newly developed SIP trunk template, meaning choosing easybell as the provider of choice could not be easier.
In order to configure easybell SIP trunks within the pascom phone system, customers need only select the easybell template within the Trunks menu in the pascom admin web user interface. In doing so, inbound and outbound call rules will be automatically configured, allowing customer's to immediately start making and receiving calls.
Businesses that are already enjoying the quality of service and cost efficiency benefits delivered by pascom's innovative business phone solution can now further enhance their business communications through the interoperability with easybell. pascom is excited to be working together with such a forward thinking and highly successful SIP solutions provider and is pleased to welcome them to the pascom family of partners.
Mathias Pasquay, pascom CEO, on announcing the successful integration:
Adding easybell, as one of Germany's fastest growing business communications solutions providers, to our range of interoperability partnerships further demonstrates pascom's commitment to providing our customers with cutting edge solutions. With easybell's reputation for high call quality and customer service, we are sure easybell will serve pascom customers as an excellent, cost effective solutions provider."
Benjamin Wolf, easybell Product Management & Strategy, Germany, on the partnership.
Besides the excellent compatibility with our SIP trunking solutions, we were impressed by pascom's excellent integration of Video Telephony, which considerably simplifies internal corporate video communication and collaboration. Our new partnership with pascom will ensure customers receive the highest levels of both innovation and quality."
About pascom
Founded in 1997, pascom are the developers of next-generation UC Telephony Solutions and we upgrade business communications.
With pascom's innovative on-premise and cloud UC phone systems at the heart of your Communications, you will have a centralised, intelligent hub with which you can gain total control over your organisation's communications – no matter how diverse and dynamic your business communication channels.
Our solutions offer excellent scalability and are highly customisable to exactly match even the most specific customer requirements. Which is why our IP PBX solutions the perfect choice to support Small Medium Enterprises communicate smarter, more efficiently and more cost-effectively.
For more information about pascom Business Communications solutions, visit www.pascom.net or get started for free now.
About easybell - Assuring through Quality and Service
With over 500,000 customers nationwide, the easybell group is one of the fastest growing telecommunications companies in Germany. As a company within the publically traded company "ecotel communication AG", easybell provides its customers with a wide pallet of services. Due to their extensive experience combined with high levels of quality of service, the group can rightfully claim to be one of the most cost effective providers on the market.
The high levels of trust placed on easybell services is reflected by the company being regularly recommended within tariff comparisons. Operating under the ethos that the best customer is a loyal and satisfied customer which is why they have largely dispensed with minimum term contracts in preference to providing customer orientated products without any pitfalls.
For more information about easybell, please visit their website: