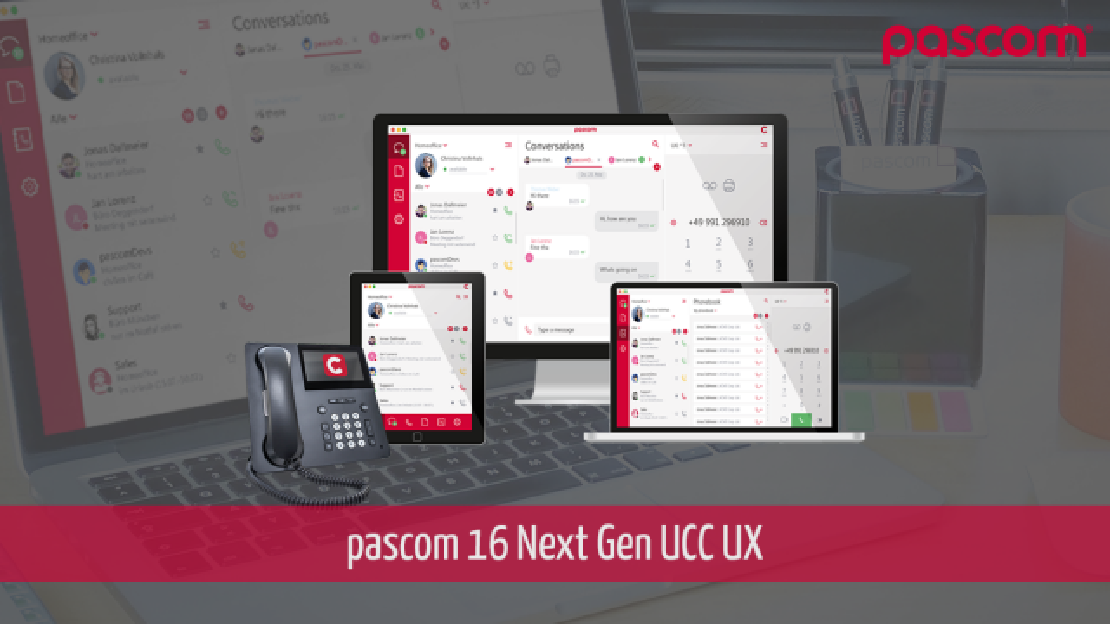 pascom 16 Next Generation UCC UX
Next Generation UCC and Enhanced User Experience with pascom 16
Deggendorf, 26. September 2017 - pascom GmbH, a leading business phone systems vendor, recently launched version 16 of their innovative IP telephony solution for businesses. pascom 16 focuses primarily on increasing end-user usability, ensuring that pascom customers benefit from an enhanced Unified Communications and Collaboration user-experience (UCC UX).
Since venturing into the VoIP market in 2006, pascom have recognised the need for desktop CTI applications that enhance UCC UX and provide a centralised end user communications platform. As such, pascom phone systems have always provided customers with Desktop CTI applications and the release of pascom 16 sees the company successfully rolling out phase one of their "end-user UX" approach to upgrading business communications.
Mathias Pasquay (CEO): We already had all the Unified Communications and Collaboration tools in place and now with pascom 16 using them has become much more intuitive. pascom 16 is more than that, it's phase one in our ongoing commitment to our customers and partners. With pascom 16, our aim is to continue to enhance usability for an increasingly mobile workforce, meaning pascom 16 is a significant step forward in our focus on creating even better end user experiences, no matter whether the customer UCC solution is in the cloud or on-premise.
Enhancements delivered in pascom 16 include the delivery of a modern, intuitive Unified Communications user application that is designed to boast end user usability. A complete overhaul of the underlying desktop application technology was also undertaken, resulting in numerous advancements including native, fully responsive desktop UCC applications for Windows, Mac and Linux. pascom 16 additionally includes Jabra and Plantronics business headset interoperability, improving usability by allowing users to manage calls directly from their headset.
As a result, the new Unified Communications clients, which are available to download, deliver the same functionality with the added advantage that they are now not only simpler and more enjoyable to use, but also faster and more responsive plus being more resource friendly being only a fraction of the size compared to previous versions.
About pascom
Founded in 1997, pascom are the developers of next-generation UCC Telephony Solutions and we have been upgrading business communications.
With pascom's innovative on-premise and cloud based UC phone systems at the heart of your Communications, you will have a centralised, intelligent hub with which you can gain total control over your organisation's communications – no matter how diverse and dynamic your business communication channels.
Our solutions offer excellent scalability and are highly customisable to exactly match even the most specific customer requirements. Which is why our IP PBX solutions the perfect choice to support Small Medium Enterprises communicate smarter, more efficiently and more cost effectively.