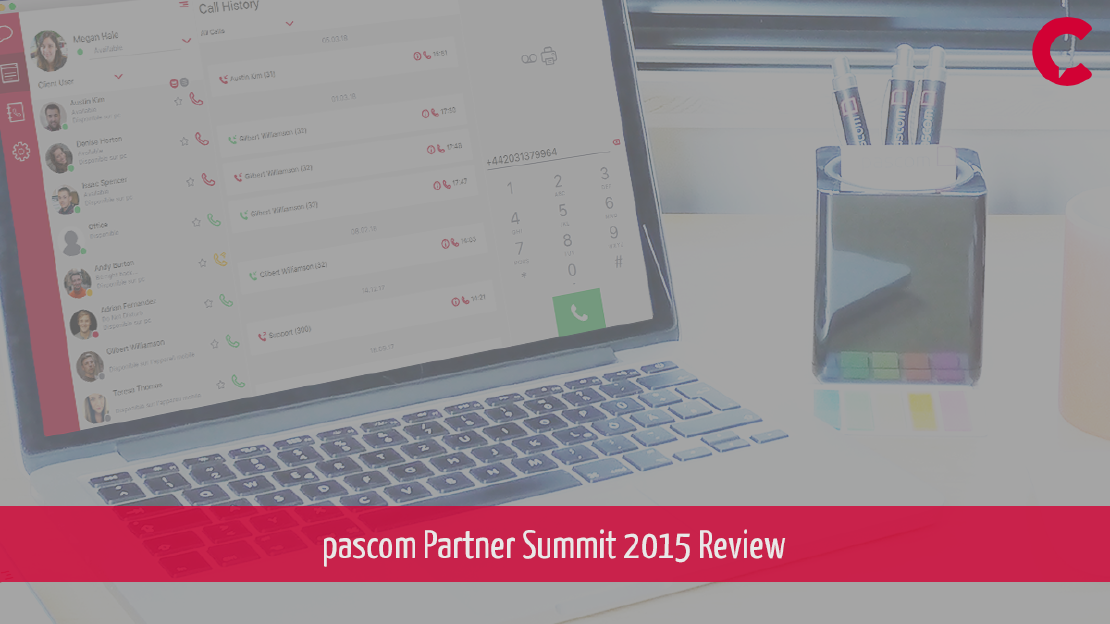 pascom Partner Summit 2015
Cooperation, Collaboration & Communication
10th February 2015, Deggendorf, Germany - January 2015 saw pascom host their inaugural partner summit with the objective of increasing co-operation and collaboration between pascom - a leading developer of Unified Communication phone systems for business - and their reseller network. Attended by VAR (Value Added Resellers) from across the DACH region, visitors were treated to a unique insight into the inner workings of pascom including a sneak preview of the 2015 Roadmap as well as a variety of talks and presentations aimed at maximising opportunities and increasing customer service levels through collaborative partnerships.
Day one of the two day event focused on optimising pascom phone system sales and support (incl. pre-sales support) through open discussion, tips and tricks as well as a detailed "under the hood" glimpse of the inner workings of pascom solutions from a developers point of view. The event kicked-off with a look back at 2014 and a review of all the changes that were implemented before looking forward to 2015 and the future beyond through the introduction of the 2015 pascom Roadmap, which included a preview of what to expect in upcoming releases.
Next on the agenda, Sales Director Thomas Schmidt took to the stand, introducing Tips and Tricks concerning project implementation and successful sales strategies, whilst tackling objections and introducing the concept of increased cooperation between not only pascom and its partners but also amongst the partners themselves through project cooperation, knowledge sharing, joint events and marketing campaigns.
Throughout, visitors were provided an opportunity to input their thoughts into product development as well as sharing their thoughts on the industry both within DACH and further afield. Of particular interest were the topics of SIP and All IP and how to best approach the market with the 2018 Deutsche Telekom deadline now firmly on the not so distant horizon. The day was then nicely rounded off by evening entertainment and a chance to "network" whilst enjoying a leisurely round of tenpin bowling and a few frames of pool.
Day two focused on building lasting long term customer relationships through project management and consultation in order to promote customer satisfaction. This was achieved in the form of an open discussion workshop focusing on how to tailor pascom phone system's to customer requirements from customer specific customisations, e.g. the pascom FlexPanel configuration and integrating external systems, i.e CRM, ERP etc.
Speaking after the event, pascom CEO Mathias Pasquay stated:
"Our 2014 events highlighted the benefits of closer cooperation with both our channel and InterOp partners, and therefore we are very pleased with the level of interest, enthusiasm and participation shown by our partners. We look forward to working closely together with all our partners to ensure that our combined successes continue to grow throughout 2015 and beyond as well as welcoming all our partners at our 2016 event".
About pascom
Founded in 1997, pascom are the developers of next-generation Telephony Solutions and we upgrade business communications.
With pascom's on-premise and cloud based UC phone systems at the heart of your Communications, you will have a centralised, intelligent hub with which you can gain total control over your organisation's communications – no matter how diverse and dynamic your business communication channels.
Our solutions offer excellent scalability and are highly customisable to exactly match even the most specific customer requirements making our IP PBX solutions the perfect choice to support Small Medium Enterprises communicate smarter, more cost effectively.
For more information regarding the pascom Partner Summit or if your are interested in becoming a pascom reseller or would like more information concerning pascom phone systems, please contact us directly (+49 991 29691 0) or via our partner page.