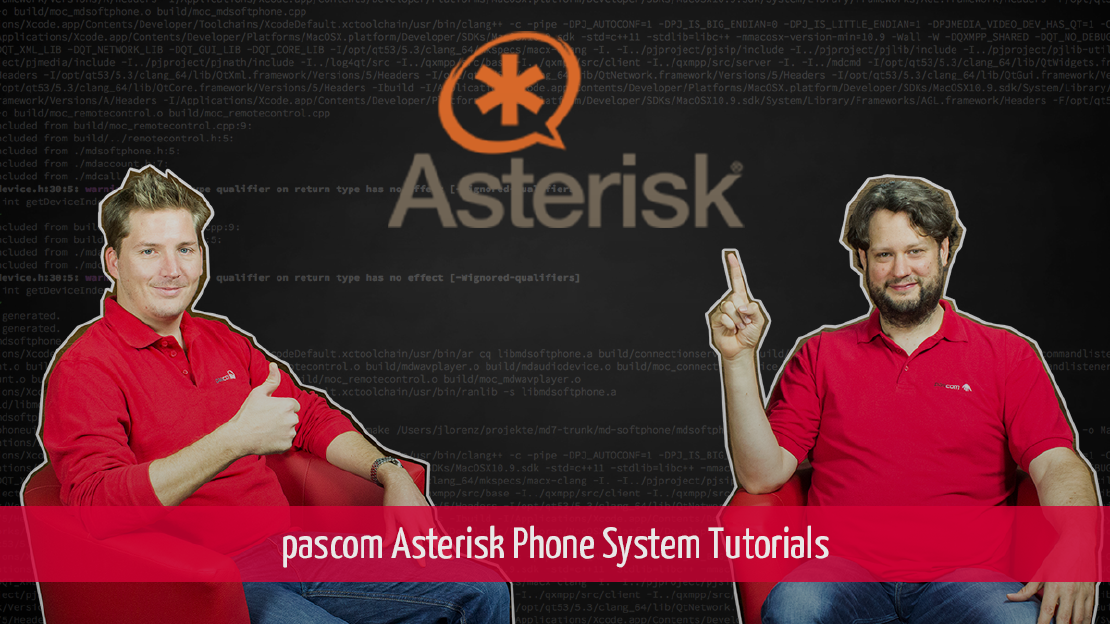 Asterisk Tutorial 10 - Incoming External Calls
11.02.2015
2 min read

pascom
Introducing Asterisk Phone Systems - Incoming External Calls
We're back! After a short break, we are back with the latest in our Introducing Asterisk Tutorial series. Today, we have a quick recap on what we've done so far & Mathias gets serious by examining some real life telephony scenarios.
What that all means is that we briefly review what we've done so far, plus getting to grips with some more in depth dialplan configurations. We simulate receiving incoming external calls using a softphone. At this point, we could have added a SIP provider, but as this can be a complicated process, we decided to continue with testing steps before moving on to the more advanced stages of setting up your Asterisk PBX.
In order to simulate external callers, we need to setup a a new SIP peer in the sip.cong asterisk directory. The process is very similar to how we added our internal SIP peers, with the exception of the context. It is generally considered a best practice to define a new context [e.g. incoming] for external calls in order to prevent unauthorised access and usage of your telephony services.
The next step is to add the new context into your dialplan, and configure the context to jump to another context within the dialplan through using the Goto application and then reloading the dialplan and testing that everything functions as expected. Remember, when setting up your Asterisk PBX, testing every step is the key to ensuring not encountering problems in the future.
Stay tuned next week when we will take a look at some more Asterisk phone system real life scenarios and get going with simulating making an outgoing external call.
Final Word
A well-configured business phone system that oozes useful tools, delivers excellent audio quality and intuitive call flows will leave callers with a highly professional impression. The configuration options and application availability and how well they are utilized will have a decisive impact on how professionally you manage your calls and therefore how your customers view your company. The switch to a pascom VoIP phone system solution provides the opportunity to not only upgrade your internal collaboration but also to redefine telephony in your company.
If you would like more information regarding pascom and our Asterisk based Software PBX, please visit our website or give the pascom team a call on +49 991 29691 200 to discuss your requirements and get started within minutes using our free hosted business VoIP phone system edition.