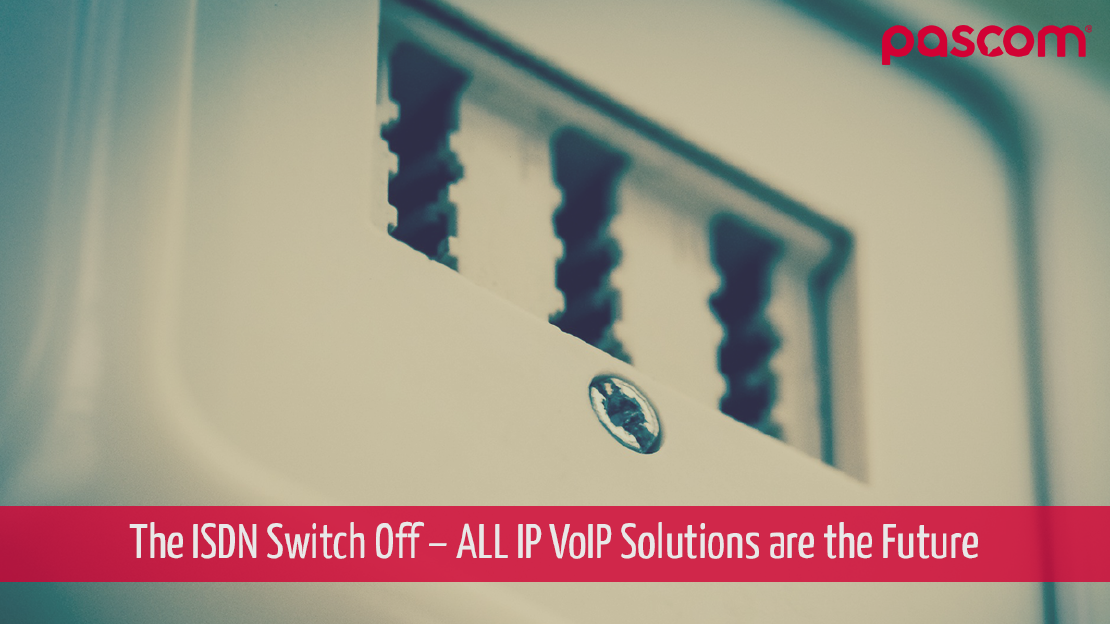 The ISDN Switch Off – ALL IP VoIP Solutions are the Future
The ISDN Switch Off – Take the Opportunity and Switch to an ALL IP VoIP Solution
For approximately 20 years, ISDN Connections have been the standard technology across many European telecommunication networks. Thanks to the "power" of the World Wide Web, telecommunications and the internet have steadily grown together. In Germany, Deutsche Telekom have already announced that in 2018 all ISDN connections will be switched off, affecting over 20 million connections and have been advising both Business and private customers to consider alternative VoIP solution options. Swisscom in Switzerland are also aiming for 2018 and the shutdown is underway in many cantons while in the UK, British Telecom are planning for a 2025 ISDN switch off.
Companies that have not yet dealt with this issue, should do so quickly. Particularly as there are a number of VoIP solutions available on the market and choosing the right VoIP business communications solution is essential in order to ensure the optimal availability and professional image for your company. Among the other aspects listed below, an important deciding factor is your company size as this may determine whether you outsource your choosen VoIP solution to a cloud solutions provider or have the in-house resources to manage an on-premise VoIP solution yourself.
Digitalisation, the Digital Transformation, Unified Communications, mobile VoIP / UC and ALL IP have become the buzzwords for the new era of communication solutions. Which ALL IP VoIP software solution is right for your business will depend on a number of factors including but not exclusive to:
How many employees should use the VoIP solution on a daily basis?
Which functions do you require?
What costs are associated with the solution deployment and set up?
Is mobile device integration included or as with some solutions even possible?
The beauty of software based VoIP solutions (sometimes referred to as an IP PBX) lies in that software is inherently scalable, meaning that no matter the size of your business or vertical you operate in, it is possible to find the perfect solution to match your needs. Beyond this, VoIP software solutions your business will be perfectly prepared for future growth whether nationally or internationally. Free calls to colleagues wordline with first class quality are no longer an illusion, but thanks to VoIP solutions such as pascom's, they have become a reality.
How Secure is VoIP Software?
The great scepticism held against VoIP technology concerns data protection and data security – in essence how secure is you VoIP solution.
In principle, the scepticism is not unwarranted as Internet and Network security is essential. However, there are numerous methods to protect yourself and your infrastructure from cyber attacks. Firstly, you will require a classic network security tool – namely a firewall. Further to this, strong passwords are a must. During a so called Brute Force Attack, hackers attempt to guess the access credentials of a user. As such, the more secure your username and password protocols are, the more difficult it is to access this information. When choosing a pascom solution, you can rest assured in the knowledge that login credentials are automatically generated and authentication can be performed against a third party application such as Univention's UCS Identity Management tool. Further to this, with a pascom solution it is not possible for users to attempt to log in often and in quick succession as the account will be temporarily blocked, which has the added bonus of hindering any Brute Force Attacks. pascom VoIP solutions include additional security layers. For example, during an Voice ove IP phone call, two different aspects of the call technology are encrypted. Firstly, the signalling and secondly the voice packets themselves. In terms of the signalling, all data is encrypted, that could potentially provide information concerning who is calling who and where. The voice packets which are sent between the participating endpoints during a phone call are also transmitted in an encrypted format. As a result, the entire phone call is completely intransparent and not visible externally.
Which VoIP Solution is Best Suited to my Business?
The majority if not all new phone systems are equipped with an ALL IP connection. Such a connection is the basic prerequisite for the upcoming changes to the telecommunications industry and thankfully it also makes things a touch easier for businesses. Below, we outline which solutions pascom offers to business customers.
Cloud VoIP Solution
A cloud solution offers a significant advantage in that you are not required to host the solution yourself. You will be provided access and are immediately ready to go. Cloud solutions also have the additional benefit that they are perfect for smaller businesses and startups who perhaps do not have the technical resources or infrastructure to host the solution themselves. There is also an argument for migrating to the cloud for larger businesses, but more of that in a moment. A good rule of thumb is that a Cloud Solution is perfectly at home in SOHO and smaller SMBs upto ca. 25 employees.
Voice over IP Solution for Medium Sized Businesses
When speaking of a typical middle sector business at pascom, we mean a company ranging betweeb 10 to 500 employees in size, regardless of the vertical. In our experience, middle market businesses will have established departments or teams which perform the core day to day business activities such as Sales or Markteting. If you also have in-house employees operating in a customer service role, then you will require a VoIP phone system with call and contact centre functionality. Furthermore, as a growing company choosing a virtualised VoIP software solution or cloud solution will ensure that you will remain flexible and ready for future growth. This enables the centralised administration of the solution, so when you grow your business and expand into new company sites, the telephone system can be grown with you with the minimum of fuss. The same can also be achieved with a hardware appliance, however hardware is limited in terms of resources and therefore not as flexible.
VoIP Software Solutions for Large Enteprise
If your business has reached a certain size, the technology itself almost plays a secondary role. What comes to the fore here with our customers is the need to centralise and standardise the communications platform. It is often the case with large enterprise that the company has a central HQ which is however fully independent of the smaller business locations. As a result, the branch locations will generally have an in-house IT team who manage an on-premise phone system – whether virtual or hardware based.
With large enterprise it is therefore often paramount to integrate a centralised VoIP communications solution. Traditionally, the telephone system would be integrated into the head office and extended to integrate all other locations. This has the advantage that moving forward, the solution can be managed by a single IT department, plus all internal communication can be done seamlessly and free of charge whilst enjoying the same user experience across the board.
Given the scale of such an infrastructure, a virtualised solution is often (but not always) preferred over a server hardware solution. That said, cloud solutions also offer an excellent platform from which larger enterprises can consolidate their telecommunication solutions into one centralised business communications hub as opposed to having to support the wide range of solutions required to deploy across multiple sites, namely VPN infrastructures or Session Border Controllers.
Give the new norm of telecommunications technology a chance and take advantage of the considerable benefits of VoIP telephony. Deutsche Telekom considers a 95% nationwide coverage from 2018 to be realistic and given that other countries have longer to prepare and more use cases to go on, there's no reason why the ISDN switch off will be delayed. What's more the ISDN switch off should not have any additional costs associated to it and switching to an ALL IP VoIP solution should offer you a real added value when it comes to functionality and usability.