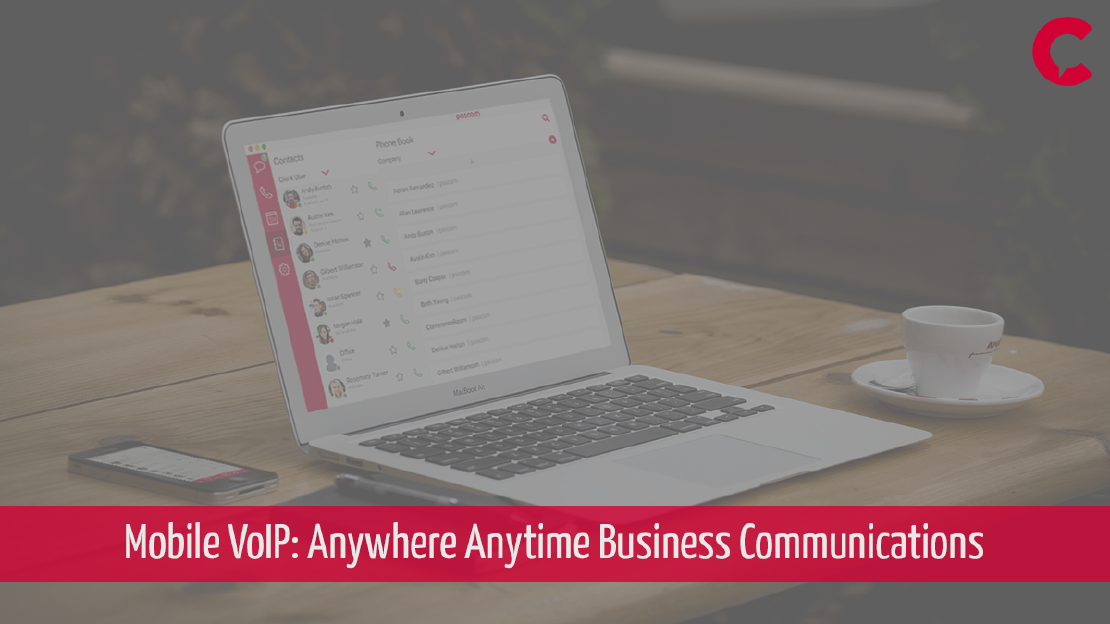 Anywhere Anytime Availability with Mobile VoIP
10.01.2019
7 min read

pascom
Mobile VoIP: Anywhere, Anytime Business Communications
Mobile VoIP and mobile availability, on laptops, smartphones and tablets, allows companies and their employees more freedom and flexibility when conceptualizing working conditions. Just as with the classic landline (fixed line) connection, mobile services are initially networked and deliver via Carrier Infrastructures. Thanks to VoIP, or more specifically IP technology, it is now also possible to completely integrated into your business phone system. As such, you and your team will be able to benefit from full and on-the-go access to all functions, business communications tools, making calls from anywhere at the same conditions, just as if you were in the office and always being available under your office number.
One Number Concept
Otherwise known as Fixed Mobile Convergence (FMC), it no longer matters with which device you make and receive calls. Use your dedicated desktop telephone, your PC or Laptop and even your Android / iOS smartphone or tablet and thanks to FMC and the pascom business VoIP phone system's one number concept, you and your team will always be reachable on your office phone number from anywhere with no identifiable difference for either you or your contacts. Regardless of where you are working, you will have access to and use of the same Communications infrastructure as you would in the office and calls will be handled using the same features such as Call Forwarding, Music on Hold, Voicemail and more.
More information about the available functionality can be found in our VoIP E-book. After switching to VoIP, the days of mobile availability meaning out mobile numbers will be over. Your customers and business partners will now be able to reach you and your team on your office extensions, independent of where you are currently working. Top notch solutions also deliver the ability to route outbound mobile GSM calls over VoIP, generating further cost saving benefits and projecting an enhanced professional corporate image.
Anywhere, Anytime Availability with Mobile VoIP
Depending on your workplace environment, the telephony inter-connection of your employees delivers a range of varying advantages. The combination of VoIP and mobile devices is particularly pertinent when promoting involvement and collaboration of employees whose workplace is in different locations. As such, the geographical separation and therefore remote nature of an employee working away from the office should no longer be relevant, regardless of whether it is the norm for certain employees, i.e. as with field sales teams or working from another permanent workplace such as a HomeOffice, or extenuating circumstances for example employees traveling for business.
Mobile VoIP for Remote Employees
A significant benefit for VoIP phone systems in relation to field sales and remote employees is the ability to fully integrate such employees into the company' telephony and communication infrastructure. For example, thanks to mobile softphones, field sales employees are no longer only reachable via GSM but also via their internal extension, just like their office based colleagues. Furthermore, deploying mobile VoIP and Collaboration apps, such as pascom's mobile UC app for Android and iOS, will provide remote workers with finger tip access to all the essential communication and collaboration tools that were previously only available as standard in the office – from address books to instant messaging. In doing so, mobile workers can be fully incorporated into the business and are always kept in the loop, no matter where they are.
In order to guarantee a consistent and unified end-user experience, pascom's Business phone system includes both desktop and mobile applications as standard. Both application variations are developed on the same framework to provide a consistent "look and feel" whilst ensuring the availability of the complete range of business communication tools on all platforms (Windows, Mac, Linux, Android and iOS) with the exception that the mobile applications are specifically modified for mobile usage. The result, not only are all desktop Unified Communications and Collaboration tools available on mobile devices, mobile users also benefit from a consistent and intuitive user experience coupled with the freedom and flexibility afforded by mobile VoIP.
Mobile VoIP in the Workplace
Even office-based employees are able to benefit from mobile VoIP. Employees who choose to utilize mobile VoIP and collaboration are no longer so stringently tied to their desks. By using desktop UC softphones and mobile apps, such employees can continue to work away from their desk either via their laptop or their mobile device. Such an approach can encourage both a greater degree of mobility within the business premises plus supporting flexible working conditions such as telecommuting and HomeOffice working. An employee's mobile device essentially becomes their office phone and in most cases, callers will be unable to tell the difference as to whether the employee is the office or not.
Workplace Flexibility: Mobile Availability without Mobile Phone Numbers
For employers, workplace flexibility is no longer an employee perk to be earned but instead is fast becoming a must have option demanded by employees. Indeed, in some countries such as the U.K., legislation has even been introduced to make it simpler and easier for employees to apply for flexible working conditions.
It is therefore, a good thing that VoIP-based phone systems also offer a number of benefits relating to working from home – all that's needed is a stable Internet connection. Thanks to desktop and mobile Unified Communications applications, HomeOffice workers are able to access the same benefits as remote sales workers, often at no additional cost to the employer. Mobile VoIP apps offer the same functionality as their desktop counter parts and top of the range apps can be installed on employee personal devices and are able make and receive calls using the employees work phone number over WiFi (WLAN), LTE and GSM networks. The resulting complete virtualisation of the office means that any employee can collaborate with colleagues and communicate with customers from anywhere, in the office, at home or on the go, on their office PC, laptop or their mobile device when on the road.
Making Calls from PCs or Mobile Using the Business VoIP Tariff
VoIP technology is a component of the trend of realising all and any communication technology using IP otherwise known as the digital transformation. This even affects mobile devices that have traditionally communicated over their own dedicated networks, but increasingly are now using IP technology. Compared to legacy technology, IP is cheaper, faster and more flexible. For example, all VoIP phone system internal calls are normally free, external calls cost a fraction of the price and when deploying mobile VoIP apps, internal employee collaboration is not only more productive but also more cost-effective.
In affect, the switch to VoIP could make the mobile phone number superfluous, particularly in the business world. A pascom VoIP phone system delivers all the necessary components of digital transformation as standard, coming complete with all the required software applications required on desktop and mobile endpoints (devices) combined with the appropriate security measures. pascom's communications platform offers support for not only classic desktop PCs, laptops and smartphones and tablets but dedicated devices such as IP phones are of course supported as an integral component of business communications. Even older analogue hardware endpoints can be deployed using a so-called ATA adapter.
In the world of IP technologies, almost everything is within reach. Combined with the fact that the ISDN has long entered its end of life, joining the digital transformation and switching to a VoIP phone system is no longer a choice, but a must. Only one question remains, when are you making the switch?
Contact the pascom team and discover how your business can benefit from switching today plus arrange a live demo and consultation and see for yourself how our VoIP phone system and mobile applications can upgrade your business communications.