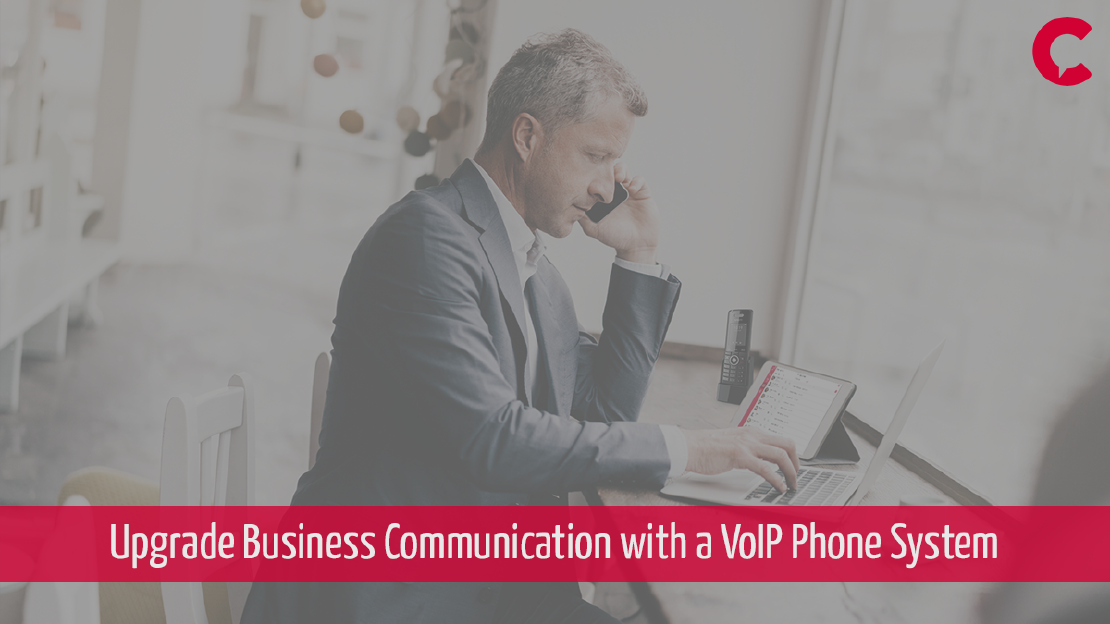 Effective Communication with a Business VoIP Phone System
03.01.2019
9 min read

pascom
All IP and Almost Limitless Communication Possibilities
Gone are the days of pure fixed-line telephony. Times have changed, life is more mobile, demands are more immediate and businesses need solutions to help them succeed both today and tomorrow. So where should businesses start? The obvious place to start is with their phone system, mainly due to the fact that old legacy systems are fast becoming antiquated thanks to the ISDN switch-off and secondly simply because modern business phone systems are able to offer so much more for far less. In fact, considering the features, functions and options available - from ContactCentre, Unified Communications to Mobile and Business Telephony all in one platform - it is probably fair to say that a modern business phone system is better described as a business communications platform.
Effective & Efficient Communication with a Business VoIP Phone System
A software-based business VoIP UC phone system is an essential instrument for all aspects of business communication including internal employee collaboration and external customer engagement. Taking a closer look at such solutions and their features will reveal why they have become so important to business success. Business Voice over IP (VoIP) software solutions are based on All IP technology and offer considerably more functionality and flexibility than just telephony and therefore form a crucial part of a business' digital transformation strategy.
Just think of how difficult it was to incorporate multiple offices, home offices and remote workers even just a decade ago. Nowadays, particularly with the advent of cloud technologies, deploying a business phone system can be done and dusted in hours or days as opposed to weeks. Thanks to VoIP and SIP trunking services, employees can work from anywhere and your business telephony will cost you a fraction of what it used to. Then there's the ongoing management and maintenance. Legacy systems required on-site expert (and therefore expensive) telecoms engineers, endless amounts of cabling and so on. IP business communications solutions still require some expert knowledge, but as they are software-based they are far less complex to manage - and if you opt for a cloud phone system, your chosen vendor will likely do much of the work for you.
The Different Types of Business VoIP Phone Systems
VoIP solutions are based on the transmission of information using Internet Protocol (IP) and therefore require a stable Internet Connection to function to their full potential, essentially making choosing the right technical basis for each VoIP system critical to success.
In principle, there are three variations of VoIP solution installations: classic server hardware solutions, virtual VoIP phone systems and cloud phone systems. Leading business phone system software providers such as pascom will offer all three variations and will support businesses in delivering the best-suited solution type. In this regard, the main considerations to take into account include the availability of in-house knowledge and resources plus your future objectives as a business, as this will help determine whether to consider on-premise or cloud solutions as well as identify must-have features. Finally, of course, cost is an important factor to consider when comparing vendors and solutions.
On-premise VoIP Server Appliances
The beauty of software-based business VoIP solutions is the added flexibility they afford. With server appliance solutions, the VoIP phone system software is simply installed in either a pre-approved hardware appliance or on the customer's on-site server (if appropriate). Should you choose to deploy your business phone system on your own on-site hardware, i.e. not provided by the vendor, always clarify any support and warranty questions. By electing for an appliance direct from the provider, your business phone system will be delivered with the VoIP software pre-installed and pre-configured (if applicable) and is therefore ready for immediate deployment.
If you decide on on-site server hardware, there are a few additional aspects to consider. Namely, any server hardware and required infrastructure will require maintenance and this should be taken into account in the cost calculations. Furthermore, future planning is essential. Software is relatively simple to scale with business growth as you will like only need to add a few extra licences. With hardware, the opposite is true; so do not fall into the trap of buying a new solution and then have to replace the server in 12 months down the line as you did not factor in your company growth.
On-premise Virtual Phone Systems
Perhaps the firm favourite of the more software affine IT admin, the virtual business phone system deliver the scalability benefits of software solutions whilst retaining the control one has over on-premise solutions. Unlike their hardware-based counterparts, virtualised phone systems, or virtual IP PBX solutions, can be easily scaled according to requirements such as to incorporate new users, office locations and increase call volumes. However, virtualised solutions are not as plug and play as hardware or cloud solutions. When configuring a virtual IP PBX, a certain amount of knowledge is required to smoothly integrate the phone system into your existing network. As such, a virtualised business phone system is most suitable for companies with dedicated IT support either in-house or via a managed service provider.
In this respect, to ensure configuring your virtual business phone systems is as straightforward possible, look for a vendor that offers a downloadable ISO installation image file (includes all necessary software), supports a good range of virtualisation applications (sometimes known as Hypervisors and has a detailed step-by-step documentation.
Cloud Phone Systems
Cloud phone systems are also sometimes known as Hosted PBX solutions, although the term is a bit general as hosted could also mean self-hosted for example. A cloud phone system, such as pascom 18's cloud solution is hosted either directly by the provider, i.e. pascom, or by a hosting partner using fit for purpose cloud hosting platforms. As such the VoIP services are delivered from the Cloud via the Internet.
The main benefit of cloud technology is anywhere, anytime accessibility – meaning no matter where you are, providing you have an Internet connection, you will be able to access your phone system tools. While it is true that since releasing pascom 18, this is also the case with pascom's on-premise solutions, but this is only because pascom 18 delivers 100 % cloud-ready software out of the box, whereas other vendors may require a VPN infrastructure to be available.
An additional benefit of cloud phone systems is the option of managed services. For many companies, the option of managed services is extremely attractive as the solution provider takes on all the responsibility of managing the solution in terms of updates, maintenance and upgrades. In turn, managed services reduce the strain on IT departments, freeing up resources for other priorities. Furthermore, startup companies and smaller SMBs with no in-house IT resources also find the option of a managed services cloud phone system particularly attractive as they are able to enjoy the benefits and features of a professional business communications platform without incurring expensive upfront costs for hardware and are able to spread the costs thanks to operational costing.
Modern Business VoIP Software Solutions Offer More Options
With VoIP, the choice is yours in terms of how you wish to communicate. Use whichever device you prefer from traditional desktop phones to intuitive to use desktop and mobile apps with fully integrated softphones. By using softphones, particularly on mobile devices, the world is your oyster so to speak. Your customers and business partners will always be able to reach you no matter where you are and thanks to Unified Communications, you and your team will always be kept in the loop no matter how great the degree of geographical separation. Each and every employee has different preferences and requirements, so choose a vendor that supports a wider range of endpoints and platforms from Windows, Mac and Linux for desktops and Android and iOS for mobile applications.
Moreover, as IP telephony uses the internet as opposed to traditional fixed lines, not only is the connection often quicker, you will be able to significantly reduce telecoms costs. This is especially true when considering that all "internal" calls are free, regardless of where your employees are based and when making and receiving calls from abroad, SIP softphones can significantly reduce international call charges.
Another significant advantage of business VoIP solutions is that all communications are handled centrally and not just fixed-line calls. Alongside normal telephony, thanks to IP technology a whole host of crucial functions are available and centrally accessible. For example, all fax communication, mobile calls, instant messages (chat) and file transfers are centrally processed, logged and stored, meaning that archives and call histories are automatically synced across all platforms and devices, making them accessible from anywhere. Further examples include tools such as group chat and audio conferencing that empower users to collaborate with colleagues from anywhere, at anytime and in the near future, pascom solutions will also support a full video conferencing and desktop sharing suite to enable face to face collaboration from anywhere.
In addition to communication and collaboration, another essential element of business success is access to information, sometimes referred to as business intelligence. In the world of Digital Transformation, IP technologies offer significant improvements on this front as well. Modern CRM and ERP systems are IP based and therefore can quickly and efficiently be connected to your business communications solution, providing team members, contact centre agents and remote workers centralised yet instant access to critical information directly from within their desktop and mobile applications.
In modern communications, time also plays a crucial role. Today's customers expect faster reaction times, immediate service and support. All IP communications solutions are designed to support businesses in delivering excellent service in real-time, streamlining business processes and providing fingertip access to all the necessary tools and data to provide instantaneous, first-class service through using functions such as:
Central desktop and mobile telephony and collaboration apps
Centralised import and management of address books with intelligent search functions
Advanced Unified Communications including presence, chat, softphones etc.
Voicemail for all, including voicemail2e-mail
Secure file transfers
3-way conferencing and audio conferencing tools
Advanced team and call management
As such, businesses that deploy and take full advantage of the possibilities offered by modern business VoIP solutions will benefit from improvements to Customer Service and Satisfaction and employee productivity, meaning their communications infrastructure will offer real tangible added value that will be reflected in their business success.
Further Considerations
First and perhaps foremost, quality and security are central to modern VoIP solutions. When choosing your solution, it is also important to consider how adaptable a solution is to your business and IT structure whilst also investigating whether or not the vendor offers managed services either directly or via a service partner. It is also essential to clarify the availability of updates and upgrades and examine the complete scope of functionality. Depending on your provider, further functions will vary and may be available as add-ons, or like a pascom solution, they could already by included.
In essence, choosing the right platform for your business will involve evaluating a provider's complete ecosystem and matching the results to your business needs.
Give the pascom team a call on +49 991 29691 201 to discuss your requirements and get started within minutes using our free hosted business VoIP phone system edition.