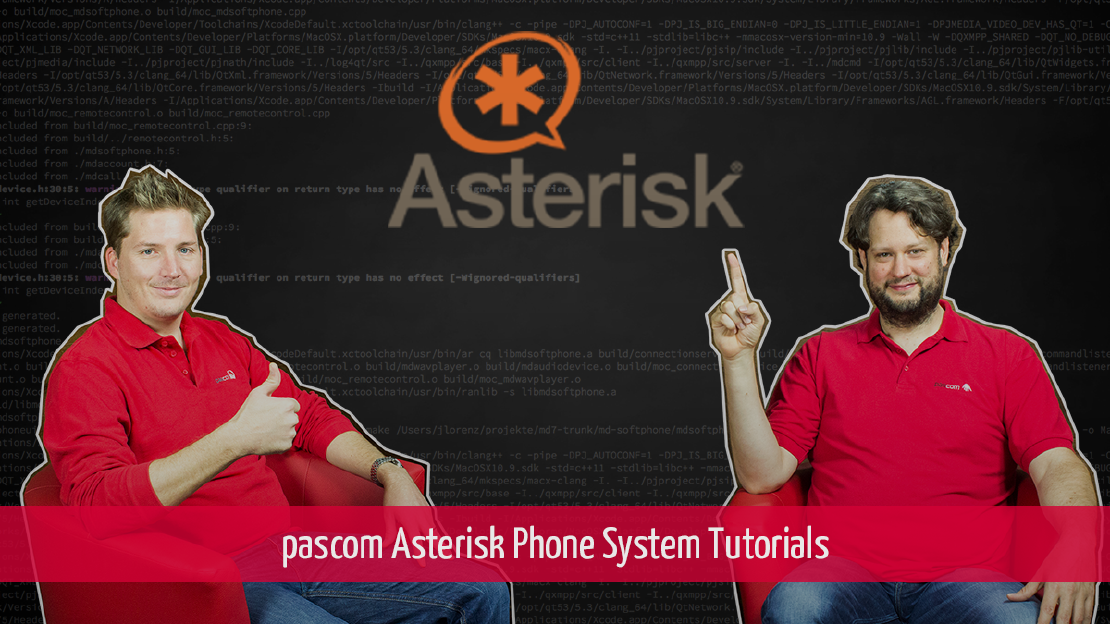 Asterisk Tutorial 30 - Asterisk IVR Concept
22.10.2015
3 min read

pascom
Introducing Asterisk Phone Systems, IVR Menus and the Most Common IVR Menu Mistakes
Here we are once again with yet another Introducing Asterisk tutorial from the VoIP Guys. Today's tutorial takes a closer look at the concept of Interactive Voice Response (IVR) menus and focuses more on the most common IVR menu mistakes. Anyone who watches today's episode could be forgiven for thinking that we, and especially Mathias, dislike IVRs.
Okay, I admit Mathias is a bit more vocal in his negativity towards IVR menus than I am, but it is only because when they are poorly designed and implemented, they can have a catastrophic impact on customer experience and therefore corporate image.
Which is why we recommend referring to our IVR Best Practice Guidelines before beginning with designing and implementing your IVR menus. Should you be more of a visual person, then check out our "how to guide to IVRs" InfoGraphic which also provides a great visual guide to the do's and don'ts of IVR setup, or simply watch the video below and discover what we have to say on the topic.
Avoiding Common IVR Menu Mistakes — Quick Tips
If you want to avoid the most common IVR menu mistakes, then our top tip here is to think like your customers. Ask yourself the following; what do they want?, what do they expect?, what is their objective when calling? and what do they need to meet these requirements?. Answering these questions will go along way in helping your to design your IVR with fulfilling these requirements as its main objective.
In other words you will need to place yourself in your incoming callers shoes and consider what their experience will be and how they will feel afterwards if a certain option was available, not available or the greetings take too long etc. Another aspect to consider is, should your require any form of information from your customers, then ask for it upfront.
Failure to do this will pretty much ensure that your IVR menu is destined to become more of a negative than a positive, which will directly affect how your customers perceive your business and not in a good way — so you have been warned!
Final Word
A well-configured business phone system that oozes useful tools, delivers excellent audio quality and intuitive call flows will leave callers with a highly professional impression. The configuration options and application availability and how well they are utilized will have a decisive impact on how professionally you manage your calls and therefore how your customers view your company. The switch to a pascom VoIP phone system solution provides the opportunity to not only upgrade your internal collaboration but also to redefine telephony in your company.
If you would like more information regarding pascom and our Asterisk based Software PBX, please visit our website or give the pascom team a call on +49 991 29691 200 to discuss your requirements and get started within minutes using our free hosted business VoIP phone system edition.