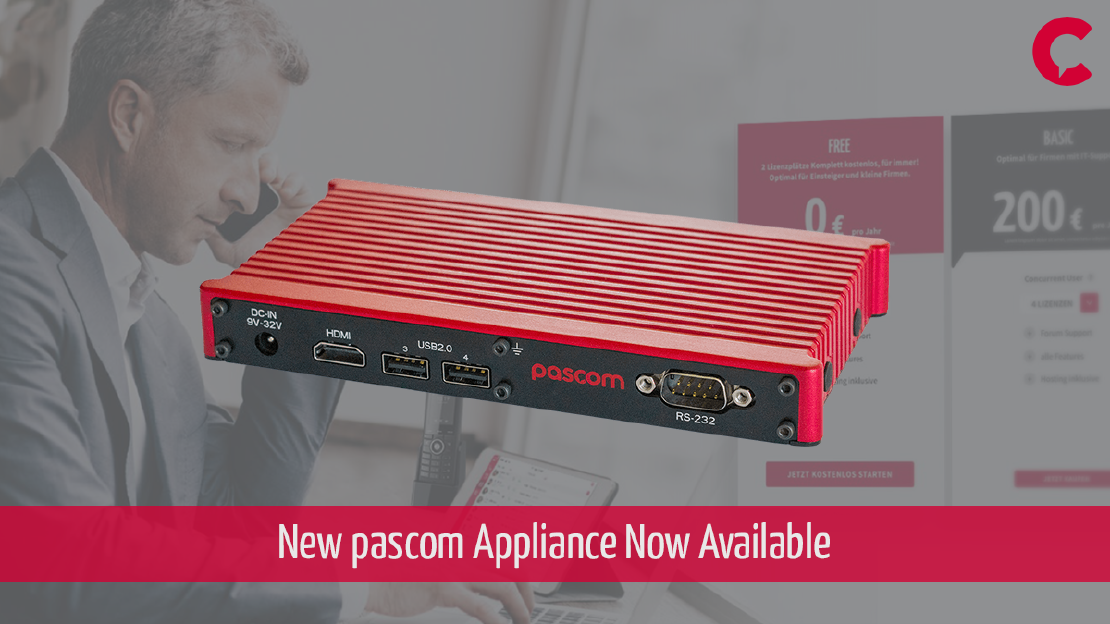 New pascom Appliance Hardware Unveiled
28.11.2018
4 min read

pascom
New, More Powerful and Admin Friendly pascom Appliance Now Available
November 28th 2018 | Deggendorf, Germany - pascom GmbH, a leading developer of Unified Communication phone systems for business has announced the release of a new, more powerful pascom VoIP phone system server appliance. Coinciding with the recent release of pascom 18 - the company' most technologically advanced and competitively positioned business communications platform to date - the new pascom IP-PBX appliance provides Small Medium Businesses with a cost-effective yet more powerful and administrator friendly on-premise All IP Business Communications server platform.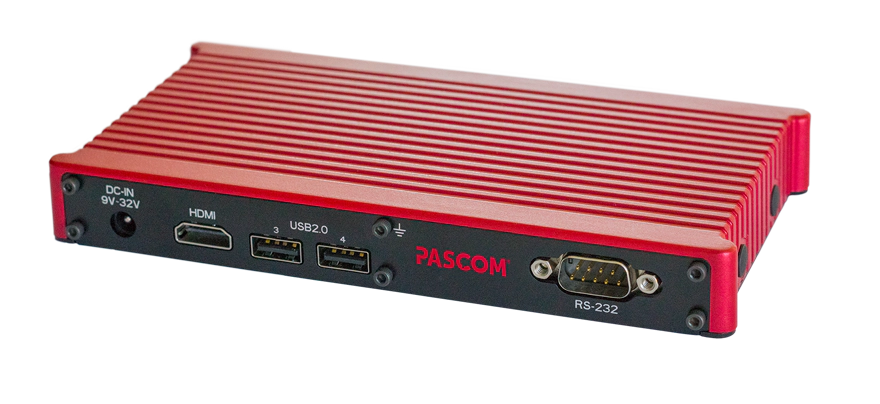 Aimed at the Small Office Home Office (SOHO) and SMB market segment, the new pascom IP-PBX Appliance is an All-IP business communications platform and is the direct replacement for pascom's highly successful SOHO server. Compared to the previous pascom SOHO server, the new pascom IP-PBX Appliance is placed in the same price bracket yet delivers considerably more performance coupled with the ability to directly connect peripheral devices (monitors and keyboards). The resulting upgrades ensure that pascom, pascom resellers and more importantly pascom customers all benefit from a quicker, more effective system administration whilst boasting the ability to support double the number of system users.
The new pascom IP-PBX Appliance supports double the number of employees compared to the older SOHO IP-PBX appliance and therefore ensures that the solution is ideal for a wider range of businesses requiring an on-site business communications platform. Available now and compatible with pascom's latest phone system version (pascom 18), the new pascom Appliance is designed to provide SOHO and smaller SMB sized businesses looking to replace their legacy phone systems with not only the latest, most cutting-edge communication technology but also one of the most cost-effective solutions available on the market today.
Mathias Pasquay, pascom CEO, on the unveiling the new pascom IP-PBX Appliance:
The release of our new telephony server appliance is not just about upgrading performance for the same price. With the older SOHO IP-PBX appliance, we identified potential areas for improvement where we could offer our resellers and customers more added value and we believe that the new IP-PBX appliance does just that. That said, with the advent of cloud technologies, many question the need for an IP-PBX appliance, but we recognise that every customer is unique with equally unique requirements which is why releasing the new pascom IP-PBX appliance coupled with pascom 18 cloud technology is so important. We are now in a position to provide all our customers, regardless of direct or via our channel partners, with the latest technology across all deployment options, meaning we are uniquely positioned in the market to cater for all our customer's requirements across a greater number of market segments.
Comparable in size to its predecessor, the pascom IP-PBX Appliance is equally unobtrusive, making the platform the ideal deployment option for customers who are perhaps sceptical of cloud solutions, do not have any in-house IT support and want to conserve space when it comes to IT infrastructure. Furthermore, the industry trend towards All IP solutions leading to an increased business need for IP based telecommunication and communications solutions, the new pascom IP-PBX Appliance offers an excellent option for smaller companies to make the switch with the minimum of fuss and hassle and when coupled with equally cost-effective and space conserving ATA adapters, the ability to continue to utilise their on-site analog hardware at no extra cost.
About pascom
Founded in 1997, pascom are the developers of next-generation UC Telephony Solutions and we upgrade business communications.
With pascom's innovative on-premise and cloud UC phone systems at the heart of your Communications, you will have a centralised, intelligent hub with which you can gain total control over your organisation's communications – no matter how diverse and dynamic your business communication channels.
Our solutions offer excellent scalability and are highly customisable to exactly match even the most specific customer requirements. Which is why our IP PBX solutions the perfect choice to support Small Medium Enterprises communicate smarter, more efficiently and more cost-effectively.
For more information about pascom Business Communications solutions, visit www.pascom.net or get started for with our free VoIP phone system edition now.