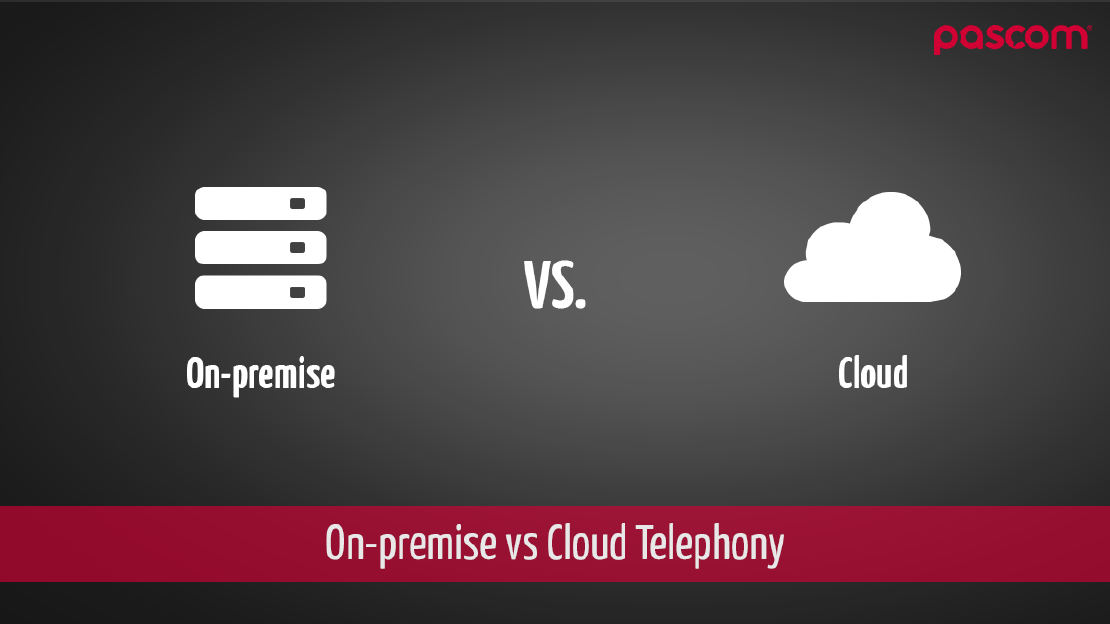 On-Premise PBX vs Cloud Phone Systems
Comparing On-Premise vs Cloud Phone Systems
Choosing which VoIP phone system is challenging enough with so many things to consider; matching feature sets with organisational needs, operating system compatibility and so forth. Throw having to compare On-Premise vs Cloud Telephony solutions in to the mix and the decision suddenly becomes so challenging to give most people a migraine, particularly if they are not extremely well acquainted with the VoIP technology and terminology.
Nowadays, all the rage is about Cloud Telephony, but does that mean that the days of the On-Premise solution are dead? Should you switch your company to a cloud based solution? The answer is a simple no, but how then should you decided?
As you may recall, last week we covered the Top 5 benefits of Cloud Telephony and now it is time to take a closer look at On-Premise vs Cloud Telephony solutions in order to help you make an informed decision, by helping you understand the differences, of which there can be a few.
Feature Set
Perhaps the most important aspect of either solution to consider is the feature set as this is where the most benefits in terms of boosting productivity, improving customer service and mobilising your workforce can be found.
Many Cloud Phone System solution providers differentiate between their cloud and on-premise offerings, meaning that the feature set on offer is not the same for both. Moreover, features that are standard with on-premise solutions like IVRs, Queues and Team Management may not be included in the Cloud solution and could cost extra. If that is the case, such a solution may not be a viable option compared to a cloud solution like our pascom Cloud UC phone system which includes all the same features regardless of whether it is Cloud based or on-premise (either hardware based or virtualised).
Capital Expenditure
Capital Expenditure (CAPEX) is one area where cloud solutions definitely have a distinct advantage. On-premise solutions entail shelling out for expensive server hardware or virtualisation software, whereas with a cloud solution you will only need to budget for desktop phones. In exchange, instead of one large upfront cost, businesses who choose cloud based solutions are normally charged a lower monthly user based fee.
Cloud Telephony solutions, therefore tend to be very appealing to the smaller end of the SMB spectrum. However, as with all these things, there comes a point when purchasing is actually more cost effective than paying a monthly fee, and it is normally around the 20 - 25 user mark, making cloud solutions ideal for SOHO and SMBs with 5 to 25 employees.
That's not to say that Cloud Solutions are not suited to larger enterprises, it's more that the motivation behind a larger enterprise adopting a Cloud Telephony platform relates to a different set of benefits.
Total Cost of Ownership (TCO)
This is another area where Cloud based Telephony solutions appear to have the upper hand over On-Premise solutions. Cloud solutions can often have a very low TCO namely due to cost savings in terms of IT staff and also because often the solution provider is responsible for server configuration and maintenance.
Moreover, Cloud solutions also often have the so called "software maintenance" costs included within the monthly fee and depending what the On-Premise software maintenance costs are, this can greatly reduce operational expenditure (OPEX).
However, while it is true that cloud solutions have the upper hand here, you need to always bear in mind that the size of your business and the way it is structured plays a role here too, meaning that an On-premise solution may in fact be more appropriate.
Infrastructure
Last time around, we mentioned that one of the top benefits of a Cloud Telephony solution is its simplicity. This is true most of the time and can lead to significant cost savings in maintaining and upgrading your infrastructure, particularly if you still operate a legacy system to connect to the PSTN. Upgrading to an on-premise VoIP phone system can sometimes result in having to upgrade or replace large portions (if not all) of your existing infrastructure which is obviously a costly option which would not be necessary when implementing a Cloud based solution.
On the other hand, there could be a perfectly justified business reason as to why your company would like to retain its existing infrastructure in house and in which case, an On-Premise solution is the way to go. A case in point would be a company for which internal telephony is simply a must have and relying on external infrastructure is simply to much of a risk, such as in industrial areas. But just be aware that you might have to shell out some cash to update / modify your infrastructure.
Scalability
At the top of this post, we mentioned that the feature set is perhaps the most important aspect to consider. Well here's another one that challenges for that top spot - Scalability. Whether you call it future proofing, flexibility or scalability, this intangible word should play a critical role in your decision making process.
But what exactly constitutes scalability? When comes to Cloud solutions, aspects such as is it a converged solution need to be consider as if it is, you need to ensure that your voice services also meet your business objectives of not only today, but also the next few years. If choosing an On-premise solution, you will need to consider your hardware capabilities with one eye considering future company growth and capital expense budgets.
In essence, when making your decision you will need to ask yourself some tough questions and be realistic in how you answer. For example, is the company expanding into to new markets / territories, as this will effect the viability of your voice services. Is it likely that the business will experience rapid growth in terms of user base or new locations as this will affect the required hardware. These will all impact your decision making and ultimately the return on investment of whichever type of solution you choose.
Summary
It may seem like more questions that answers, but by answering these questions and carefully matching your answers to your business objectives, the decision as to whether to choose a Cloud or On-premise based solution is best will become less challenging and will hopefully avoid you getting that migraine I mentioned.
Sign up for a free pascom phone system consultation and one of our team will happily help you assess the best solution for your business, plus provide you with some useful insights, tips and advice along the way.