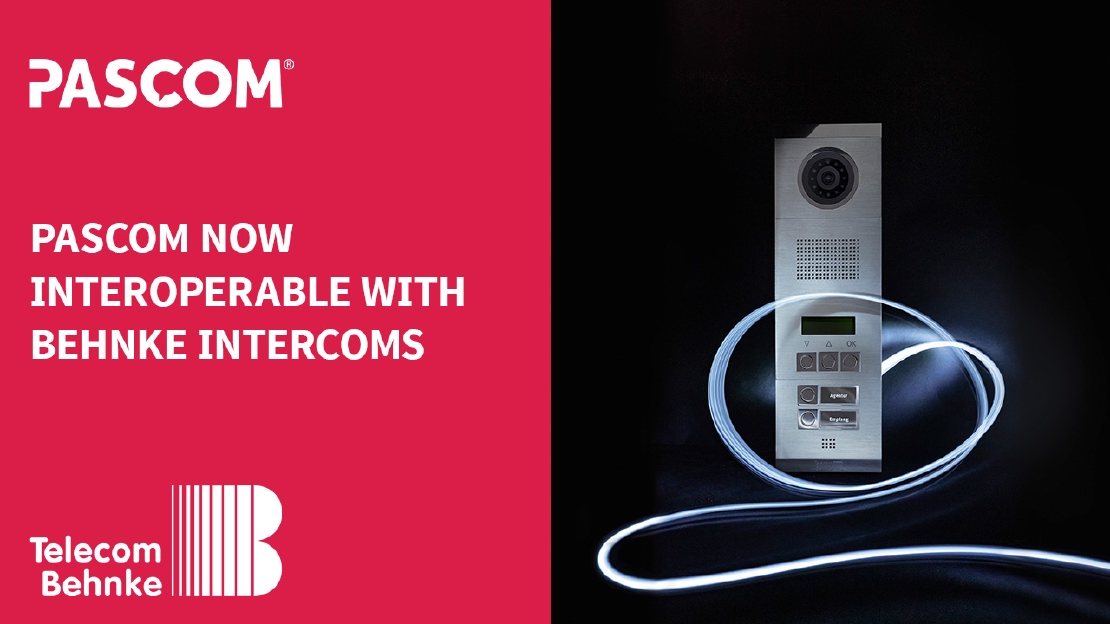 pascom Announce Telecom Behnke IP Intercom Interoperability
April 26th, 2021 | Deggendorf, Germany - pascom GmbH, a leading Business Communications solutions provider, today announce the successful completion of compatibility testing with Intercom company Telecom Behnke GmbH, a leading German manufacturer of building access & security systems. The new interoperability ensures that Behnke Intercom units can now be effortlessly integrated into the pascom platform to create a fully unified Business Communications solution.
With the release of pascom 19.15 and the new "Intercom Deluxe" functionality , the onboarding process for Behnke Intercoms is now extremely simple and straightforward. Furthermore, through using pascom's permissions tool, "roles" can be assigned to each Behnke Intercom unit in order to increase device security. In doing so, each Behnke Intercom device can be made available only to users with the required permissions.
Beyond the server-side integration, the new interoperability allows pascom desktop and mobile app users are able to receive audio / visual communication from the Intercom unit. Calls from Telecom Behnke intercom devices are routed directly to the permiited pascom users who using either their preferred pascom UCC app can immediately view the intercom's camera feed, answer calls as well as having the ability to allow / deny entry to the office premise with a simple button click.
Thomas Schmidt, pascom Sales:
The new interoperability between pascom and Telecom Behnke is great news for our customers and partners who now have the ability add an additional layer of security and comfort. The server side configuration has been significantly simplified and by combining access control and intercom audio and video into the pascom UCC apps for desktop and mobile, pascom Telecom Behkne customers can easily integrate both solutions to create a fully unified, user-friendly office access control solution that is both functional and mobile.
Ralf Michels, Sales Manager Telecom Behnke GmbH:
We are really happy about the successful completion of compatibility testing between Telecom Behnke and pascom. The integration of Behnke Intercoms into the pascom platform ensures a that our customers benefit fully unified business communications solution. The modular concept of Behnke systems fulfils numerous design and function aspects and allows for plenty of flexibility for bespoke implementations. The configuration can be adapted to match onsite requirements. Flexible systems such as from Behnke and pascom provide users with added value especially with regards to security and comport.
About pascom
Founded in 1997, pascom are the developers of next-generation UCC Telephony Solutions and we upgrade business communications.
With pascom as the heart of their communications, businesses have a centralised, intelligent hub giving them total control over their organisation's communications – no matter how diverse the workforce or dynamic the business communication channels.
The pascom platform offers excellent scalability and are highly customisable to exactly match even the most specific customer requirements. This is why pascom phone systems are the perfect choice to support Small Medium Enterprises to communicate smarter, more efficiently and more cost-effectively.
For more on pascom and pascom 19.15, please visit www.pascom.net and read the full release notes:
About Telecom Behnke
Telecom Behnke GmbH is a leading provider of Door, Industry and Emergency Call Intercom systems and offers a wide range of solutions to enable secure yet comfortable building access for every day purposes plus emergency and danger situations.
The Behnke Intercom range of models combine modern design with innovative functionality and can be seamlessly integrated into existing telecoms and data networks. The metal front cover ensure long lifecycles and vandalism protection even under the most demanding of circumstances.
For further information, please visit www.behnke-online.de.