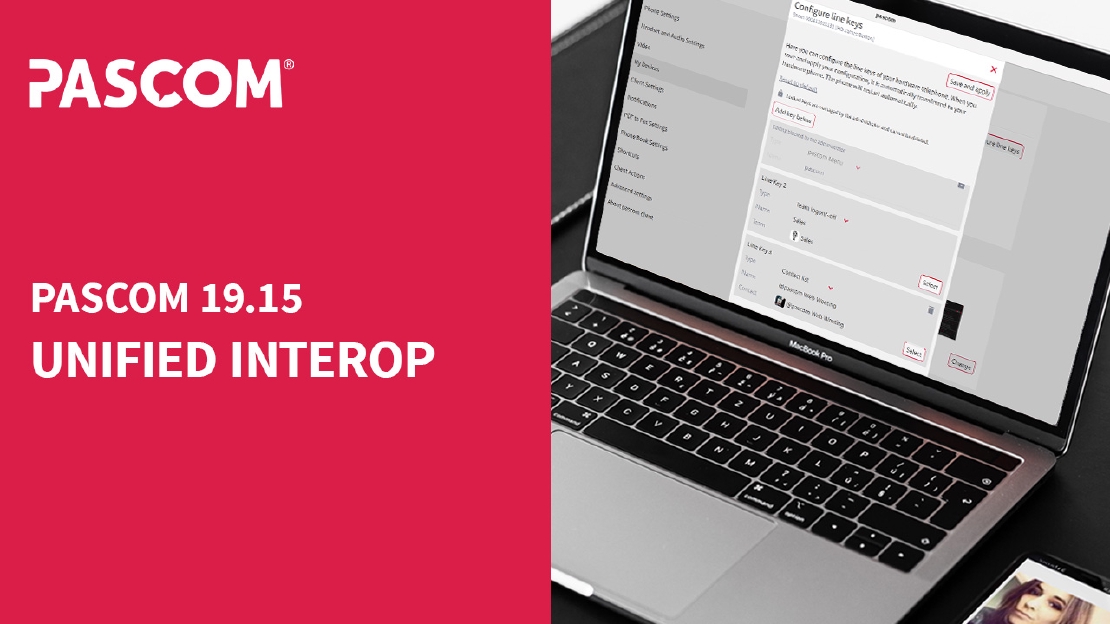 Unified Interoperability with pascom 19.15
20.04.2021
3 min read

pascom
April 20th, 2021 | Deggendorf, Germany - pascom GmbH, a leading Business Communications solutions provider, today unveil further Unified Communications and Interoperability features available with pascom 19.15 business communications platform. The recently released 19.14 provides pascom users with yet more control over their VoIP devices as well as adding a new level of interoperability with Door Entry Systems.
Alongside pascom 19.15's "Mobile First" concept, the VoIP telephone has not been overlooked and desktop phone power users are now able to quickly personalise their desktop phones from the comfort of the pascom Desktop UCC client. The new user-configurable BLF (Busy Lamp Field) keys feature provides Snom and Yealink desktop phone users with the ability to customise their desktop phone line keys to their exact requirements whilst simultaneously eliminating the need to directly access and reconfigure phone settings. Furthermore, the new BLF key implementation has been so developed as to minimise technical knowledge requirements, making the new tools extremely straightforward to use, creating an even greater unified User Experience and simultaneously reducing phone system administrator workloads.
A further upgrade is the new Door Intercom connector which enables businesses to incorporate on-premise door intercom systems as an additional UC endpoint for office-based users. Tried and tested on Baudisch, Behnke Telekom, 2N and Grandstream solutions, the new door entry integration is designed to enable IT admins to seamlessly connect and integrate any IP based Intercom system into the pascom phone system. By assigning office employees with the appropriate permissions, pascom app users now have the ability to answer incoming intercom calls, view live video / jpg streams (vendor dependent) and of course permit entry to office visitors all from the comfort of their pascom Desktop or Mobile app.
Thomas Schmidt, pascom Sales:
The innovation, interoperability and functionality that pascom 19.15 delivers is incredible and opens up a whole range of new possibities where pascom solutions will have a pivotal role in transforming how businesses communicate. Particularly in today' remote working environment, functionality such as the user-configurable BLF keys are huge productivity enhancers while integrating Intercom solutions into pascom will provide a huge asset to office based employees in terms of both office security and more importantly employee welfare.
About pascom
Founded in 1997, pascom are the developers of next-generation UCC Telephony Solutions and we upgrade business communications.
With pascom as the heart of their communications, businesses have a centralised, intelligent hub giving them total control over their organisation's communications – no matter how diverse the workforce or dynamic the business communication channels.
The pascom platform offers excellent scalability and are highly customisable to exactly match even the most specific customer requirements. This is why pascom phone systems are the perfect choice to support Small Medium Enterprises to communicate smarter, more efficiently and more cost-effectively.
For more on pascom and pascom 19.15, please visit www.pascom.net and read the full release notes: