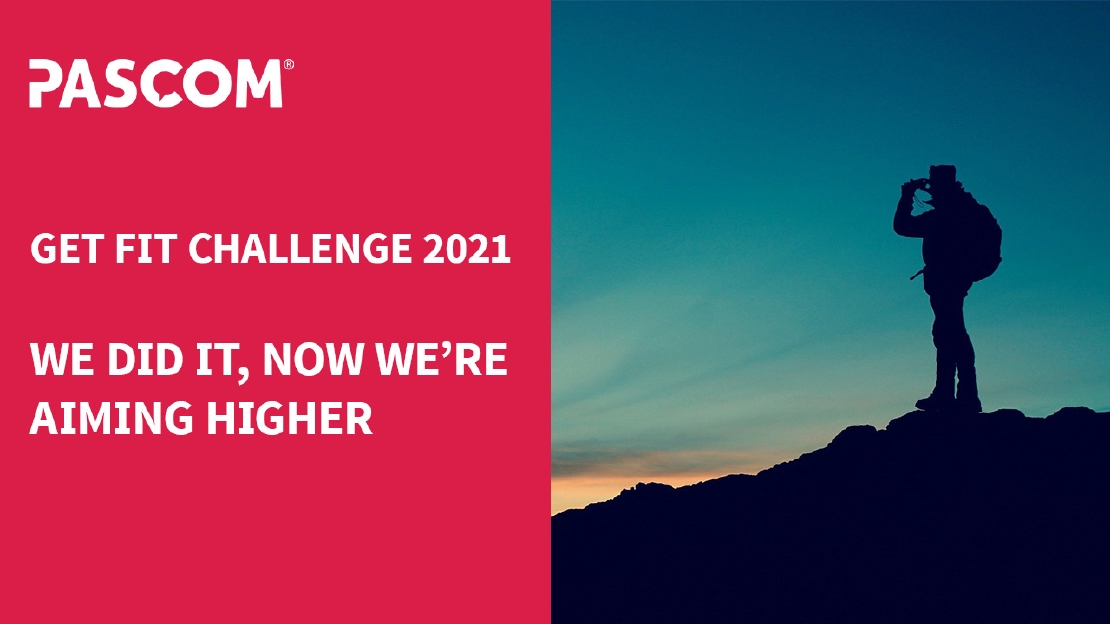 pascom Get Fit 2021: We Did It!
Misson Accomplished!?
It's late evening on Saturday 20th March 2021 and the pascom team needs just 9 points to hit our goal. The day so far has been a hive of activity. The pascom team has been out running, hiking, cycling, rowing, walking the dog, doing Yoga and Gymnastics and even chopping logs. So as tempted as I was to get us over the line by clicking the "Donate a Cake" button, it would have felt like cheating. It would have been quick and easy to do, but it would not have been a fair reflection of Team pascom' accomplishments thus far. Even though it is within the rules, it would have been a cop-out. But later that evening, the 20k points were in the bank. So does this mean that it is Misson Accomplished? No, far from it.
Through sweat, hard work and possibly even tears, Team pascom has pulled together and have so far raised over €2,000 for charity - something the whole team can be proud of. What's more, the team have earnt themselves a little bonus as part of pascom's employee engagement programme. But now the real work starts, from here on out employee motivation relies purely on the knowledge that by getting fit they will not only help themselves personally but also their efforts will be converted into real-world help for those in need within our community.
Top Athletes
Before we get into what's next for Team pascom and the Get Fit Challenge 2021, it is time to reflect on the past two and a bit months and celebrate the star performers and activities.
While it might all look and sound like that Team pascom have just been having fun, that's sort of the point, especially as the Team in Germany approaches 6 months in Lockdown. Which is why the focus of the pascom Get Fit Challenge is keeping employee engagement and motivation high AND investing in our community.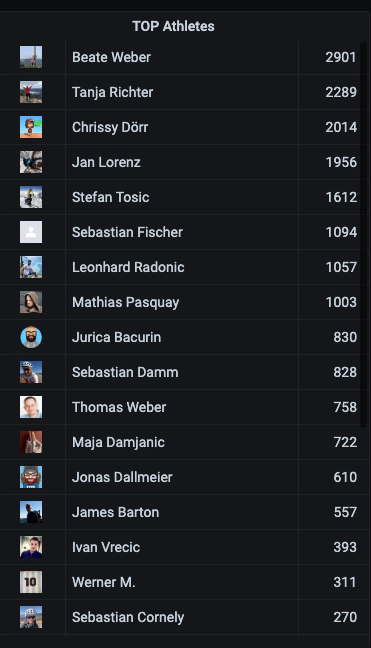 A quick look at the leaderboard paints a clear picture: the challenge is having the desired effect and there are many employees performances to be celebrated. So let's start with some superstar performers.
The 2000 Club
Standing out head and shoulders above the rest of the team, special accolades must be given to the 2,000 club - 3 ladies whose efforts have been phenomenal. Way out in front and putting the rest of us to shame is Beate Weber (pascom Accounts and Logistics Team Lead) who is now just 99 points shy of 3,000. Meanwhile, Tanja Richter (pascom Accounts and Logistics) and Christina Dörr (pascom Support) are leading the rest of the pack with 2289 and 2014 points respectively.
Following closely behind is Jan Lorenz (pascom Dev Team) who is set to join the 2,000 club while pascom CEO Mathias Pasquay is catching up having joined the 1,000 club this morning. At this point, it's worth noting that not a single one of their fitness activities makes it into the top 10 activities list, which just goes to prove that consistency and routine are just as important to success as mammoth activities.
Top Activities
Speaking of spectacular individual activities, there have been a few and Team pascom in Serbia are dominating the Top Activities list. The team in Serbia definitely used the wintery weather to good effect as they took to the slopes for a spot of Alpine Skiing.
My personal favourite comes from pascom Serbia CEO, Stefan Tosic, who took to the slopes to Ski Jahorina which was the venue for the Women's Alpine Skiing in the 1984 Winter Olympics - that's just cool!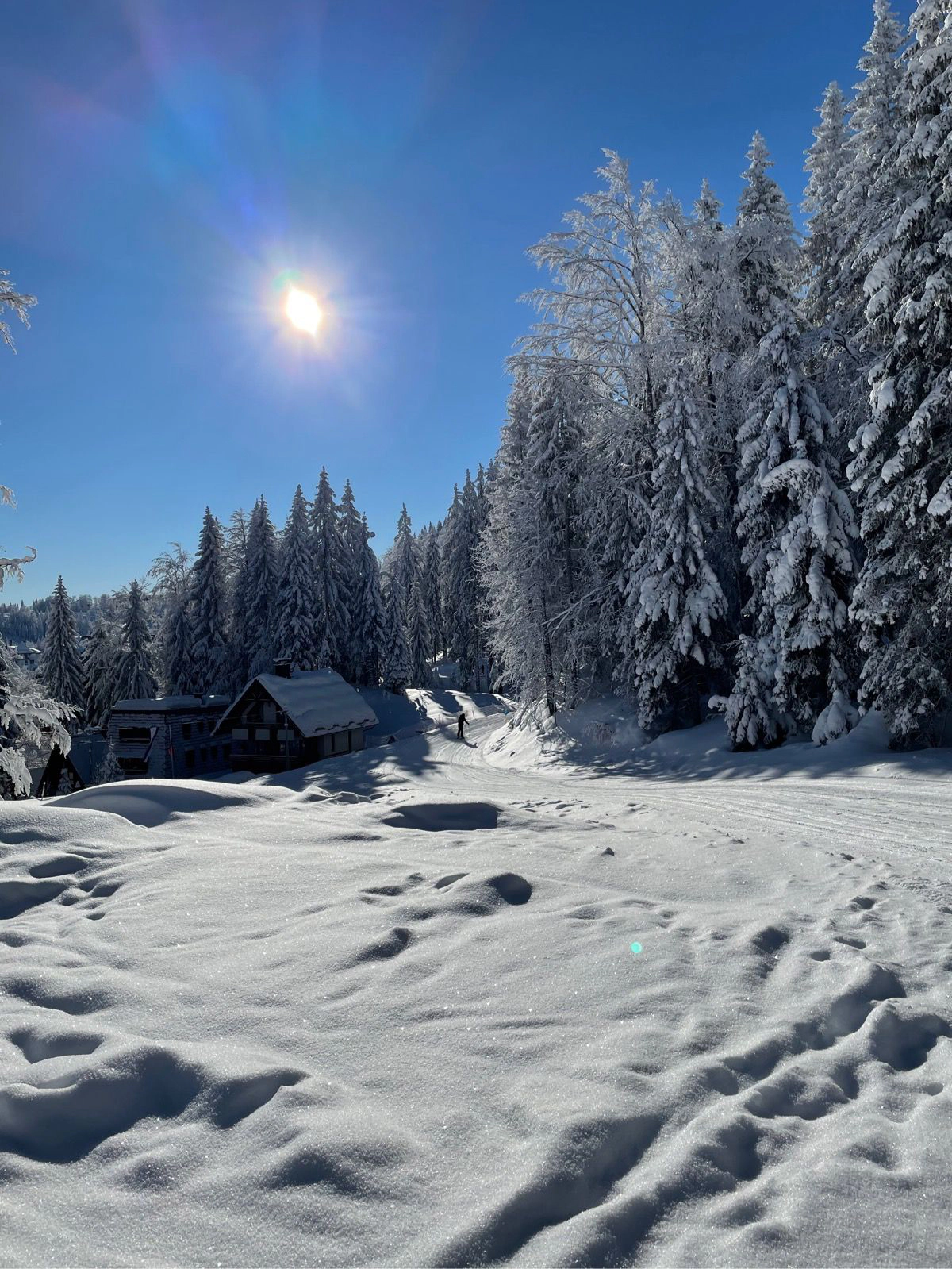 Meanwhile Leonhard Radonic' (pascom Dev Team) trip to the mountain resort of Kopaonik comes in as a very very close second, I mean that view is just special.
What's Next?
We may have smashed our goal of 20,000 points by a swashbuckling 224 days but as evidenced by the continued engagement from the pascom team our mission is far from over. Congratulations have been shared in the pascom Get Fit Challenge Chat Group but the message is simple:
We have only just started, we need to do more, go further, run harder, ride longer as part of our charity drive and support our community as much as we possibly can.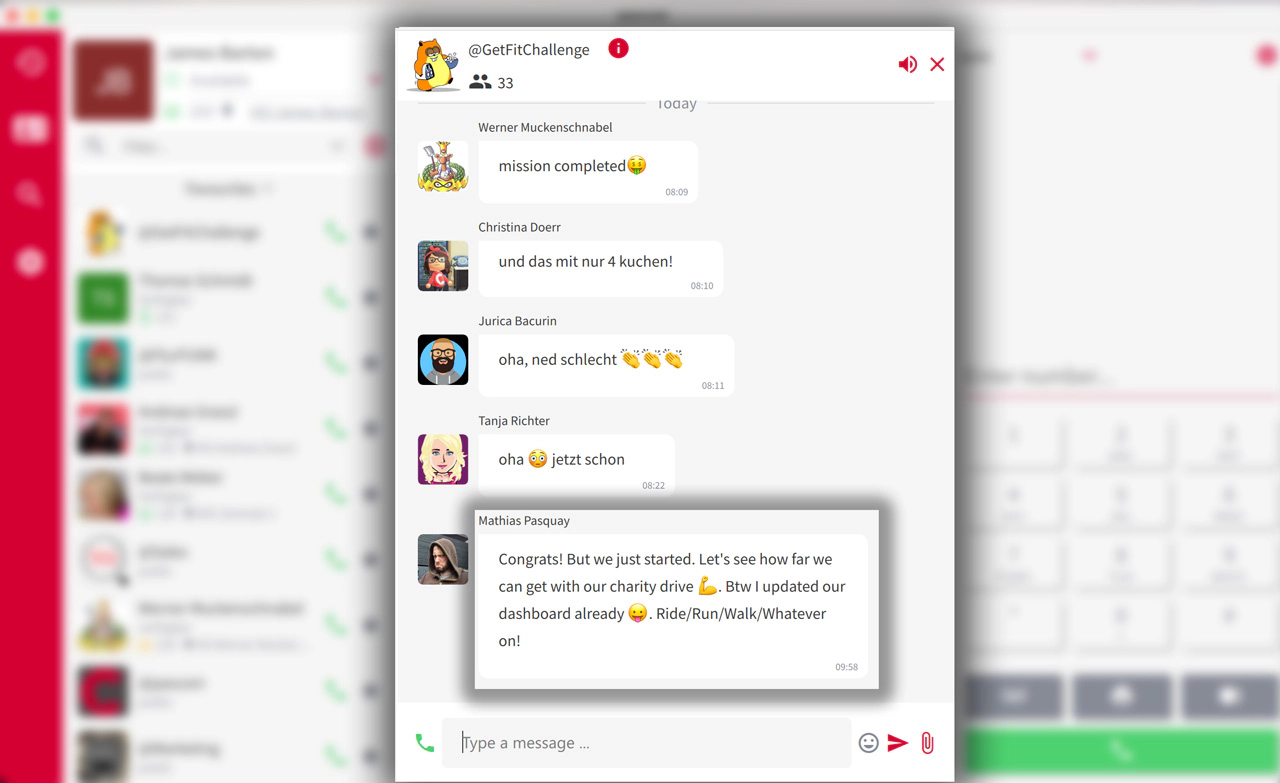 The dashboard has already been updated and we're back in the red zone in terms of points accumulated. This means there's still a mountain of work to do as the team continues to raise money for our chosen charity or charities - which will be announced in due course. Now, given that a further 252 points have been racked up since we hit our original goal, it's clear to see that #Teampascom is up for the challenge.

About pascom
Founded in 1997, pascom are the developers of next-generation UCC Telephony Solutions and we upgrade business communications.
With pascom as the heart of their communications, businesses have a centralised, intelligent hub giving them total control over their organisation's communications – no matter how diverse the workforce or dynamic the business communication channels.
The pascom platform offers excellent scalability and is highly customisable to exactly match even the most specific customer requirements. This is why pascom phone systems are the perfect choice to support Small Medium Enterprises to communicate smarter, more efficiently and more cost-effectively.
Visit www.pascom.net to learn more about pascom and how our solutions support businesses to upgrade their business communications.