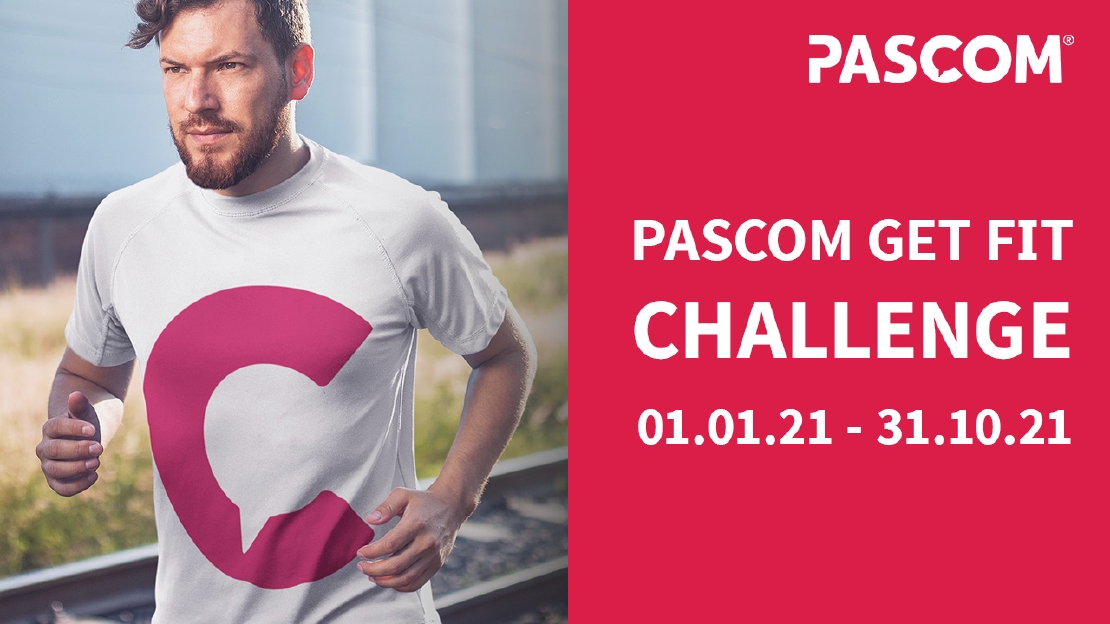 The pascom Get Fit Challenge
A Fresh, Creative Approach To Employee Engagement
Keeping employees connected in HomeOffice is easy, you just need pascom. However, keeping employees connected in terms of thinking and motivation from HomeOffice, not so much. In fact, it's an entirely different ball game. And so with Autumn 2020 and the looming lockdown fast approaching, we realised that we needed to think outside of the box and adopt a new, fresh approach to employee engagement.
We have known and promoted the benefits of working from home for years now. But the problem with working from home long-term is that a sense of team detachment eventually develops. Throw Home Schooling into the mix, as is the case for many of our team, and stress levels will inevitably start to creep up. So it's with a touch of irony that one of our main objectives is to keep our staff motivated and prevent them from getting stuck in the "HomeOffice rut".
As we all know, the best stress relief is a clear mind and there's nothing better than getting out in the fresh air and doing a bit of exercise. As such, the positive trends of 2020 shouldn't come as a surprise. The bike made a massive comeback, hiking and walking became mainstream and even the home TV workout sensation of the 70s and 80s became box office on our TV and computer screens: for Jane Fonda and VHS read Joe Wicks and YouTube!
At pascom, our team are no different and we were more than eager uptakers of these healthy lifestyle trends. I suppose this was to be expected, particularly as we've always been a very active company. Whether it be in the office gym and weekly BackCare training sessions or running around the local park before work in the morning, our team love being active. A few employees have even taken the ride to work scheme to the extreme by riding a 40 km round-trip across the Bavarian forest. To put this into perspective, several climbs require cars (at least my old Fiesta) to be in first or second gear. Anyway, by putting two and two together we came up with a corker of an idea and the pascom Get Fit Challenge 2021 began to take shape, but the question remained: how do you encourage people to get fit and turn this into a team-building strategy?
Simple, you make it a challenge that is inclusive, competitive, rewarding AND motivating all at the same time.
The Challenge
When most people think of a "Get Fit Challenge", they think of doing 100 sit-ups for 100 days or the Plank challenge and so on. These challenges are perfect for some, but generally they are better suited to individuals. The concept of individualism didn't work for us, so we decided to go down a different path.
Running between January 1st and October 31st, the pascom Get Fit Challenge 2021 is designed to cater for the whole team. The aim is to give employees an opportunity to connect with, challenge and motivate each other by getting fit and working towards a common goal - to hit 20,000 points. As such, it doesn't matter what you're in to; walking, hiking, cycling or even snowshoeing. As long as you track and post your activities to the pascom club on Strava, you'll earn points not just for you, but also for the whole pascom team and receive motivation along the way in the form of "kudos" and comments.
The Points System
Hit those 20,000 points and two things happen. Each and every member of the pascom team will receive an attractive financial reward. As if this wasn't incentivising enough, we want to go further. As a telecommunications solution software developer, we know we're one of the winners of the current health crisis. We believe that we should use this position and invest in our community by helping those in need. Therefore, we will be supporting one or more charitable organisations to the tune of 10 cents per point achieved, even, as seems likely, the team hits double the points target or more.
So how are the points calculated? Depending on activity type, points are awarded for every kilometre or hour of activity. Go cycling for 10 km and you'll earn 10 points regardless of whether you're on a traditional bike, e-bike or even an indoor bike trainer. Rowing and water paddle sports will earn a tidy 2 points per km whilst running, walking and hiking will earn a respectable 3 points per kilometre. If you want to jump out of the boat or off the board and go swimming, then you'll earn a whopping 20 points/km.
Of course, activities such as weight training, yoga and gymnastics can't be tracked in kilometres, so hitting the weights or getting down on the living room floor for some core body training, back exercises or Vinyasa Flow Yoga will contribute a very healthy 25 points per hour.
Cakes and Salads
But what if an employee isn't comfortable tracking their activity or simply wants to top up their account quickly and easily? Then, social distancing rules allowing, refuelling the team with a cake or making a salad for the Summer BBQs will not only earn some brownie points with colleagues but also keep their account on track to the tune of 50 points per cake or 30 points per salad.
On the surface, earning more points for a cake seems counter-productive, but it's not. For one, every athlete needs a healthy, balanced diet and secondly, cakes require a higher level of investment in terms of TLC (Time, Love, Cost). Finally, we just like cakes as demonstrated by the @Kuchen pascom chat group. As one of the first company-wide group chats ever setup, this channel is solely dedicated to the organization of who is bringing a cake to work on any given day.
pascom Get Fit Challenge Progress
To keep track of data from multiple sources and provide clear and understandable progress monitoring, we've taken a leaf out of the Call & Contact Centre world and developed our very own Get Fit Challenge Analytics Wallboard.

Incorporating real-time access to the Strava API and an inbuild donate a cake / salad button, the Get Fit Challenge 2021 wallboard was designed to make the challenge even more inclusive, accessible and of course motivating. By providing the pascom team with an instant real-time overview of the company' progress, latest activities and top athletes, the pascom Challenge wallboard makes it easy to see how close we are to achieving our goals and provides an added competive edge by allowing colleagues to compete against one another and promote a great sense of accomplishment and reward when their names appear on the leaderboard.
To further drive employee engagement and raise awareness for the excellent work of our chosen charitable organisation(s), pascom will be posting regular progress reports on our company social media accounts while employees are welcome to post their activities to their social media channels using the hashtag #pascomGetFitChallenge21.
By doing so, the pascom team can promote and highlight both the excellent work of the organisation(s) we have chosen to support while at the same time showing how with a little imagination and hard work, employees and companies can bond together, have fun getting fit and support their local community in a time when it is more essential to work together than ever.
About pascom
Founded in 1997, pascom are the developers of All-in-One Communication and Collaboration Solutions that upgrade how businesses communicate.
With pascom's innovative UC phone systems at the heart of their communications, businesses have a centralised, intelligent hub giving them total control over the organisation's communications – no matter how diverse and dynamic the business communication channels.
The pascom platform offers excellent scalability and is highly customisable to exactly match even the most specific customer requirements. This is why pascom phone systems are the perfect choice to support Small Medium Enterprises to communicate smarter, more efficiently and more cost-effectively.
Visit www.pascom.net to learn more about pascom and how our solutions support businesses to upgrade their business communications.