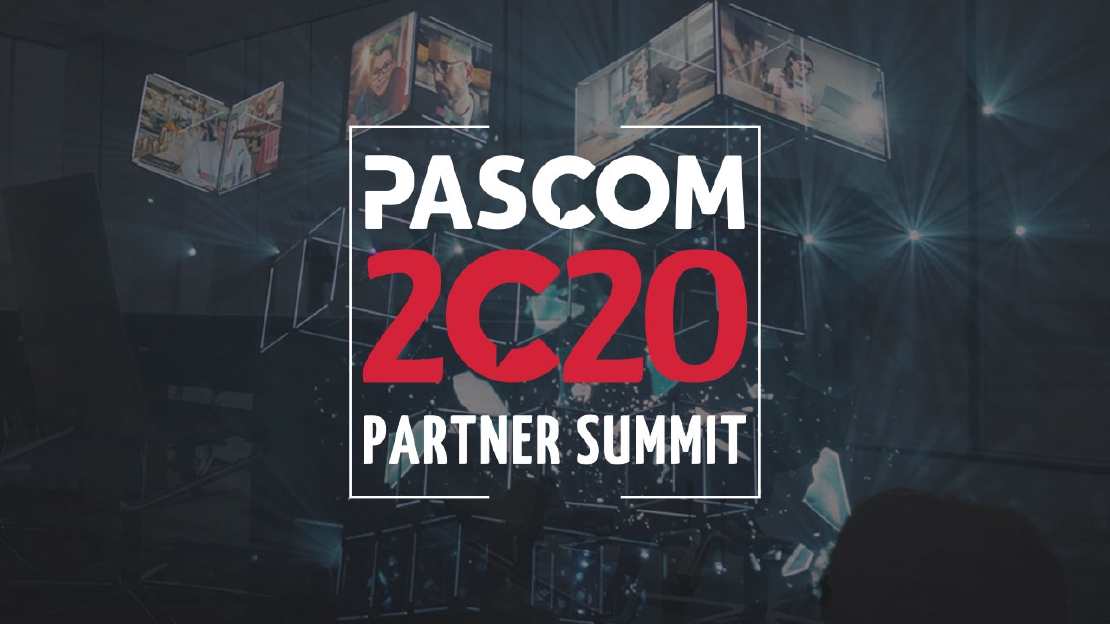 pascom Partner Summit 2020
pascom Partner Summit 2020 Hits New Heights
February 10th, 2020 | Deggendorf, Germany - pascom GmbH, a leading developer of Unified Communication business phone systems, celebrated their annual partner summit 2020 in style with yet another record attendance in Regensburg.
The pascom Partner Summit is the company' annual get together with leading UCC vendors, Value Added Resellers, Cloud Service Providers and Industry Media. The 2020 edition delivered two action-packed days of TechTalks, workshops, and break out sessions all focused on continuing the success of the company's channel partners.
Opening the Summit, pascom CEOs Quirin and Mathias Pasquay took the opportunity to welcome the select panel of leading UCC vendors, including pascom Technology partners Gigaset Pro, Grandsteam, Mitel, Sennheiser, Snom, and Yealink as well as SIP trunking solution providers HFO Telecom, peoplefone, and Nextragen Solutions.
During his look back at 2019, Mathias Pasquay personally praised the continued success of the company's channel partners highlighting both the growth of the network and significant increases in sales volumes. Further figures, namely over 75% of new business customers adopting pascom cloud phone system solutions and 99.97% uptime throughout 2019, show 2019 to have been an excellent year for the company and further justify the 2018 overhaul of the company's pricing strategy as well as the significant investment in both the pascom 19 Video Collaboration suite and the pascom.cloud infrastructure.
Looking to 2020, Mathias Pasquay reiterated pascom's commitment to further expand and enhance the pascom feature range, focussing on adding Interoperability, intuitive platform management, and more end-user and team collaboration functionality. With so much new functionality planned, the platform that is already a force to be reckoned with looks set to continue to go from strength to strength.
pascom Sales Director Thomas Schmidt was not to be outdone. Before unveiling the company's new, exciting #2C20Challenge partner incentive and social media engagement program, Schmidt focussed on increasing recurring partner revenues through upselling and effective brand and social marketing. Finally, Mr. Schmidt rounded off the morning session with an achievement awards presentation for all pascom Premium and Excellence partners.
Mathias Pasquay, pascom CEO:
First and foremost, the summit is great for engaging with and strengthening the relationships we have with our partners. As 2019 has been an excellent year for both pascom and our channel partners, the success of the pascom20 summit confirms that the constant evolution of pascom coupled with the team at pascom remaining true to our roots, we're on the right track and we look forward to celebrating yet more success stories in 2021.
About pascom
Founded in 1997, pascom are the developers of next-generation UCC Telephony Solutions and we upgrade business communications.
With pascom's innovative on-premise and cloud UC phone systems at the heart of their communications, businesses have a centralised, intelligent hub giving them total control over the organisation's communications – no matter how diverse and dynamic the business communication channels.
The pascom platform offers excellent scalability and are highly customisable to exactly match even the most specific customer requirements. This is why pascom phone systems are the perfect choice to support Small Medium Enterprises to communicate smarter, more efficiently and more cost-effectively.
Visit www.pascom.net for more on the pascom Partner Summit, event sponsors and pascom solutions.