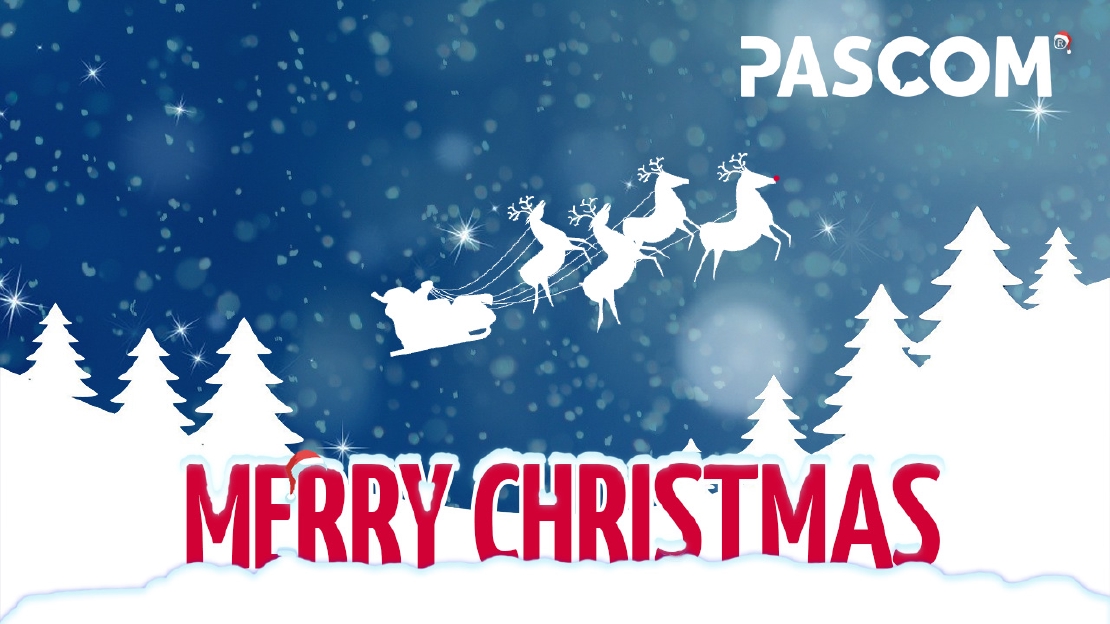 Christmas 2020 pascom Support and Opening Times
Merry Christmas and a Happy New Year From pascom
2020 has been a challenging year for us all, and even though we can't be together in-person this Christmas and New Year, that doesn't mean we can't or shouldn't share the festive spirit. So it is without further adieu that we gladly bid 2020 farewell and look forward to welcoming 2021 with optimism renewed.
With this is mind, we would like to thank all our customers, partners and colleagues for their renewed loyalty and faith in us throughout 2020 and we wish everyone a very Merry Christmas and a happy New Year 2021. May your holidays be safe and filled with virtual joy whether that be on the phone, video or both.
Christmas Opening Times and Support
The pascom Support team will be available as normal (according to SLA) throughout the Christmas / New Year break, meaning our pascom customers will still be able to access our support services throughout the holidays. For response times, please refer to your pascom Service Level Agreement. The rest of the pascom team from sales to accounts will be enjoying a much needed break from the routine of HomeOffice from Thursday 24th December until Monday 4th January 2021. The pascom Support Hotline will be staffed throughout the holidays.
Get Your Business Communications Fit For The Holidays & Beyond
In a year where changes to business opening hours, operating proceedures and phone system configuration have been performed far too often, here's a few more. As we build up to the holidays and the new year, businesses of all shapes and sizes must prepare their business communications platform for the festive season and beyond. Depending on your business model, this will entail a number of changes to the normal configuration:
Move The Christmas Staff Party Online
Just because we're all working from home and it's not possible to hold in-person Christmas staff parties this year doesn't mean that business should forego the annual tradition. Per default, we limit the max number of video stream per session to 6 for productivity reasons (less screens = more interactive meetings), but increasing the number is easy. Simply update your pascom Video Settings within the admin UI (System Settings > sys.xmpp.properties.video.maxpublishers) and increase the maximum number of permitted video streams to allow the required number of employees to join in the virtual fun.
A good tip for larger companies is to break it down into teams or departments in order to avoid screen clutter. Another fun thing to do to share some festive cheer could be to arrange some sort of gift or beverage to be sent to your employees in HomeOffice whilst perhaps stipulating a Xmas dress code and so on.
While it's true that the secret to great, engaging and productive video meeting to keep them small, updating this setting could actually be beneficial in the long run for those few times when more video streams are simply unavoidable.
Business Hours, Holiday Checks & Prompts
If your business hours change or services/departments close down for the holidays, then you will need to update your opening hours and time checks to reflect your business hours during the Christmas / New Year period. This should be communicated across all your communication channels from your online presence to updating your phone system prompts and music on hold. A tip from us is to share the festive cheer this year with warm season greetings and some appropriate music on hold (be sure to check any music licensing requirements) as well as to provide additional information such as opening hours in your prompts.
Future Proof Your Business Communications
Looking at the holidays and beyond, for a large number of businesses the Christmas break provides IT admins and phone system managers with the ideal time to plan and implement a number of optimisations. 2020 has seen a lot of changes to the IT landscape with HomeOffice, Cloud Communications, Mobile VoIP Apps and Video Conferencing all becoming mainstream. For many businesses, the adoption of such technologies has been done on the fly as a coping mechanism to ensure some sense of continuity. But stop gap measures are never meant to be permanent and can actually damage your business long-term.
The benefits of adopting converged all-in-one solutions are as far reaching as they are varied and definitely should not to be ignored. Firstly, it will make your life easier on a number of levels; you will only have a single platform to manage and the threat of shadow IT will be significantly reduced. The boss will love it as they will have the latest fancy stuff and they will see a rise in employee productivity. Finally, the accounts team will likely thank you for reducing the number of monthly invoices they have to process which also has the added benefit of making your decision look great on the balance sheet.
So if your business experiences a lull over the Christmas period, then this is the perfect time to try and test better equipped platforms that offer a more rounded "all-in-one" solution. Not only will this help get your business communications back on track and up to task in 2021.
We're here to help
If you have any queries about pascom phone system features and how to use them, then check out some more Video Collaboration posts as well as our desktop client, mobile app and web client user guides listed in our documentation.
If you, your team, your colleagues or customers could benefit from an effective all-in-one video and business collaboration solution, then we're here to help. Just give us a call on +49 991 291691 200 and get started with our free cloud phone system edition.
Merry Christmas, stay safe, stay heathy and see you in 2021!