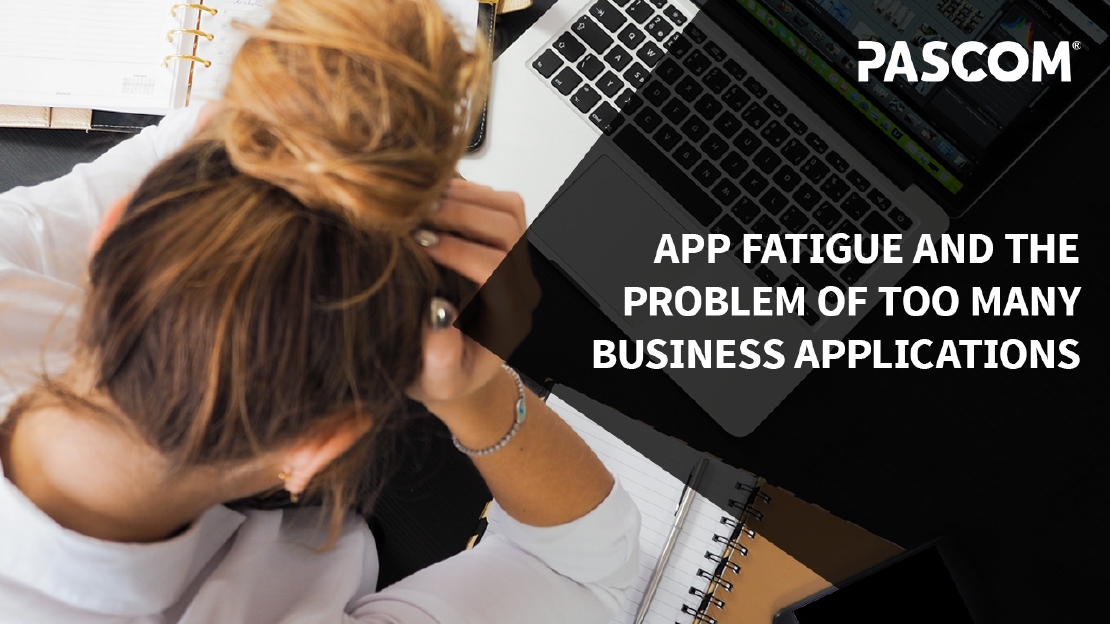 App Fatigue and The Problem With Too Many Apps
The Digital Transformation and The App Economy.
The core principle behind the Digital Transformation is great. Adopting digital technologies should help streamline and optimise business processes. In short, the Digital Transformation should make us all more effective, more productive and is meant to support businesses become leaner, more flexible and therefore more profitable. After all, we live in the days of the App Economy where there is an app for just about everything, but for businesses and business communications, this is a significant problem.
The Problem of Apps Overload
Apps are great, they connect us, allow us to quickly share content and manage our days to the second. In fact, there is an App for just about everything. What's more, apps are constantly evolving and bring new innovation to the consumer marketplace which in turn is then adopted in the business world.
On the surface, having apps for everything sounds great. For the private consumer, this is excellent news as apps offer an unparalleled level of convenience and connectivity. However, in the business world, adopting and using too many apps is a serious issue, known as app fatigue, that businesses must address in order to remain effective and productive.
What is App Fatigue and Does it Affect Productivity?
App fatigue is the name given to the phenomenon of employees being overloaded with apps that are supposed to improve efficiency and productivity. In fact, when adopting too many business apps for individual business tasks, the opposite is true. We all know the feeling when our smartphone screens are cluttered with apps that we may or may not use. The difference is that as a business user, you can't remove said applications from your laptop or smartphone because other employees might use them.
In fact, there are volumes of research available that highlights that employees often cite app fatigue and overload as an increasing source of frustration hindering productivity.
The Problem With Too Many Apps and Employee Overload
Business phone system functionality, customer contact data, e-mail, productivity management, CTI integration, presence, video collaboration, conferencing, screen sharing, file sharing, desktop softphones, mobile softphones, instant messaging, team collaboration and even something as old school as faxing. That's 15 key business processes that are required by almost every business on a daily basis.
Just like juggling too many tasks at once will have a negative impact on productivity, so too will toggling between too many apps. Constantly switching between apps to perform different tasks is not only time consuming, but it can also be distracting as well as creating a number of inefficiencies, information silos, potential risks and greater cost. According to a 2017 Harmony.ie the modern knowledge worker uses on average 9.39 enterprise apps, with between 5 and 9 being open at one time.
From an employee perspective, with each business application comes a different workflow, a different user experience and a different set of requirements, so it is little wonder that according to the 2017 Harmony survey of how enterprise apps are used in the modern workplace, 43% of respondents agree that they must switch between too many workplace apps. With each app, the risk of human error increases as does the risk of creating information silos, where data is stored in one app and not in the other.
Shadow IT and Apps Overlap
From the management and IT perspective, too many apps can also be cause for a massive headache which is generally caused by a lack of overall strategic vision when it comes to infrastructure management.
Firstly, the survey also highlighted that 48% of employees willingly used apps not approved and distributed by the IT department. Generally, this practice, which is known as Shadow IT, comes about as a result of employee dissatisfaction with the company approved applications. Shadow IT poses a significant threat to the security and control over company data as information is shared and stored with non-approved applications and vendors. In the age of GDPR compliant data protection, Shadow IT can have serious consequences for companies found to be in breach of the regulation.
Secondly, It is entirely possible for knowledge workers to experience app overlap by having to use App X for a video conference with Team A but App Y with Team B. For IT, this is a nightmare scenario as they have to manage, approve, integrate and secure two apps that serve the same purpose and if both of these workplace apps are paid apps, then don't visit your finance department any time soon as they will not be happy.
Fast-forward three years, throw an even more dispersed workforce and a pandemic into the mix and the glut of enterprise apps used every day has undoubtedly grown and so too has the level of employee dissatisfaction which will inevitably result in productivity downturns and drops in customer satisfaction.
Final Word
The Digital Transformation and multi-vendor infrastructures are not a new phenomenon, but as we've seen in the first half of 2020, businesses worldwide have been forced to adopt a number of new applications in order to enable effective Home Office working and collaboration amongst a workforce that has never before been so dispersed. Those companies that literally adopted individual apps for each business process will now be realising that they need to consolidate their infrastructure by adopting vendor solutions which unify as many applications into as few enterprise apps as possible and yes when it comes to the field of business communications and collaboration, we've got the app for that - it's called pascom!
If you would like to know more about how pascom can help your business throughout this difficult time and beyond, then give us a call (+49 991 291691 200) and get off to a flying start with free pascom cloud phone system edition.