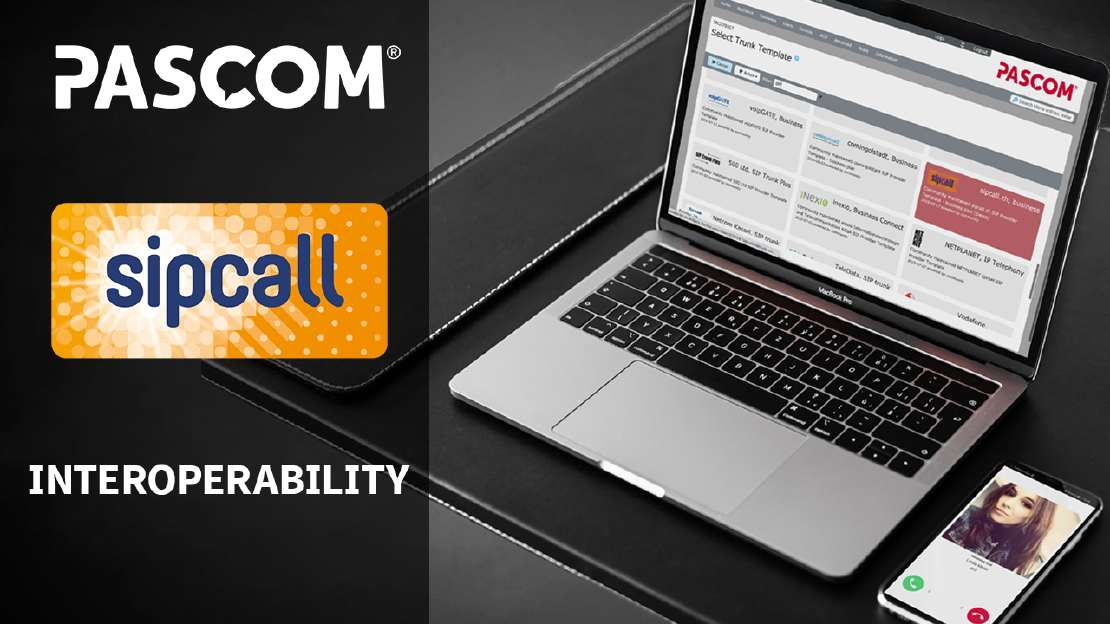 pascom and sipcall Successfully Complete Interoperability Testing
pascom and sipcall Announce Interoperability Partnership
July 27th, 2020 | Deggendorf, Germany - pascom GmbH, a leading developer of business Unified Communication (UC) phone systems, today announce a new Interoperability partnership with Swiss VoIP Provider sipcall, a leading and innovative Voice over IP Internet Telephony Service Provider by Backbone Solutions AG.
The new Interoperability partnership between pascom and sipcall comes after the successful completion of compatibility and interoperability testings between the pascom cloud phone system and the sipcall Voice-over-IP SIP trunking services. The new interoperability guarantees that pascom sipcall customers will be able to benefit from a hassle free open standards SIP Trunk PBX registration that ensures compatiblity and the full range of functionality between sipcall and both the pascom Cloud Communications platform and pascom Onsite solutions.
Thomas Schmidt, pascom Sales Director:
sipcall are renowned as an innovative VoIP provider with a vast experience in delivering reliable, cost-effective SIP trunking Internet Telephony services to the Swiss market. Our new interop partnership will ensure our existing customers will benefit from greater choice and flexibility when choosing Swiss Telecoms providers coupled with a seamless, simple registration. Furthermore, the new partnership provides sipcall customers with the opportunity to upgrade their business communications with pascom in the knowledge that the full scope of services are supported and without all the hassle of number porting and complicated registration process.
Thomas Kaufmann, sipcall by Backbone Solutions AG Marketing Manager
SIP Trunks from sipcall are as flexible as a swiss army knife and are therefore compatible with all leading VoIP enabled PBX solutions including pascom. Today, a considerable number of sipcall customers and installation partners already rely on pascom solutions which is reason enough for us to further strengthen our cooperation and continually add further benefit for our mutual customers. We look forward to further successes as we continue to work together in the future.
About pascom
Founded in 1997, pascom are the developers of next-generation UCC Telephony Solutions and we upgrade business communications.
With pascom's innovative on-premise and cloud UC phone systems at the heart of their communications, businesses have a centralised, intelligent hub giving them total control over the organisation's communications – no matter how diverse and dynamic the business communication channels.
The pascom platform offers excellent scalability and are highly customisable to exactly match even the most specific customer requirements. This is why pascom phone systems are the perfect choice to support Small Medium Enterprises to communicate smarter, more efficiently and more cost-effectively.
Visit www.pascom.net to learn more about pascom and how our solutions support businesses upgrade their business communications.
About sipcall
Backbone Solutions AG was founded in 1998 and has since developed a reputation for high quality Internet connections and is now an established telecoms industry name. As pioneers of Internet Telephony, the company launched the «sipcall» brand in 2005 to deliver innovative Business solutions based on VoIP technologies. 40,000 statisfied telephony customers and over 700 partner organisations within Switzerland rely on the expertise and experience of sipcall by Backbone Solutions AG.