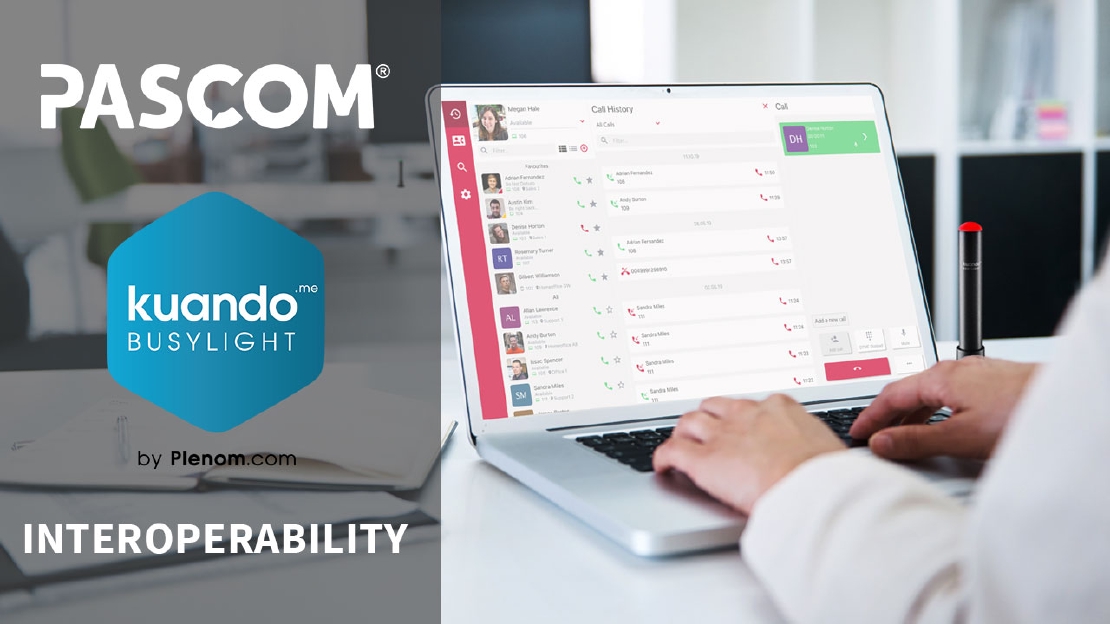 pascom Kuando Busylight Interoperability
19.06.2020
3 min read

pascom
pascom Announce Kuando Busylight Interoperability
June 19th, 2020 | Deggendorf, Germany - pascom GmbH, a leading developer of business Unified Communication (UC) phone systems, announced the successful completion of compatability and interoperability testing between the company' latest 19.06 VoIP phone system release and Plenom's office intelligence kuando Busylight presence indicator solution.
The addition of Interoperability between pascom and the kuando Busylight solution offers pascom business phone system customers further added value by delivering an additional dimension of office intelligence and delivers a highly efficient visualised presence management tool that is compatible with both pascom cloud and on-premise Business Communications platforms.
Furthermore, the new interoperanility ensures that pascom customers will be able to benefit from a simple, intuitive setup which delivers the ability to not only visually display see employee presence, but also enable users to personalise their workplace experience thanks to the additional kuando Busylight speaker support. As a result, the new integration provides the perfect audio-visual presence management extension to the pascom Unified Communications and Collaboration applications that has practical benefits for both Collaboration and ContactCentre environments.
Thomas Schmidt, pascom Sales Director:
At it's core, the success of modern business communications is dependant on how efficiently we communicate with one and another. That is why we all strive to become increasingly efficient in our workflows. By adding support for the kuando Busylight to our pascom solutions, we are able to offer our customers with an excellent, easy to use, and efficiency boosting presence management tool that delivers a large number of benefits which are applicable across the board, from the normal office environment to large contact centres and even in HomeOffice.
Ole Rytter, Plenom A/S Regional Manager EMEA
The Busylight has been an overlooked device in the contact center environment for years but the interest is heavily increasing from both vendors and end users at the moment. It seems they are now realizing how a relatively simple and inexpensive solution can filter out unwanted noise and interruptions, and free up capacity for higher focus and a better customer experience. You can certainly run a Contact Center without using Busylights, but it is by far the most important "nice to have" device available to make effortless improvements.
About pascom
Founded in 1997, pascom are the developers of next-generation UCC Telephony Solutions and we upgrade business communications.
With pascom's innovative on-premise and cloud UC phone systems at the heart of their communications, businesses have a centralised, intelligent hub giving them total control over the organisation's communications – no matter how diverse and dynamic the business communication channels.
The pascom platform offers excellent scalability and are highly customisable to exactly match even the most specific customer requirements. This is why pascom phone systems are the perfect choice to support Small Medium Enterprises to communicate smarter, more efficiently and more cost-effectively.
Visit www.pascom.net to learn more about pascom and how our solutions support businesses upgrade their business communications.