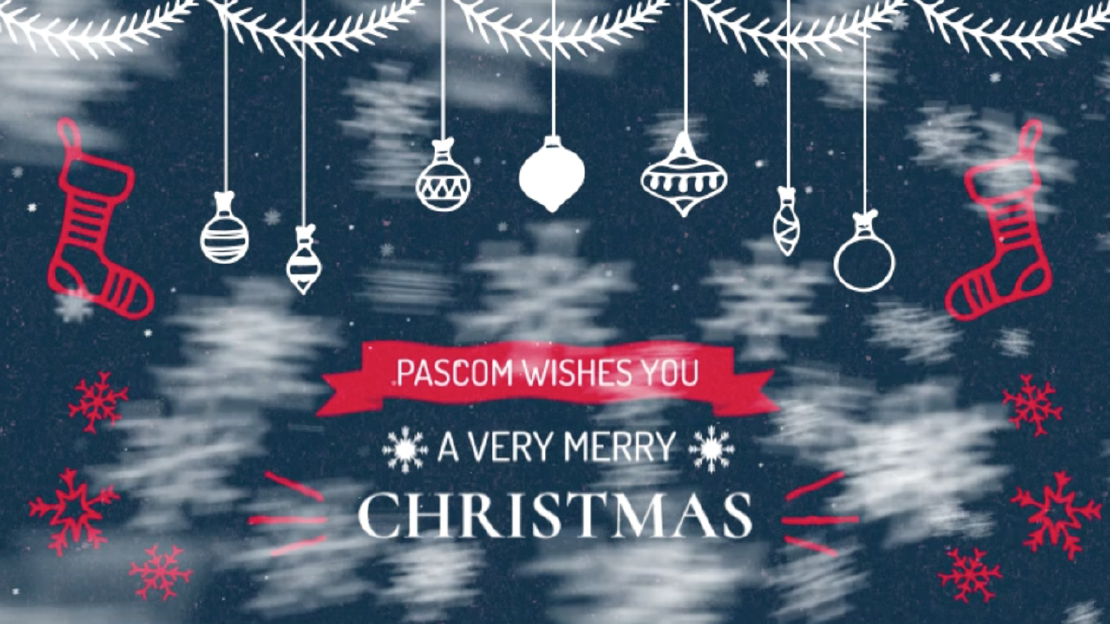 Merry Christmas from pascom
Merry Christmas and a Happy New Year From pascom
The festive season is fast approaching and before we head off for the holidays, we just wanted to take this opportunity to thank all our customers and partners for yet another excellent year and wish you all a very Merry Christmas and a Happy New Year 2020.
Christmas Opening Times and Support
Throughout the holiday season, our offices will be closed from Monday 23rd December 2019 and reopen again on Thursday 2nd January 2020. The pascom Support Hotline will be staffed throughout the holidays, meaning our pascom customers will still be able to access our support services throughout the holidays. For response times, please refer to your pascom Service Level Agreements.
Is your phone system ready for the holidays?
As we build up to the holidays, businesses of all shapes and sizes are preparing their business communications platform for the festive season. Depending on your business model, this will entail a number of changes to the normal configuration.
Business Hours, Holiday Checks & Prompts
Such a change would include updating your opening hours and time checks to reflect your business hours during the Christmas / New Year period. Another consideration would be to update your phone system prompts to festively greet callers and provide additional information such as opening hours.
Reduce Staff Attrition with Intelligent Queueing
If you operate a larger business, particularly in the retail sector, peak seasons such as Christmas will undoubtedly add additional strain to your Contact Centre operations. Many factors such as staff holidays, increased call volumes, holiday public transport time plans, and even the weather can affect your staffing levels and staff workloads. Through using intelligent call routing, customers can be directly routed to the correct agent, improving first call resolution and improving your overall customer and employee experiences (CX / EX), which directly impacts your bottom line.
Enhance CX with Call Labels & Analytics
For contact centre agents, utilising technologies such as "Call Labels" will provide them with essential caller information before they even answer, allowing agents to personally greet callers and avoid time consuming questions that irritate callers. Meanwhile, Customer Service and Contact Centre managers can use wallboards to view real-time call data and performance information enabling them to detect and immediately to detect and react to changes in volumes or behaviours.
Enhance Employee Experiences with Unified Communications
Through enabling Unified Communication tools such as softphones, desktop / mobile UC and team messaging, your employees and customer service team can be available from anywhere, meaning that no matter what, if needs be they are available, can deliver excellent customer service AND still enjoy the holidays.
No matter which changes you should be making to your phone system, our best advice is to consider both what is good for your customers and what is good for your employees. Being experience centric ensures that employees have all the tools to do the job effectively and therefore improve employee satisfaction. This in turn will boost your customer satisfaction and therefore positively affect your bottom line.
Merry Christmas and see you in 2020!