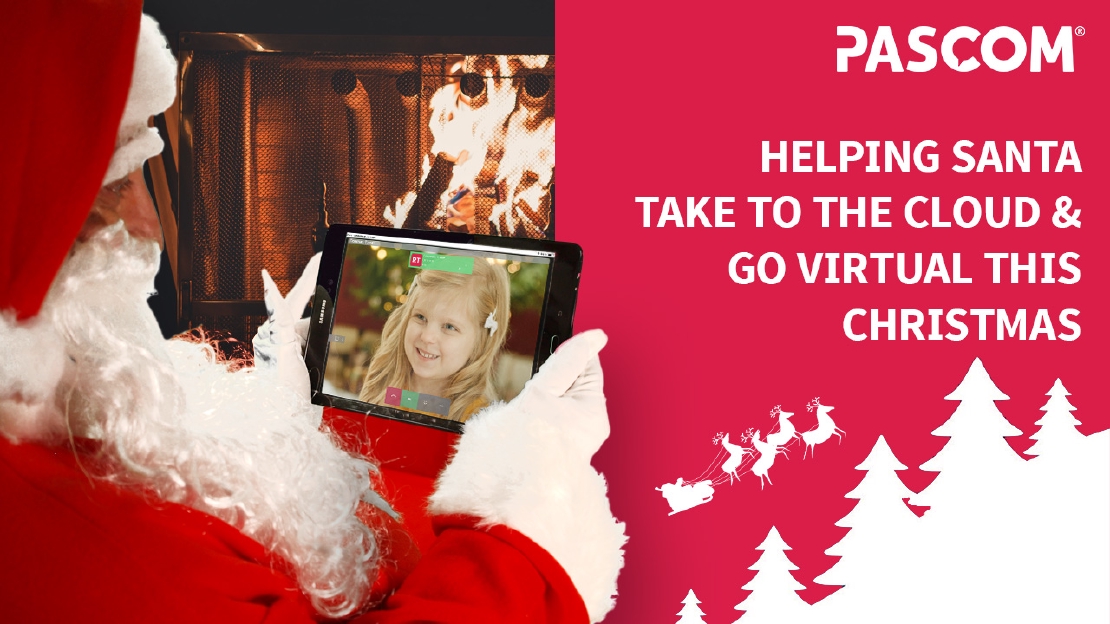 Saint Nicholas goes virtual in 2020 with pascom
09.12.2020
4 min read

pascom
As with all things; when there's a will, there's a way and Saint Nicholas' (a.k.a, St Nick, Father Christmas, Santa Claus) immense determination has never been in doubt. Through the cold of winter, he's always been the beacon of joy for kids big and small around the world. That means that when Saint Nicholas' go-to IT experts in Germany sent us an e-mail asking for our help in sharing the festive spirit this year, we jumped for joy and danced to the jingle bell rock.
To say the least, 2020 has been a difficult year and a huge helping of festive cheer is exactly what's required right now. In previous years, St Nicholas has relied on the magic of Christmas to make sure he's in the right place at the right time. But with so much uncertainty in world and with so much at stake, Saint Nicholas decided he too had to play his part in keeping everybody safe this Christmas. So it was with a saddened heart but a determined mind that he made the decision to go virtual, after all as an ace aviator he is very familiar with clouds and he had even heard something about Video Collaboration, but being the old-school type that he is he didn't even have a mobile (just in case Mrs Nick called), he definitely needed some help to get started.
Thankfully, he turned to an IT company, citrotec, that in previous years had helped manage his event bookings. The team at citrotec, who is a pascom partner, immediately knew what was to be done and dropped us a line asking if we were willing to jump aboard the polar express and support Nicholas with a cloud communications platform including contact centre, mobile VoIP and Video Collaboration tools.
It goes without saying that of course we were up for the challenge - it is what we do after all. But this time, this solution, it's different. It meant that it is now up to us and our partner to keep the good saint connected on his quest to share the festive magic and Christmas joy. It was now up to us to make sure that we guided him and his team of helpers as they flew to a different type of cloud and embraced the world of mobile communications and virtual video meetings this Christmas.
Mathias Pasquay, pascom CEO:
Luckily, at pascom we have helped so many customers go virtual this year and when St. Nick came calling, we knew we could and must help. Keeping St Nicholas connected and ensuring he continues to share the magic of Christmas is a huge responsibility and no small undertaking. With so much riding of our platform, we can't thank St. Nicholas' team enough, they have been amazing in every way. From citrotec managing the platform to the helpers manning Nicholas' cloud contact centre and making the appointments to keep Nick on track and on time for all his virtual video meetings. Helping Nick on his journey this festive season has been a huge team effort and we are immensely proud to be a part of it!
Michael Ludwig, citrotech CEO:
I can't emphasise enough how good it is that, despite all the uncertainty and constant changes of the previous weeks and months, we've had one constant we could rely on - the pascom communications platform. The pascom phone system is incredibly flexible and truly first-class, which has been crucial in handling the constant changes and overcoming the challenges we faced with the minimum of fuss. Saint Nicholas, his team and the team at citrotech all agree that pascom have done an exceptional job with the pascom phone system and are extremely grateful for their support in making sure Nicholas can share the magic of Christmas in a year where the importance of community and festive spirit cannot be understated.
About pascom
Founded in 1997, pascom are the developers of next-generation UCC Telephony Solutions and we upgrade business communications.
With pascom's innovative on-premise and cloud UC phone systems at the heart of their communications, businesses have a centralised, intelligent hub giving them total control over the organisation's communications – no matter how diverse and dynamic the business communication channels.
The pascom platform offers excellent scalability and are highly customisable to exactly match even the most specific customer requirements. This is why pascom phone systems are the perfect choice to support Small Medium Enterprises to communicate smarter, more efficiently and more cost-effectively.
Visit www.pascom.net to learn more about pascom and how our solutions support businesses upgrade their business communications.