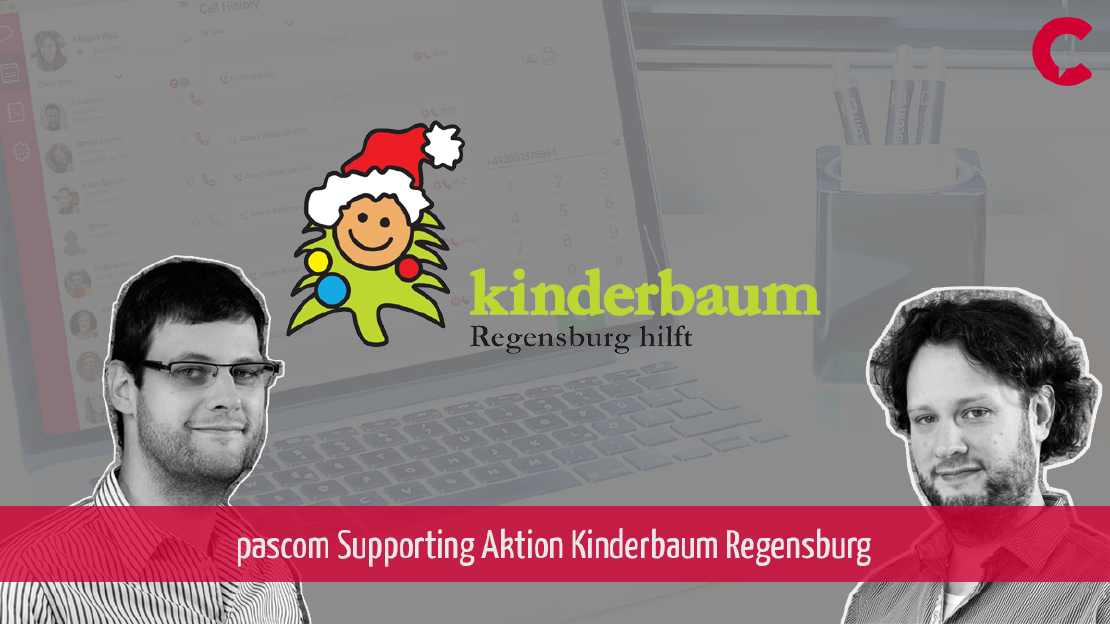 pascom Supporting Aktion Kinderbaum Regensburg
08.12.2016
3 min read

pascom
pascom Support Aktion Kinderbaum Regensburg with Annual Donation
Deggendorf - 08. December 2016 - pascom GmbH, a leading developer of business VoIP telecommunication solutions, are proud to support "Aktion Kinderbaum-Regensburg hilft", a Stadt Regensburg initiative to share the joy Christmas with children throughout the region.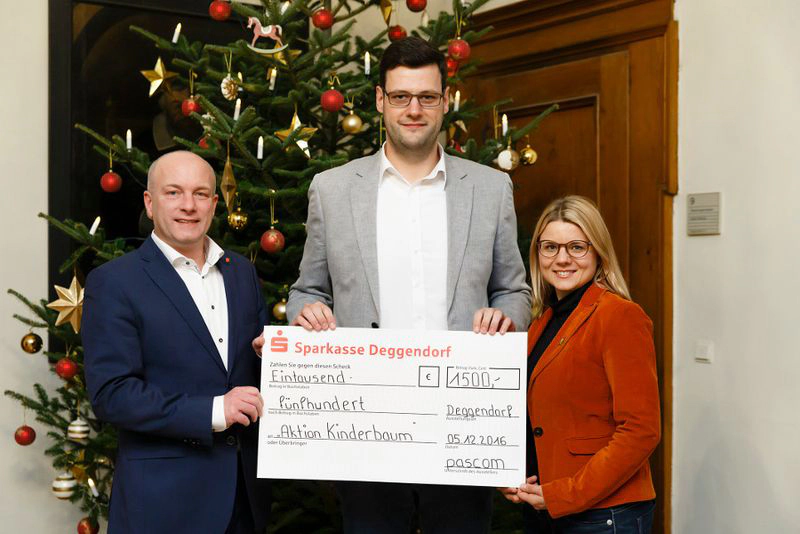 For many, Christmas is a time of joy and happiness shared with those closest to us, giving presents, enjoying the laughter of children and the company of our loved ones. Unfortunately, for many children, Christmas can be an incredibly hard and emotionally difficult time of year, either due to a family's financial situation or even more sadly they have lost their parents. It is exactly these children whom Stadt Regensburg are hoping to reach with "Aktion Kinderbaum-Regensburg hilft".
Quirin Pasquay - pascom CEO on supporting the Kinderbaum project:
"We are a family orientated company, which is why every year we look to support the invaluable work that organisations do in support of families and children who for whatever reason need that helping hand. Christmas can be a time of great happiness, but also for many considerable financial and emotional stress. Through supporting the Kinderbaum-Regensburg project, it is our hope that we are able to share the festive spirit and make Christmas that much easier and more enjoyable for families and children across Regensburg."
Joachim Wolbergs - Stadt Regensburg Oberbürgermeister on pascom's donation:
"It is with heartfelt gratitude that I am able to accept pascom's support for the work we do at Aktion Kinderbaum. It is my guarantee that one hundred percent of the proceeds will be used to bring some joy and happiness to the children and teenagers within the Regensburg area."
About Aktion Kinderbaum-Regensburg
Founded by Stadt Regensburg "Aktion Kinderbaum-Regensburg hilft" (Kids Tree Regensburg Helps Project) was born in 2012 and since then has become an annual institution across the city of Regensburg.
Kinderbaum-Regensburg aim to ensure that every child in Regensburg receives a Christmas present. For many this is taken for granted, but for many others in Regensburg it is anything but. Unfortunately, there are children whose parents are financially unable to buy presents and then sadly there are children who have lost their parents and will never again experience Christmas with those they loved most. The Kinderbaum-Regensburg project was founded especially to give these children something to look forward to and let them share in the joy of Christmas.
For more information, please visit www.regensburg.de (German only).
About pascom
Founded in 1997, pascom are the developers of next-generation Telephony Solutions and we upgrade business communications.
With pascom's on-premise and cloud based UC phone systems at the heart of your Communications, you will have a centralised, intelligent hub with which you can gain total control over your organisation's communications – no matter how diverse and dynamic your business communication channels.
Our solutions offer excellent scalability and are highly customisable to exactly match even the most specific customer requirements making our IP PBX solutions the perfect choice to support Small Medium Enterprises communicate smarter, more cost effectively.