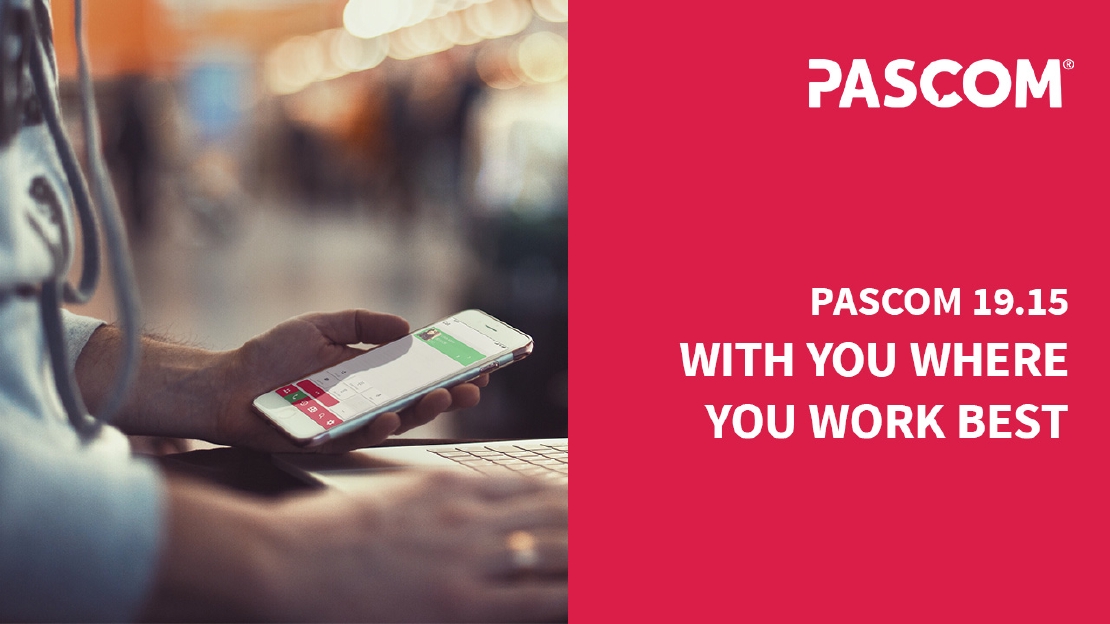 Mobile First with pascom 19.15
14.04.2021
3 min read

pascom
April 14th, 2021 | Deggendorf, Germany - pascom GmbH, a leading Business Communications solutions provider, today announce the release of pascom 19.15, the lastest version of the company' business communications platform. The newly available pascom 19.15 delivers a wide spectrum of enhancments with particular focus on team collaboration and mobile communication.
pascom 19.15 builds on the company' comprehensive set of Unified Communication and Collaboration functionality with a number of new feature enhancements designed to provide pascom app users with an enriched user experience (UX).
The latest pascom 19.15 update and the v71 app release also combine to deliver an anywhere, anytime communications experience by bringing file sharing capabilites to the pascom Groups, the pascom Web App and the iOS and Android mobile apps. What's more, the latest release provides further UX improvements thanks to file transfers now being directly visible within pascom chats, thus providing users with a unified messaging tool for chat and file sharing.
pascom 19.15's focus on mobile communication delivers significant advancements for the "Mobile First" user which allow the user to setup their smartphone or tablet as their preferred device for making and receiving calls. An extra level of usability comfort has also been added thanks to desktop mobile device CTI functionality which enables pascom desktop client users to remote control their pascom mobile UC apps and therefore benefit from the best of both worlds.
Thomas Schmidt, pascom Sales:
pascom 19.15 packs a hefty punch in terms of new features, tools and possiblities. I particularly like the concept of "mobile first" as it means users are no longer tied to their desk phone or headset range. By all conventions, I was a power desktop phone user, but not anymore. The shift to remote working means the comfort, freedom and flexibility that the mobile offers is what's needed. Coupled with all the upgrades to our file sharing tools, the pascom mobile and desktop apps deliver all the tools one could need to stay connected and work from anywhere.
About pascom
Founded in 1997, pascom are the developers of next-generation UCC Telephony Solutions and we upgrade business communications.
With pascom as the heart of their communications, businesses have a centralised, intelligent hub giving them total control over their organisation's communications – no matter how diverse the workforce or dynamic the business communication channels.
The pascom platform offers excellent scalability and are highly customisable to exactly match even the most specific customer requirements. This is why pascom phone systems are the perfect choice to support Small Medium Enterprises to communicate smarter, more efficiently and more cost-effectively.
For more on pascom and pascom 19.15, please visit www.pascom.net and read the full release notes: