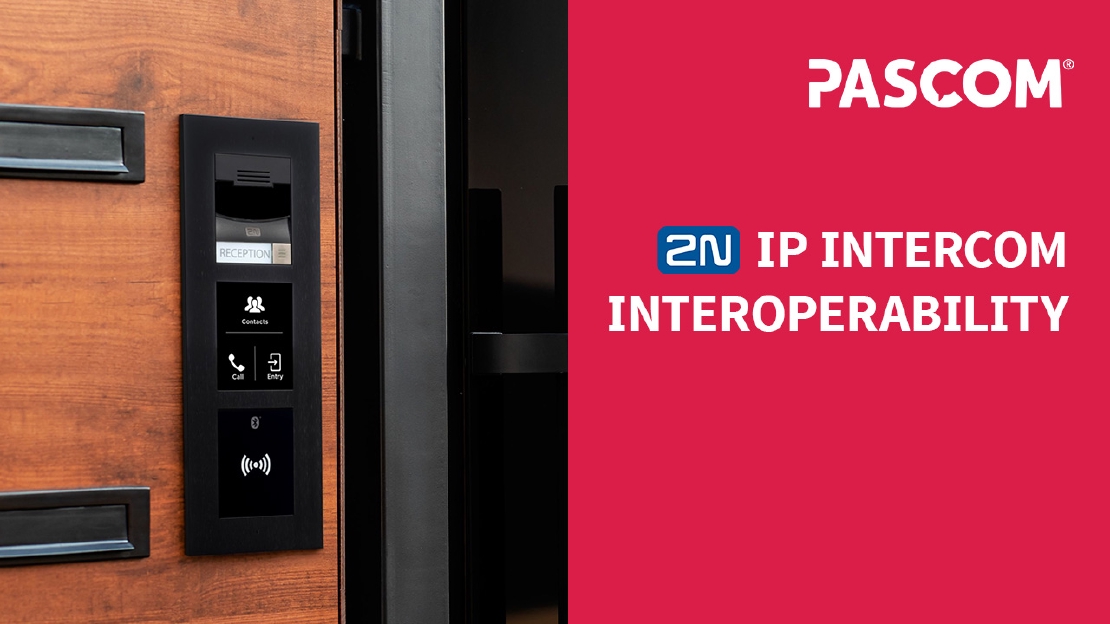 pascom Announce 2N IP Intercom Interoperability
April 30th, 2021 | Deggendorf, Germany - pascom GmbH, a leading Business Communications solutions provider, today announce the successful completion of compatibility testing with Intercom company 2N, a leading European developer and manufacturer of building premises security systems. The new interoperability guarantees that 2N IP based intercom systems can now be easily integrated into the pascom communications platform.
Thanks to the recently released pascom Intercom Deluxe functionality, the 2N device onboarding process allows for a seamless integration that is achieved in a few simple steps. Once integrated, pascom phone system administrators can assign specific roles to individual 2N IP intercom devices making the devices accessible only to the permitted pascom users within the "role group".
Furthermore, the new interoperability provides pascom desktop and mobile UCC app users with the ability to view the 2N IP intercom camera feed and remotely control to entry system directly from their pascom app. As such, the new integration provides 2N pascom customers with the ability to fully incorporate their door entry systems into their unified communication workflows.
James Barton, pascom Marketing:
Thanks to the successful interoperability between 2N and pascom, our customers can now add a further layer to their building and employee security. Having the ability to see who's at the door and controlling visitor access direct from your desktop or mobile app is an excellent tool to have at ones disposal, particularly as we all come to terms with the new way to work.
About pascom
Founded in 1997, pascom are the developers of next-generation UCC Telephony Solutions and we upgrade business communications.
With pascom as the heart of their communications, businesses have a centralised, intelligent hub giving them total control over their organisation's communications – no matter how diverse the workforce or dynamic the business communication channels.
The pascom platform offers excellent scalability and are highly customisable to exactly match even the most specific customer requirements. This is why pascom phone systems are the perfect choice to support Small Medium Enterprises to communicate smarter, more efficiently and more cost-effectively.
For more on pascom and pascom 19.15, please visit www.pascom.net and read the full release notes: