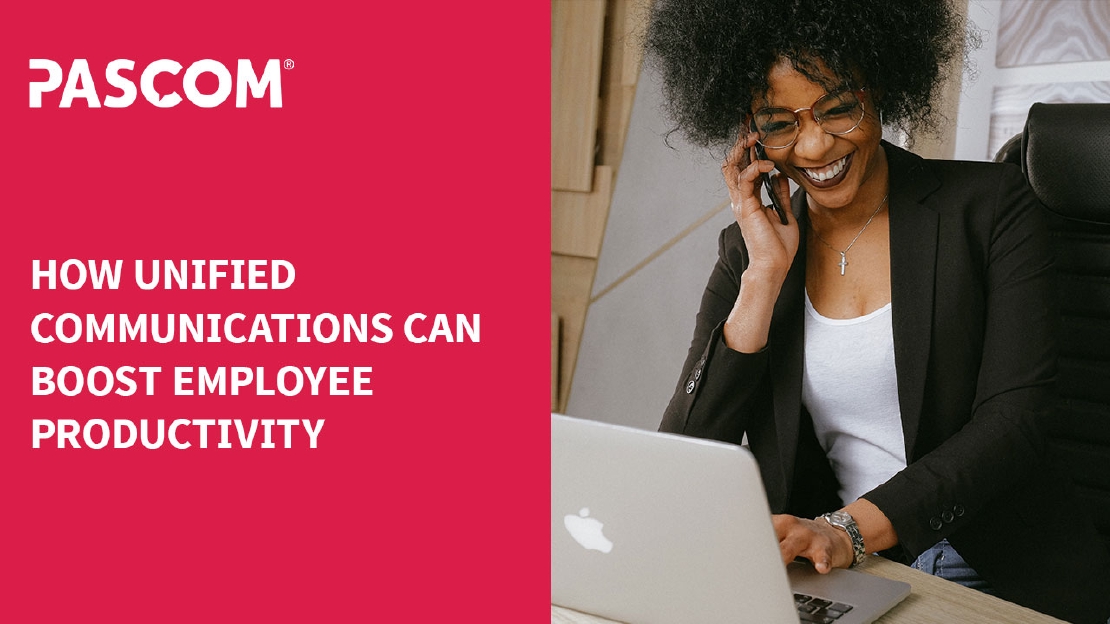 How Unified Communications Can Boost Employee Productivity
17.06.2021
4 min read

Anna Shvets | Pexels
Workplaces around the globe are shifting towards digital at a rapid pace. With more remote work arrangements and international teams becoming commonplace, it's no surprise that Unified Communications (UC) are becoming more prevalent. Research by Nemertes on the use of Unified Communications as a Service (UCaaS) reveals that 19.1% of all companies are already employing UCaaS. In fact, the UC industry is projected to reach a value of €65 billion (£55.97 billion) by 2024. And these companies are taking the leap because it's a great way to maximise resources, both financial and human.
Understanding Unified Communications
UC is the integration of all business communications. In traditional businesses, workers use multiple channels to interact with each other and with customers. In a single day, a business uses e-mails, phone calls, faxes, and instant messaging – all on separate channels. With UC technology, they are all streamlined into a single platform so workers won't have to keep shifting between different devices and software. Another reason why UC has become so popular is its benefits to the daily workflow.
How Unified Communications boosts productivity
It makes files extremely accessible
Sharing files through e-mails is time-consuming, not to mention impractical. Naturally, there would be a lot of back-and-forth. This poses a high risk when it comes to miscommunication, lost files, and confusion. UC comes with collaboration tools. The tools securely store files within the UC platform. Come time for sharing, files are transferred smoothly to recipients or collaboration groups. This gives instant access to anyone that needs it within the organisation, wherever they may be working from. UC even has screen-sharing capabilities that let the point person apply live edits. Coupled with video conferences, this simplifies the collaborative process immensely. It delivers visual cues, ensuring that teams are all on the same page.
It lets you refocus on value-adding tasks
Establishing lines of communication usually takes several steps, but UC reduces this immensely. A guide on working from home by James Gonzales emphasises how new apps and technology enhance the way you do previously time-consuming tasks, particularly when it comes to collaborative work. With UC, you can reach team members quicker, and through whichever device you're using. This cuts down on the time it takes to make calls or send files back and forth. It frees you up to do more value-adding tasks that can't be automated, like tasks that require critical thinking or planning.
It allows for greater mobility
The future of work is remote, or at least a mix of remote and in-person arrangements. As a Workplace Insight column on hybrid working reports, 53% of organisations are adopting hybrid arrangements (only 1-3 days in the office); and 14% say that they're shifting to remote work completely. Luckily, UC has robust mobility features that keep teams connected no matter where they are. UC phone systems aren't limited by physical spaces. They offer mobile communication dashboards on smartphones and online video conferencing tools. This ensures that team members are always available to each other during work hours, doing away with waiting times.
It streamlines different communication formats
Business communication can come in different formats, especially when one end is outside of the organisation. Thanks to UC technology like the pascom business phone system and Unified Communications, you won't be missing any important messages again. Its fax and voicemail-to-email feature, in particular, allows your business to be more intuitive. Even if you're communicating with a client or supplier that still uses faxes or voicemail, they can be sent automatically to your e-mail inbox as an audio file. This means you won't need other communication devices, as UC streamlines lots of different formats to the one that's most accessible for your team.
Unified Communications can be a game-changer for businesses, especially as you are entering a highly competitive digital world.
Article written by: Roanne Judson
Solely for pascom.net