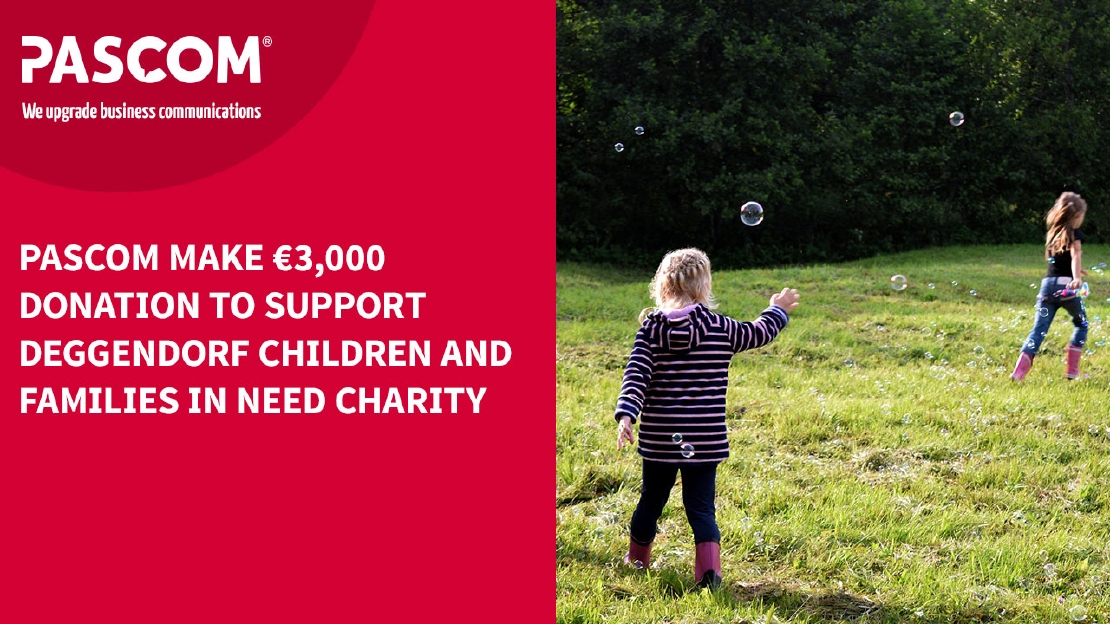 pascom Support Children and Families in Need With 2022 Annual Donation to Kinderschutzbund Deggendorf
06.12.2022
4 min read

pascom
December 6th, 2022 | Deggendorf, Germany - Throughout 2022, pascom employees have been out and about challenging themselves as a part of the pascom Get Fit Challenge. The goal has never purely been about self-improvement, as the team has always had another objective in mind - to raise as much money as possible for charitable and non-profit organisations that provide invaluable services within our community. Thanks to the team's incredible efforts, the company is again supporting the incredible Kinderschutzbund Ortsverband Deggendorf-Plattling e.V. and the amazing work of the organisation to support children and families within our community who are in need.
Children are often unable to stand up for themselves and as a result children are sometimes overlooked and their welfare is not priotised as it should be. The Kinderschutzbund recognises that children are our future and its mission is address the issues and inequality that children face by primarily focussing on protecting the rights of children, ensuring their well-being and protecting them from harm. It is a challenging, yet essential mission that incredible team at the Kinderschutzbund never waiver from, regardless of the conditions they are confronted with, whether it be facing the devasting consquences of a pandemic or, as is now the case, the energy crisis and crippling inflation that has left many children exposed to a painfully harsh reality, the Kinderschutzbund are always there to provide much needed assistance, support and guidance as they work to ensure the well-being of all the children in our region.
Mathias Pasquay, pascom CEO:

When we made our annual donation to the Kinderschutzbund in 2020, our goal was to help those children and their families in our region who as a result of the pandemic, where in desparate need of help. Sadly, for many the scars have not faded and now we are facing the challenges of inflation and the energy crisis, both jeopardising the welfare and rights of children, which is why we have again decided to support the exceptional team at the Kinderschutzbund in Deggendorf to hopefully help them and their team of selfless volunteers provide some much need help, support and hope to those children and families who are in desperate need.
Gerti Iglhaut, Stellvertretende Vorsitzende Kinderschutzbund Ortsverband Deggendorf-Plattling e.V.

Unfortunately, for months now the Kinderschutzbund has been receiving cries for help from families who are no longer able to pay their bills as a result of the rising inflation. Their money is no longer enough for food and essentials! With pascom's dontation we provide quick and unbureaucratic help: we support the families with food coupons as well as vouchers for warm winter childrens shows. In our kids clothing shop, we are giving out warm childrens clothing to ensure they don't have to freeze - for which we have to thank local families who provide us with regular donations of good quality clothing. The Kinderschutzbund also participates in paying for warm lunch time school meals, should the family no longer be able to afford it and would otherwise have to cancel school meals for their children. We are networked with social workers in schools, youth welfare offices and various institutions such as Donum Vitae and Caritas. Together, we discuss how we can help the families in emergency situation as fast and effectively as possible. At Christmas time, children in need can write to the Kinderschutzbund with their christmas wish list. The presents, which are worth approx €35) are wrapped in Christmas wrapping paper and given to the parents so that these children and also unwrap a present from Father Christmas on Christmas Eve.
About the Kinderschutzbund Deggendorf-Plattling
Our mission is to ensure the rights of children are recognised, protecting children from harm, helping families, providing support in emergencies, hospital visits and providing children with a safe, fun and enjoyable time together, for example by hosting kids festivals and organising family trips.
www.kinderschutzbund-deggendorf.de
About pascom
Founded in 1997, pascom are the developers of next-generation UCC Telephony Solutions and we upgrade business communications.
With pascom's innovative on-premise and cloud UC phone systems at the heart of their communications, businesses have a centralised, intelligent hub giving them total control over the organisation's communications – no matter how diverse and dynamic the business communication channels.
The pascom platform offers excellent scalability and is highly customisable to exactly match even the most specific customer requirements. This is why pascom phone systems are the perfect choice to support Small Medium Enterprises to communicate smarter, more efficiently and more cost-effectively.
Visit www.pascom.net to learn more about pascom and how our solutions support businesses upgrade their business communications.